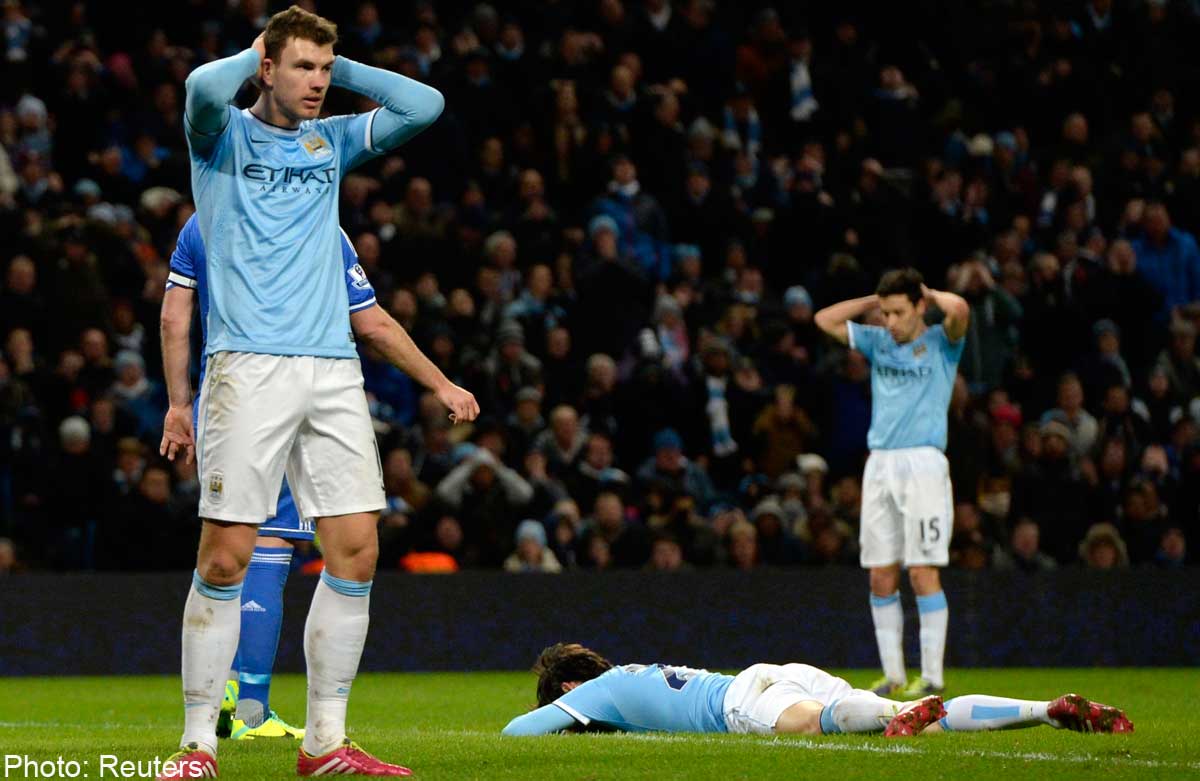 1. PELLEGRINI'S TACTICS
In nine clashes against Jose Mourinho, Manuel Pellegrini has come out on top only once. That trend remains unbucked yesterday morning (Singapore time).
Like everyone else, the Chilean expected Chelsea to play a defensive game with a deep midfield.
If that had been the case, playing Demichelis in the centre would not have been a problem. But up against the pace of Willian, it was a disaster.
Surely either Jack Rodwell or James Milner would have made a better choice? Why didn't Pellegrini change things?
2. DEMICHELIS IS NO FERNANDINHO
For the last 20 minutes of City's thumping 5-1 victory over Tottenham last week, the midfield was anchored by Demichelis and never looked vulnerable. This was a very different affair.
The Argentine defender is not as bad as people make out, but he is no Fernandinho, who was injured.
Like Chelsea's John Terry, Demichelis is better with the ball in front of him than he is on the turn, but he is intelligent and reads the game well.
None of that helped him here.
Ravaged over and over again, his reputation is now in tatters.
3. INJURIES COST CITY
Perhaps this would have been a different story if City were not so blighted by injuries.
Without Sergio Aguero, they lacked the kind of inventive striker who could find holes in Chelsea's rearguard.
The impressive efforts of Stevan Jovetic, a second-half substitute, vindicate that view.
But Fernandinho was the most telling absentee. Dietmar Hamman was right, if a little harsh, when he highlighted shortcomings in Yaya Toure's game.
The Ivorian is so enthusiastic on the charge, that he leaves gaps behind him.
Fernandinho's energy usually masks them. They missed him badly.
4. LACK OF DISCIPLINE
City did not react well to going a goal down. They will need more composure going forward.
Demichelis and Aleksandar Kolarov were booked in quick succession, leaving two key defensive players hesitant for the majority of the game.
It could have been even worse after Matija Nastasic hauled down Oscar on the halfway line in the second half when the Brazilian would have been clean through on goal.
Referee Mike Dean presumably decided that the distance would have been an issue for Oscar. He presumably hasn't watched enough of Oscar.
City were lucky to have 11 men.
5. POOR FINISHING
For all of their faults, for all that Chelsea played well, City could have equalised in the last moments when the ball fell to Nastasic in the penalty area.
The young defender watched the ball fall out of the night sky and then sliced it wildly with his boot.
No, he wasn't the best candidate to take such a pressured shot but, when these chances come along, they have to be taken.
Calm heads were needed yesterday morning, but there were few to be found.
City's confidence will be rattled. Arsenal will be emboldened. Chelsea are back in it.
The title race is wide open.

Get The New Paper for more stories