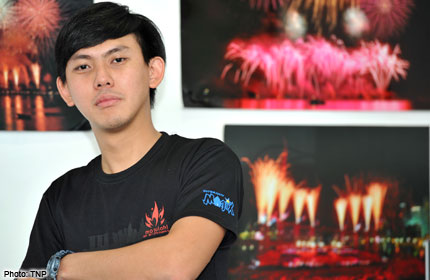 SINGAPORE - That his job is a dangerous - even life-threatening at times - is a fact that Mr Wilson Quek does not like to mention to his family.
You see, he doesn't want them to worry unnecessarily.
The 25-year-old, who works as a pyrotechnician at Intermay Magix, does not want them to worry unnecessarily.
Truth is, glitches in this line (which happen very rarely, he is quick to add) can be costly.
Like the time he climbed on board a floating barge in India to check on the explosives, only to have them go off at arm's length unexpectedly.
Explains his partner, 31-year-old Siva Sankara Rao, who also choreographs and executes pyrotechnic displays: "I told him via our communications system that he did not need to go ahead with the checks because the show was starting, but he actually didn't receive the message because of a comms breakdown."
The blasts went off, causing him to fall over and black out for a few seconds, says Mr Quek.
Thankfully, he managed to escape unscathed.
These occurrences are few and far between, he stresses.
The risk, he adds, is worth it. He does not even mind that months of hard work end in a few minutes of glory in the night sky.
"When you watch the fireworks go off into the sky and see the look of wonder and appreciation in the faces of those who watch... it's quite exhilarating and satisfying," he says with a grin.
Mr Quek, who has been in the industry for the past three years, picked up choreographing and pyrotechnic design skills by learning from more experienced veterans.
He started out as a helper, in charge of placing the fireworks at designated spots and learnt 3-D simulation on the computer along the way.
Preparations for fireworks for major shows, such as the National Day Parade (NDP), begin a good nine months before the actual event, he says.
In fact, the pair of pyrotechnicians were in the thick of putting together the proposal, which will be used to bid for 2013's parade contract.
Each year, only one out of the five local pyrotechnic companies are awarded the coveted contract, worth about $500,000.
Fireworks are typically imported from China because they offer the lowest prices, as compared to suppliers from the UK and US.
Mr Siva says that the process of choreographing and tweaking the NDP sequences, complete with numerous meetings with the organising committee, is so demanding that if a pyrotechnician "survives" it, he should have no problem with any other events.
"There are many meetings with the committee you have to attend, and perfection is expected," says the permanent resident, who came to Singapore from Malaysia in 2003.
During this hectic period, you can forget about spending time with your friends and family on the weekends, says the seasoned pyrotechnician, who has been in the industry for the past 12 years.
"We work Mondays to Fridays, are under the sun on rehearsals on Saturdays, and on Sunday, we churn out reports on things that went wrong," he says.
Apart from the NDP, the company also provides special effects for events such as the Sentosa's countdown party at Siloso Beach, the Chingay parade and K-pop concerts.
Charges range from a few hundred dollars to hundreds of thousands, depending on the complexity and scale of the event, says Mr Quek.
When asked if the job is a glamorous one, he answers with a decisive shake of the head.
"Setting up for a fireworks show involves a lot of manual labour. Sometimes, one person is required to lift racks which weigh 20kg each up several flights of narrow stairs," he says.
But there are perks to the job, such as getting up close and personal with international stars who hold concerts here.
To ensure the pyrotechnics go off without any hiccups, Mr Quek is often stationed at a spot in the theatre money can't buy - in front of the mosh pit, beside the bodyguards.
An especially unforgettable event that Mr Siva choreographed was the birthday bash of billionaire Vladislav Doronin, boyfriend of supermodel Naomi Campbell.
The 10-minute fireworks sequence, which surrounded the Umaid Bhawan Palace in India, took a week to set up.
"It was three times the scale of what you would see at NDP. Spectacular," he says.