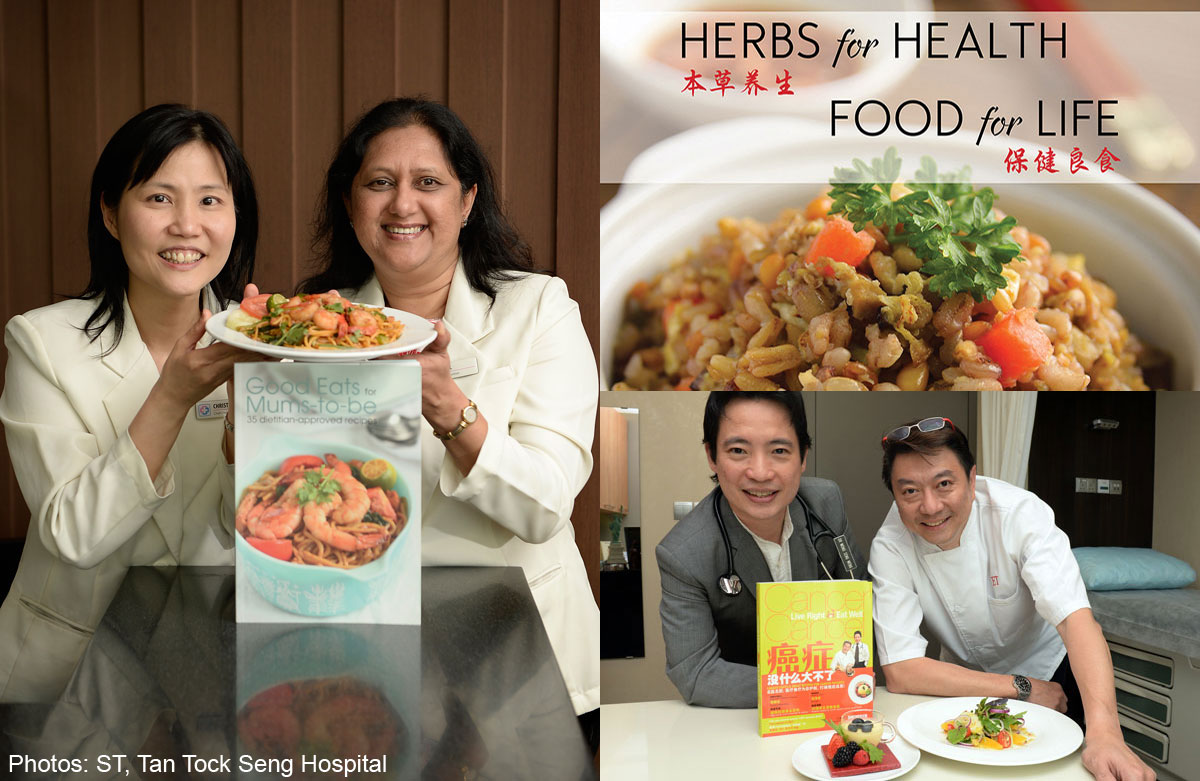 You are what you eat - with good reason.
Chronic diseases such as obesity, diabetes and heart disease have been shown to have their roots in one's dietary habits.
That is why governments all over the world are tackling the burden of these diseases through healthy-eating messages - it is an easy fix that does not add to the health-care bill.
Here, too, the emphasis is shifting from treating health problems to practising preventive medicine.
The Health Promotion Board has urged people to make healthy choices at foodcourts and, now, medical experts are making their way to an unfamiliar realm for some of them - the kitchen.
In the last six months, at least three cookbooks by medical experts have appeared on store shelves, finding their niche among numerous books, both local and foreign, that promote healthy cooking.
Ms Lim Su Lin, chief dietitian at National University Hospital (NUH), said her team develops or updates, on average, a cookbook a year. The dishes are tested by the dietitians and the books, which are published in-house, are given out free to patients of the hospital.
An early cookbook, written in 1998, was for patients with kidney disease. Since then, NUH has published cookbooks for, among others, patients with diabetes, hypertension and high cholesterol, and those who have difficulty chewing or swallowing.
Singapore General Hospital's department of dietetics and nutrition services has also put together two cookbooks since 2005.
Where Is The Fat?, published in 2005, sold 4,000 copies with no reprints.
The other, More Than Mash, which contains family-style dishes modified for stroke survivors and people with swallowing difficulties, was launched in 2011 and is still being sold at SGH's retail pharmacy for $24.90.
Madam Koay Saw Lan, senior manager of food services at SGH, said caregivers have expressed difficulty feeding their loved ones for fear of choking them. The cookbook was written to support and equip them with knowledge, she said.
Each of the 30-plus recipes in the book comes with instructions on how to modify it into a blended diet.
Madam Koay said: "The emphasis is on how family members can still retain the original recipe while blending the patient's portion. This dispels the notion that meals for such patients have to be bland, too restrictive or prepared separately."
Besides addressing the specific needs of patients, such cookbooks are also partly drawn from the authors' experiences with patients.
Mind Your Body checks out the three newest cookbooks.
joanchew@sph.com.sg
Nourish the body with herbs
Dietary therapy is one of the approaches to good health in traditional Chinese medicine (TCM).
Food, including herbs, have different tastes and characteristics which can affect the body.
That is why TCM practitioners seek to nourish the body when there are deficiencies and cool it if it is too heaty.
A new cookbook by Tan Tock Seng Hospital's (TTSH) Complementary Integrative Medicine Clinic provides a guide on using herbs in 18 recipes. Besides main dishes, there are appetisers, soups and desserts.
Nearly 1,000 copies of the book, titled Herbs For Health, Food For Life, have been sold since its launch last September.
The 70-page bilingual volume begins with an introduction to eight herbs which are commonly used and widely available.
These include the heat-clearing roselle, blood-invigorating black fungus and spleen-strengthening atractylodes.
Each recipe also spells out the health benefits of the dish and instances when it should not be consumed.
One such dish, the white fungi water chestnut osmanthus dessert soup, nourishes blood and yin in the body which, in turn, moisturises the skin. But this dessert is not suitable for some people, such as those with a weak digestive system who have abdominal distension, poor appetite and diarrhoea.
For those who can enjoy it, the recipe spells out in detail the health benefits of each ingredient: White fungi nourishes yin and replenishes body fluids; osmanthus dissolves phlegm and dispels cold, among others.
Even with such clear guidelines, the authors caution readers to consult TCM physicians whenever they are in doubt about whether the herbs are suitable for them.
Each individual's constitution and environment need to be taken into consideration when using dietary therapy, wrote TTSH's senior acupuncturist Catherine Cheung.
The book is sold at TTSH Complementary Integrative Medicine Clinic (Clinic 6B) and at major bookstores for $20 (with GST).
Appetising bites for cancer patients
Cancer patients need to eat well to have the strength to withstand the side effects of treatment. Yet, it is often the treatment itself which robs them of their appetite and taste, making them more likely to reject food.
Oncologist Wong Seng Weng said as chemotherapy is designed to kill rapidly dividing cancer cells, it also affects normal cells that divide rapidly, such as those in the mouth.
Taste changes are a common side effect of chemotherapy, with some people finding food bland and others overly sensitised to flavours. This leads to patients eating poorly and losing weight, which are detrimental to their recovery.
To help cancer patients with their nutritional issues, Dr Wong, medical director at The Cancer Centre at Paragon and Mount Elizabeth Novena Specialist Centre, worked with celebrity chef Eric Teo on a book titled Cancer Cancel: Live Right & Eat Well.
The 301-page book tackles cancer myths and features dishes for the general public and cancer patients. It was launchedon Dec 18 last year, with close to 680 copies of the book sold within a month.
Some of the recipes were taste-tested by cancer patients such as housewife Thavaki Letchumanan.
After the 57-year-old was diagnosed with breast cancer in 2002, she underwent chemotherapy which made everything she ate taste bitter. She felt so nauseated that plain boiled water made her throw up. But that changed at a food-tasting session at The Cancer Centre last August, where she was undergoing chemotherapy again to treat a relapse of her cancer.
Madam Thavaki finished a red onion and organic green apple salad without complaint. She found the orange vinaigrette dressing so refreshing that she prepared the salad at home several times.
The makers of nutritional supplement ProSure, Abbott Nutrition, partially funded the book, so several dishes recommended for patients before, during and after cancer treatments incorporate ProSure as an ingredient. The product helps to combat unintentional weight loss from cancer.
Mr Teo, who is also the president mentor of the Singapore Chefs Association, said the dishes are made using healthy cooking methods such as poaching, steaming and baking.
Dr Wong wrote in the book that "when food is subjected to high heat, such as during a barbecue, or when deep-frying, roasting or grilling, potentially carcinogenic substances form from the proteins and carbohydrates".
To get around the dietary restrictions of different religious groups, Mr Teo did not use pork, mutton or beef in the dishes.
Dr Wong, on the other hand, dedicated three-quarters of the book to educate readers about cancer, using analogies and patient stories to "put a human face to the subject".
Said Madam Thavaki: "Many books are written for a Western audience, but this book is set in the local context."
The book is sold at Popular Bookstore outlets for $19.90 (with GST).
Eating guide for mums-to-be
Food blogger Heng Ju-ee learnt the hard way how being pregnant does not mean eating for two.
The 42-year-old piled on 20kg during her first pregnancy 15 years ago after drinking three glasses of full-cream milk every day.
By her second and third pregnancies, she had learnt to eat more healthily and gained an acceptable 14kg each time. Her children are now aged 15, nine and six.
Eating too much or too little during pregnancy can predispose the baby to chronic diseases, and there is growing evidence to suggest that chronic ailments such as obesity and hypertension have their origins in the womb, said Ms Christine Ong, who heads the nutrition and dietetics department at KK Women's and Children's Hospital (KKH).
To guide expectant mums on eating healthily, Ms Ong, Ms Heng and KKH senior dietitian Nehal Kamadar put together a cookbook titled Good Eats For Mums-To-Be. A thousand copies of the book have been sold since its launch last June.
"With this cookbook, the science of nutrition can be translated into practical strategies to ensure optimal nutrition for women during their pregnancies," said Ms Ong.
No fewer than 40 nutrients are required for a mother-to-be, so a well-balanced diet is crucial. The 74-page book contains 35 recipes that have been modified to increase their content of vitamins A and C, folic acid, calcium, iron, protein and fibre.
The dishes were selected for their taste, ease of preparation and people's familiarity with them, so that "mothers-to-be can continue to enjoy their favourite food but with a nutrition boost", said Ms Ong.
For instance, the book's recipe for mee goreng replaces the conventional yellow wheat noodles with brown rice noodles and uses more vegetables and prawns.
Whole grains contain more fibre than refined ones, which can reduce the risk of certain types of cancer and heart disease.
Given that a woman's sense of taste and smell may change during pregnancy, the authors worked to counteract any fishiness in the dishes. For example, preparing tomato fish soup requires the cook to marinate threadfin fillets with soy sauce and sesame oil, and to add ginger during the boiling later.
Dr Manisha Mathur, a consultant at the department of obstetrics and gynaecology at KKH, said changes in food preference is believed to help a pregnant woman consume adequate electrolytes to expand the plasma volume and facilitate weight gain.
Besides the recipes, the book also provides a guide on how much weight a woman should gain at each stage of her pregnancy.
Ms Heng, who found a paucity of information about eating right when she was pregnant, hopes other women will have a more fruitful experience. "Healthy eating doesn't mean dieting. Cook and eat healthily during your pregnancy - and even after that - and your baby and body will thank you for it," she said.
The book is sold at KKH's Patient Education Centre for $20 (with GST) and at major bookstores for $25 (with GST). All proceeds go to the KKH Health Endowment Fund to support needy patients.

Get a copy of Mind Your Body, The Straits Times or go to straitstimes.com for more stories.