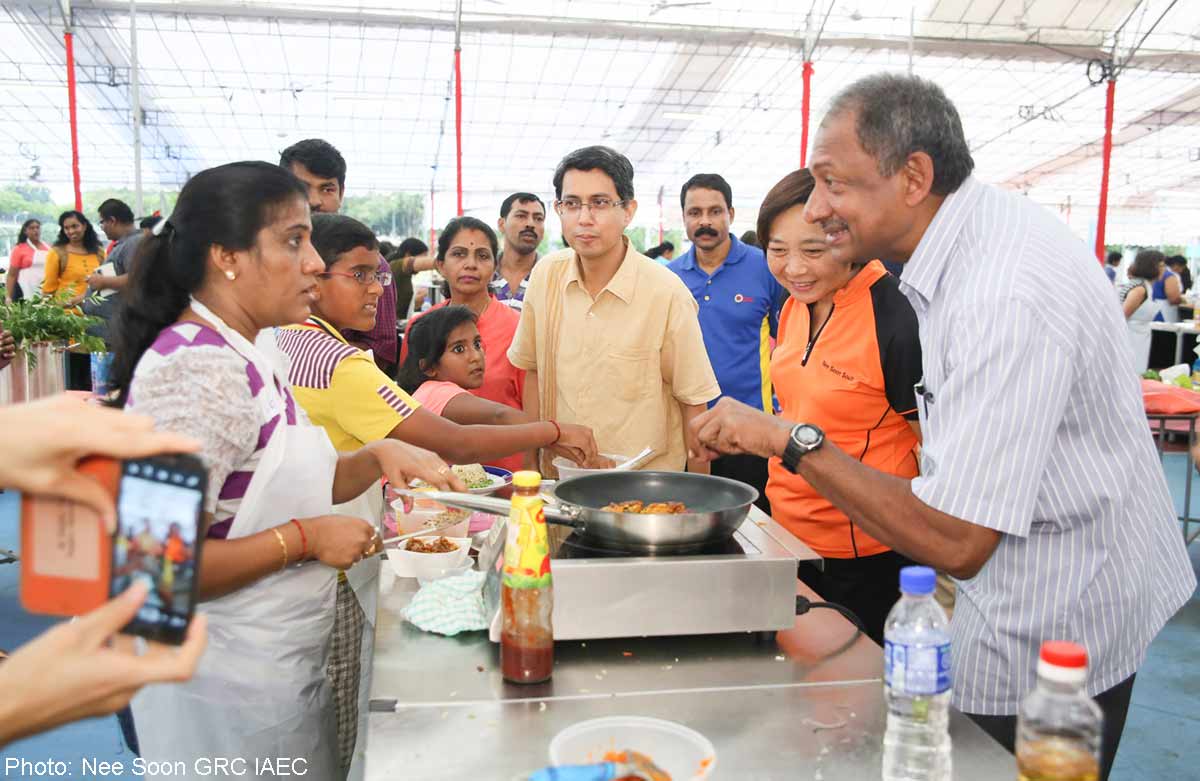 A record number of 50 teams vied for the top prize at the Deepa Delights Healthy Cooking Competition on Nov 29. The competition was a prelude to the several exciting events in the pipeline for SG50 celebrations at Nee Soon GRC.
The competition format was patterned after the popular TV series Kitchen Super Stars and Iron Chef. Participants had to pick their ingredients from 70 available ingredients. The mystery food item was orange. Among the mandatory items were mushroom and chicken.
The teams had to prepare a healthy meal comprising a starter, main meal and dessert for one person within an hour.
Each team comprised two or three residents and had to be multiracial. Teams also had to have a mix of locals and foreigners. In the end, the team led by Madam Asisah Alang won the top prize of $300 NTUC vouchers.
The second prize and third prizes were $200 and $100 NTUC vouchers respectively. In addition, there were 15 consolation prizes, all NTUC vouchers.
Said chairperson of the Nee Soon GRC Deepa Delights Healthy Cooking Competition Sithara Doriasamy: "There was true kampung spirit. Residents came together to cook their winning healthy dishes in a friendly atmosphere.
It was really heartening to see the participants going around at the end to taste their neighbours' cooking and sharing their secret recipes and cooking tips."
The event was spearheaded by the Nee Soon GRC Indian Activity Executive Committee (IAEC), comprising Canberra, Chong Pang, Nee Soon Central, Nee Soon East and Nee Soon South IAECs, and supported by the Citizens' Consultative Committees and fellow GROs in Nee Soon GRC.

Get a copy of tabla! for more stories.