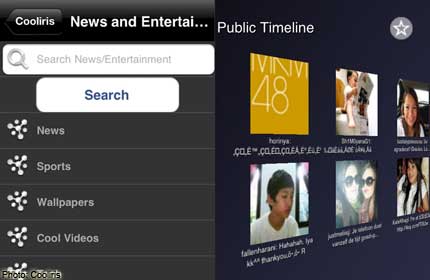 KUALA LUMPUR - If the concept of a picture being worth a thousand words appeals to you then Cooliris may be just the app for you.
This free iOS app allows you to view and share photos from various Internet sources all in one place, making the image browsing experience much simpler and more enjoyable.
It not only enables you to access your own devices image gallery, but also integrates content across many different social networking websites including Facebook, Instagram, Flickr and Twitter.
The latest version also features Tencent Weibo, Yandex, Evernote, Tumblr and SkyDrive to the list as well.
In addition, the app provides connectivity to cloud storage services like Dropbox and Google Drive too.
Having applied a critical eye to Cooliris, we now offer you a snapshot of what we think about this social, photo-centric app.
Getting things going
In order to use the app, you will need to set up an account and configure the login details for each and every social networking account that you want to integrate with the app.
Generally, we found that the initial setup process was quite smooth and user friendly.
You would only be required to key in those details once.
As long as you remain signed in, you would be able to access all your feeds as soon as you open the app during subsequent visits.
Delightful display
On the main screen, your photo feeds are represented by a series of thumbnails. Tapping on any of these thumbnails will allow you to browse through the contents of a selected photo feed.
While viewing individual feeds, you can adjust the source of the displayed photos by tapping on a drop down list at the top of the screen.
For instance, you can switch from browsing photos on your own Facebook news feed to look at the photo collections of a friend instead.
The feature which enables you to do this is referred to as endless discovery. But, of course, how truly endless it is in reality would depend on how extensive your online social connections are.
Within certain image sources such as Facebook, while viewing an individual photo, you can also switch immediately to view other photos uploaded by the same friend by tapping on his or her name at the bottom left of the screen.
Another distinctive feature of Cooliris is its 3D wall. A 3D effect is created through reflections for photos on the bottom row.
You can see an enlarged view of an individual photo by tapping once on it while tapping twice will give you a full screen view of the same photo.
When you are viewing photos in full screen mode, you can swipe left and right to view other photos in succession without having to exit to the main 3D wall view.
A useful viewing format which could perhaps be included in the future would be where photos from all available feeds displayed within a single 3D wall.
Users should have the option of arranging the thumbnails either in alphabetical order, by geographical location or by the date the photos were taken.
Information on the source of each photo (ie which social network it is from) should only be viewable when a user taps on an individual photo.
This should appear together with the rest of the photos details at the bottom left corner of the screen.
Besides that, there is also an image search function available in the Home view which allows searches from Google and Yandex. Searches can also be performed for Twitter hashtags.
The overall search experience was smooth and having search results presented in a 3D wall view makes it even easier to view than in your standard web browser.
However, if preferred, you also have the option of opening the image in the browser which is installed in your device.
Sharing made simple
Cooliris offers you a variety of options for sharing or saving your photos. Besides sharing the photo within the social network from which it originated, you can also save it to your camera roll, Dropbox or Google Drive.
Meanwhile, you can either share photos in bulk or individually through the apps Conversation feature or via Facebook.
Simply press and hold your finger for 2-3 seconds over any photo to enable the apps multiple photo selection and sharing mode.
In addition to Facebook, the Conversations feature allows you to share images with contacts in your devices address book as well.
Generally, we felt this feature was very straightforward and easy to use. Most importantly, various photos resized nicely and fitted well in the Conversation view.
Final say
Overall, we enjoyed a pretty seamless experience on the app and would recommend it to anyone who is visually inclined or has a huge collection of photos that they would like to share with others.
We faced several random crashes while using the app, but other than that, it didn't disappoint.
Although the app is only available for iOS at the moment, the developers have revealed that a version for Android is currently in the works.
Pros: Easy to use; visually pleasant interface.
Cons: No holistic 3D wall view of all photos across feeds.