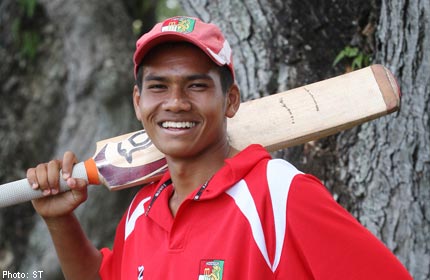 SINGAPORE - The title of the tournament could be viewed as a misnomer.
For how could teams such as India, Pakistan, Sri Lanka and Bangladesh be labelled as emerging cricket teams?
They are Test-playing countries, India and Pakistan gaining the status since time immemorial. But there is a leveller to the "ACC Emerging Teams Cup" which Singapore will host from Saturday to Aug 25 at Kallang and on the Padang.
The "big four" will field only Under-23 players, many knocking on the doors of Test cricket.
And Singapore, Afghanistan, Nepal and the United Arab Emirates will parade the best available players from the respective countries. Thus, for these four teams, the Cup event will provide a measure of how they stand in the cricketing world.
The Singapore Cricket Association says that the Emerging Teams Cup is a high-profile international tournament which will showcase a level of cricket in Singapore not seen for more than a decade since the triangular series in 2000 between Pakistan, New Zealand and South Africa.
And it adds that the inaugural Asian Cricket Council (ACC) event has been put together to provide an opportunity for the emerging teams from Asia to play against established Test-playing countries.
But, from a local perspective, a parallel can be drawn to the tournament staged 24 years ago in Bangladesh which shattered the egos of the Singapore team.
Then, India, Pakistan, Sri Lanka and Bangladesh fielded Under-19 teams while Singapore and Malaysia sent out a semi-national team with many players above 19 years.
Shattering was the experience for Singapore for they lost all five matches, all by embarrassing margins.
Lost
In Bangladesh, Sri Lanka beat the living daylights out of Singapore and won by 239 runs, totalling 280-6 against a paltry 41 all out in 18.4 overs.
Against Pakistan, Singapore were thrashed, losing by 345 runs as they managed only 23 in 17.1 overs.
Ajay Jadeja, Sourav Ganguly and Vinod Kambli featured in the Indian team that humiliated Singapore, winning by 413 runs. India made 454-2 and Singapore replied with 41 in 24.1 overs.
There was further disaster as Bangladesh and Malaysia took Singapore to the cleaners in the last two matches.
That being the backdrop, what can Singapore hope for in the eight-nation tournament that would parade some Indian Premier League (IPL) stars among the opposition? Coach Trevor Chappell, a former Australian Test player who has contributed heavily to Singapore cricket over the last four years, hopes that they can raise their game against the non-Test playing countries.
No doubt, even against Nepal, Afghanistan and the UAE - all higher than them (27) in the world rankings - Singapore can draw a learning experience.
And with a team studded with promising youngsters in Anish Param, 23, Abhiraj Singh 18, Rezza Gaznavi, 20, Irfan Madakia, 23, Prasheen Param, 18, and Timothy Singham, 21, surely youthful zest and enthusiasm are guaranteed, even against the big boys.
godfrey@sph.com.sg

Get The New Paper for more stories.