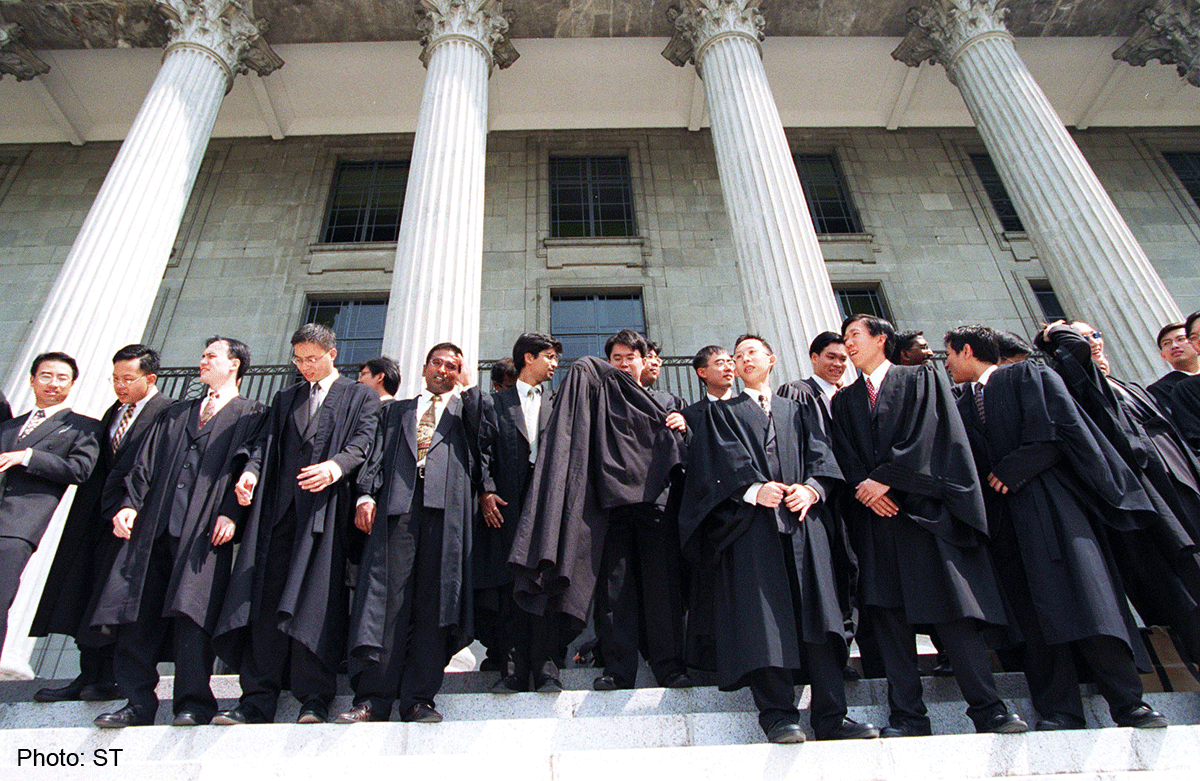 The move to drop eight British law schools from the list of approved universities for admission to the Singapore Bar should not hurt the employment future of students already enrolled there.
This was the call made by the United Kingdom Singapore Law Students' Society (UKSLSS) yesterday after raising concerns that students at the eight "delisted" schools may end up being considered "second-tier" graduates when they return home.
The society's president, Mr Kok Weng Keong, urged local law firms to continue looking beyond where a potential employee earned his law degree when assessing candidates.
On Tuesday, the Ministry of Law (MinLaw) revised the list of overseas recognised universities, dropping the University of Exeter; University of Leeds; University of Leicester; University of Liverpool; School of Oriental and African Studies, University of London; University of Manchester; University of Sheffield; and University of Southampton.
That left 11 British universities on the list.
The changes will affect only next year's intake of students.
In response to queries, MinLaw yesterday made it clear that the lower-ranked universities were shaved off "to ensure the continued high quality of overseas-trained entrants to the Singapore Bar".
Mr Kok, 22, a second-year law student at King's College London, suggested that the move could be due to concerns about the increasing number of overseas law students, which has led to a crunch when it came to training contracts.
Last August, Law Minister K. Shanmugam highlighted how the number of Singaporean law students in Britain more than tripled from 350 in 2008 to 1,142 in 2013.
This made it harder for returning graduates to get a six-month practice training contract (PTC) at a law firm, a requirement for entry to the Bar. Last year, nearly 650 graduates competed for about 490 PTCs.
According to MinLaw, about 94 per cent of local graduates obtained training contracts between 2009 and 2013, compared with about 70 per cent of overseas graduates during the same period.
The eight universities which will be dropped had, in the last three years, accounted for 30 per cent of the 729 Singaporean graduates from British law schools.
The 4th Committee on the Supply of Lawyers had suggested in 2013 that the Singapore Institute of Legal Education (Sile) should review the list of approved overseas universities every five years - a recommendation which was accepted by the Government.
Sile was supposed to look at how the schools fared in recognised university rankings, such as the Guardian University Guide, before deciding whether they should remain on the list.
But Mr Koh, in the UKSLSS statement, said it was impossible to truly measure the quality of a law school based on rankings, which have been "notoriously prone to fluctuation".
Instead, he pointed out that the eight dropped schools have produced "successful lawyers who are current partners and associates in various firms today".
"It is my sincere hope that the recent delisting does not have the impact of reinforcing 'second- tier' perceptions when assessing candidates," he said.
"An employee's ability to adapt to a high-pressure environment of private practice ought to be a greater consideration than how highly ranked his or her law school may be."
MinLaw has said it will work out provisions with Sile to ensure that those who have a place in the eight schools before next year "are not adversely affected by the change".

This article was first published on Feb 27, 2015.
Get a copy of The Straits Times or go to straitstimes.com for more stories.