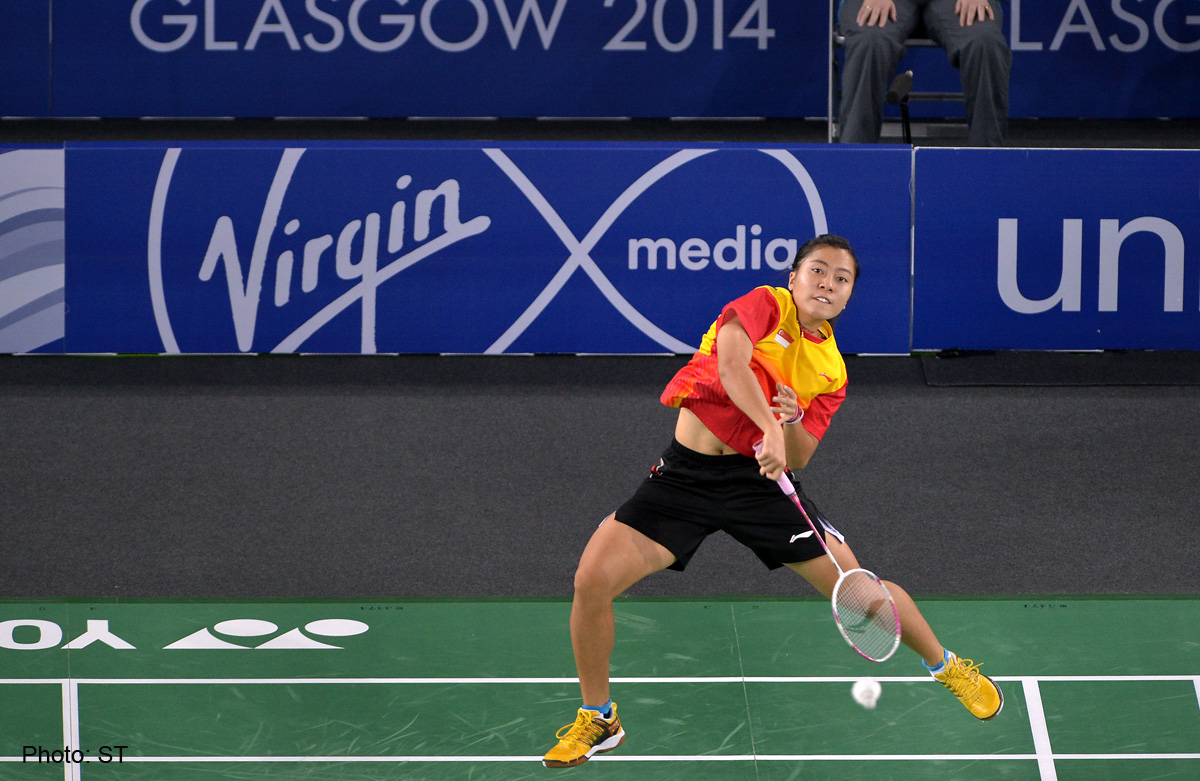 Amid the euphoria of a bronze medal at the Commonwealth Games, with the promise of more to come, Singapore badminton chief coach Liu Qingdong has called for calm.
Liu played down the importance of the gong, saying regional competitions are tougher.
"Honestly, the SEA Games is a much more difficult tournament," he admitted.
"Apart from Malaysia, you have other powerhouses like Indonesia and Thailand competing. So it is very difficult to get a medal."
To illustrate his point, when Liang Xiaoyu played Ghana's Diana Archer in the women's singles round of 32 yesterday afternoon, the African was easily swatted aside (21-4, 21-2) in just 14 minutes. Similarly, Derek Wong eased past Georgie Cupidon of the Seychelles in 13 minutes (21-3, 21-4).
Huang Chao encountered slightly tougher resistance in Ayman Jaman as the Bangladeshi held on for 21 minutes before losing (21-7, 21-7).
There was also a smooth passage for mixed doubles pair Danny Chrisnanta and Vanessa Neo, who beat Canadian pair Adrian Liu and Michelle Li (21-13, 21-8) in 22 minutes in the round of 32.
On Monday, there had been joy in Glasgow's Emirates Arena when Singapore edged out India in a 3-2 thriller for the mixed team bronze, which prompted a jig from the Republic's players on the court.
While coach Liu believes it was by no means the greatest of triumphs, he lauded his team for the improvement they have shown since he took charge in February.
His appointment came at a traumatic time for Singapore badminton, when only doubles pair Shinta Mulia Sari and Yao Lei returned from last December's SEA Games in Myanmar with a medal (bronze). Singles coach Luan Ching and chief doubles coach Yoo Yong Sung were both replaced in the following shake-up.
"The players have displayed a good attitude in training," said the 44-year-old Sichuan native, who coached the province's team before receiving Singapore citizenship in 2005.
"They have the hunger and I am very satisfied with their performances so far.
"The Commonwealth Games is a good opportunity to test the young players and I am happy to see that Huang Chao (22 years old) and Xiaoyu (18) are learning and growing from this tournament. But there is more to do. They need to improve their physical fitness and technique."
On paper, the squad trains six days a week, with double three-hour daily sessions focusing on fitness and footwork. But as teenager Xiaoyu revealed, over the last three months the players have had extra sessions at night to prepare for Scotland.
"It's been hard," she said of the gruelling boot camp.
"But there is a sense of determination in the team after what happened at the SEA Games. The players just want to get results.
"We are united, we cheer for each other on the sidelines. This is the first time I have felt such a tremendous team spirit since I came into the squad."
meng@sph.com.sg

This article was first published on July 31, 2014.
Get a copy of The Straits Times or go to straitstimes.com for more stories.