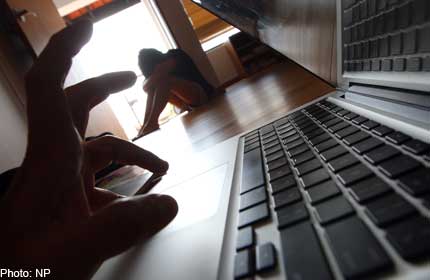 You must die.
That was apparently one of the bullying messages that 14-year-old Hannah Smith of Britain got on social-networking site ask.fm before she killed herself, the BBC reported last month.
Hannah's case prompted British Prime Minister David Cameron to urge parents and teens to boycott "vile" sites like ask.fm.
Thousands of people called for the British government to do more to keep kids safe online.
But beyond young people, adults have also been victimised by cyberbullies.
An article on Polygon last month said cyberharassment of game developers by gamers is so bad that the International Game Developers Association intends to start support groups.
While the organisation's spokesman said such harassment hasn't had a major impact on making games, "we're at the cusp of where it could".
One former writer of game developer BioWare said she even received death threats and graphic threats to kill her children.
If this is what some netizens abroad are capable of - causing anxiety, fear and the death of their victims - there's cause for concern should things get out of hand in Singapore.
And if the bullies push the envelope too far, navigating the Internet could get much tighter.
For one thing, things aren't exactly rosy here.
Mr Chong Ee Jay, assistant manager of Touch Cyber Wellness, said that Singapore had the second-highest level of cyberbullying globally in 2011, according to a Microsoft study of 25 countries.
Some 58 per cent of Singapore youth aged eight to 17 said they had been subjected to some form of cyberbullying. The figure was 70 per cent for top-placed China, close to double the global average of 37 per cent.
Mr Chong, who is also an associate member of the Media Literacy Council, said there is concern that cyberbullying could get more prevalent and rampant, as technology advances and becomes more integrated into our lives.
Cyberbullying can be an offence under the Penal Code if it is found to be criminal intimidation.
But there are no specific laws here to protect people from online harassment and bullying, unlike in Australia, Britain, India and the United States.
Still, Mr Chong pointed out that Singapore is considering introducing laws to combat cyberbullying and other forms of Internet harassment.
Revealing this move last year, Deputy Prime Minister Teo Chee Hean noted that some people here feel "they should be allowed to express their views in an unfettered way".
This would be all right if everyone was civil and wasn't malicious online. Appealing to people's sense of decency seems like the better way forward. Unfortunately, this may not work.
Even if the Government doesn't take an even stronger stance against cyberbullying, should things spiral out of control, there might be pressure from the public. We're seeing it in Britain.
And the counteraction against extreme cyberbullying here may not be as simple as the proposed Internet Code of Conduct many netizens denounced over censorship fears.
There could be the deletion or filtering of potentially abusive posts, and more avenues to report online abuse to identify cyberbullies and get them banned from sites or even prosecuted. Penalties could be stiff, including jail terms, judging by what's happening in other countries.
But there are also issues to consider with such actions, including abuse-reporting mechanisms being abused themselves, privacy jitters and concerns that online dialogue could be stifled.
Just as worrying is the public fallout from cyberbullying. Things could get ugly quickly.
There are no easy answers, but education on online matters might get to the root of the issue.
So, before deciding to maliciously troll someone, think about how the posts could push someone over the edge.
Even if this is not a concern, consider the possibility of the censorship axe falling very hard on you and your spending years behind bars, with the public clamouring for your sentence.

Get My Paper for more stories.