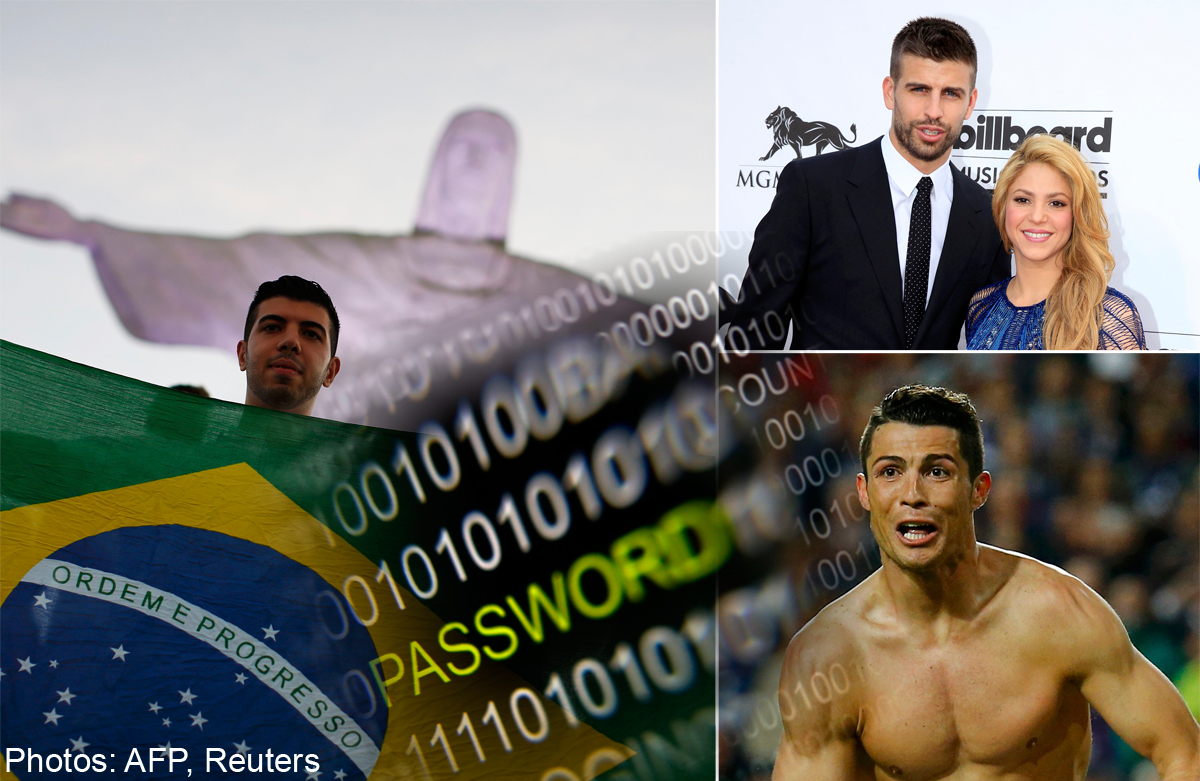 SINGAPORE - Cybercriminals are capitalising on the World Cup fever to make users click on web pages infected with malware.
Computer security software company McAfee announced in a statement on June 5 that cybercriminals are most likely to use Portugal's Cristiano Ronaldo to lure visitors to web pages designed to infect them with malware.
Following Ronaldo are Argentina's Lionel Messi, Spain's Iker Cassillas, Brazil's Neymar and Algeria's Karim Ziani.
McAfee, which is part of Intel Security, has compiled a McAfee "Red Card Club" showcasing the top 11 Brazil-bound players whose web pages are considered to be risky.
"Be especially wary of videos promising to show your idol's skills as you might get more than you bargain for," said Mr David Freer, Vice President, Consumer - APAC at McAfee.
Luring unsuspecting internet users with cultural sensations is not a new trend, according to McAfee. These websites are rigged with malware, malicious code capable of infecting a user's machine and stealing passwords and personal information.
According to a research by McAfee, fans run the greatest risk when visiting sites offering screensaver downloads and videos showcasing the extraordinary skills of the players.
Searching for the latest Cristiano Ronaldo content yields more than a 3.7 per cent chance of landing on a website that has tested positive for online threats, such as spyware, adware, spam, phishing, viruses and other malware.
"Cyber criminals will definitely try to capitalise on 'World Cup fever', so it's wise not to be complacent by downloading content that might put you at risk," Mr Freezer said.
To avoid the risk of infection, here are seven basic tips to stay protected:
• Beware of content that prompts you to download anything before providing you the content. Opt to watch streaming videos or download content from official websites of content providers.
• "Free downloads" are the highest virus-prone search term. Anyone searching for videos or files to download should be careful to not unleash malware on their computer.
• Established news sites may not entice you with exclusives for one solid reason: there usually aren't any. Stick to official news sites that you trust for breaking news. However, trusted sites can also fall prey to hackers. Make sure to use a safe search tool that will notify you of risky sites or links before you visit them. A complimentary version of SiteAdvisor software can be downloaded at www.siteadvisor.com.
• Don't download videos from suspect sites. Most news clips you'd want to see can easily be found on official video sites, and don't require you to download anything. If a website offers an exclusive video for you to download, don't.
• Don't "log in" or provide other information: If you receive a message, text or email or visit a third-party website that asks for your information-credit card, email, home address, Facebook login, or other information-for access to an exclusive story, don't give it out. Such requests are a common tactic for phishing that could lead to identity theft.
• If you do decide to search for information on a major event or celebrity in the news, make sure your entire household's devices have protection, such as McAfee LiveSafe™ protects all devices including PCs, Macs, tablets and smartphone and it also includes malware detection software, McAfee® Mobile Security, to protect your smartphone or tablet from all types of malware.
• Always use password protection on your phone and other mobile devices. If your phone is lost or stolen, anyone who picks up the device could publish your information online.
grongloh@sph.com.sg
Click on the gallery below to see the top 11 players who make the McAfee "Red Card Club":