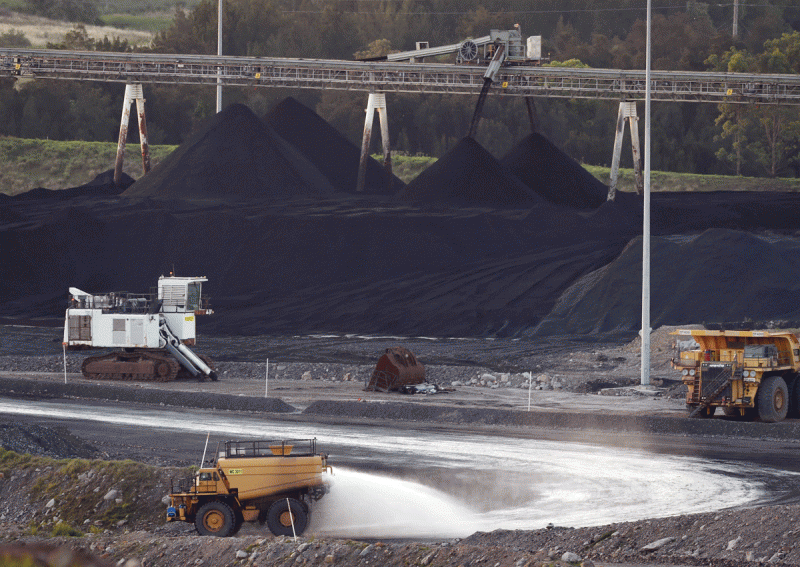 In a small outback town in southern Australia, residents last month gathered at a local bar for a melancholy "farewell" to reflect on their community's proud history and its sudden uncertain future.
It was Nov 16, the last day of operation for a coal mine in the town of Leigh Creek that has been open for more than a century.
A third-generation miner, Mr Craig Franklin, 32, a father of two, said he and his family were "sad" but were preparing to move on.
"We've all grown up to love this place and we've met some really good people and made some really good friendships and it will be a little sad to make that finish," he told ABC News. "I think the whole community has sort of realised that the place is going to end and we have to move on."
The closure of the Alinta Energy mine at Leigh Creek marked the latest episode in an increasingly dark chapter for Australia's coal industry.
For more than a century, coal has been the lifeblood of the Australian economy but its future is now in question. The development is affecting communities across the country and could deal a heavy blow to the national economy. Some analysts predict that the Australian experience could foreshadow trends across the industry worldwide.
The Australian sector, which employs about 50,000 people, has been hit by plummeting coal prices, slowing demand from China, and international moves to wean the world off fossil fuels to reduce carbon emissions.
Numerous mines in Australia have been shut in recent years and other projects have been downsized or delayed. Analysts have questioned the long-term viability of the industry and some have urged the government to introduce a ban on new coal mines.
An energy and sustainability expert, Dr Gary Ellem, from Newcastle University, said the long-term outlook for coal-based electricity was "shaky at best". But he said mining firms could benefit by diversifying into areas such as food production or transport technology or innovations such as carbon capture and storage, which involves storing carbon to prevent emissions entering the atmosphere.
"It's hard to see a long-term positive future for the industry in a global marketplace looking for competitive solutions to their 2-degree and 1.5-degree needs (targeted limits to global temperature rises)," he wrote on The Conversation website.
Australia has the world's fourth-largest share of proven coal reserves and is the second biggest global supplier behind Indonesia.
Last year, Australian coal exports were worth A$40 billion (S$41.2 billion), the nation's second biggest export behind iron ore, but revenues have declined in recent years. The biggest buyers have been China, Japan, South Korea and India.
The signing of the Paris climate agreement to limit temperature rises has fuelled growing debate about whether Canberra should try to actively scale back coal production.
On the sidelines of the talks last month, Australian Foreign Minister Julie Bishop made it clear that Canberra viewed fossil fuels as a "critical" component of long-term energy production. "Technological breakthroughs and innovation will drive much of the change that will underpin the transition to a low-carbon economy," she said. "That means coal-fired power generation is here to stay."
Australian Prime Minister Malcolm Turnbull, a strong supporter of climate change action, has shifted the rhetoric from his predecessor Tony Abbott, who famously claimed coal was "good for humanity".
Mr Turnbull said coal did not have "moral characteristics" but he has so far backed the industry. Fossil fuels were an important, low-cost component of Australia's energy mix, he insisted.
On Dec 22, the federal government even gave the go-ahead to the expansion of a port at Abbot Point in Queensland, which is set to be one of the world's biggest coal terminals.
The terminal will be used to ferry coal from Adani's planned A$16.5 billion Carmichael coal project, which will create one of the world's biggest mines in the remote Galilee Basin in Queensland.
But analysts have now begun to question whether the Adani project is financially viable, noting that its cancellation would not just mark a turning point for Australia but for the entire global industry.
"Rather than a mere cyclical downturn, coal appears to be in structural decline," business commentator Ian Verrender said on Tuesday on the ABC News website.
"As the dirtiest fuel, any future move to introduce a carbon price… (will) undermine the economics of coal-fired power stations and coal mines… If global finance refuses to fund the project, Adani's failure to turn Carmichael into reality may become the defining moment, marking the point when the world turned its back on coal."
jonathanmpearlman@gmail.com

This article was first published on January 4, 2016.
Get a copy of The Straits Times or go to straitstimes.com for more stories.