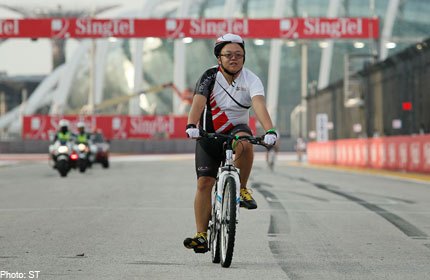 As I entered the chicane, I turned back momentarily to get a sense of where my competitors were.
Out of the corner of my eye, I saw him. Robbie McEwen, the three-time Tour de France sprint champion, was on my tail, just a few metres behind.
You mentally prepare for situations like this but you never really know how your body is going to react when it comes to the crunch.
I put my head down, slipped into a high gear and started really going for it. The time for leisure cycling was over.
So there I was, mere metres from the chequered flag, adrenaline pumping, beer belly threatening to break through my one-size-too-small Spandex riding suit, pedalling my rental bike like my life depended on it.
Still, I could feel the champion gaining on me.
With one final burst of energy, I lunged across the finish line, victorious in the UBS Cycle The Circuit race.
I threw my arms aloft, and then quickly put them down again because I was losing control of my bicycle.
Regardless, it was a historic moment for me. I had raced a cycling champion and won.
OK, to be fair, McEwen did not know he was racing me.
He was at the end of his race.
I was still on my first lap.
But that's not the point. The point is that we were both on our bikes on the same bit of track and I was going faster than him.
And, because of that, nothing else really mattered.
It did not matter that I had to drag myself out of bed at the crack of dawn on a Sunday to engage in physical activity.
It did not matter that somebody had to point out that I had my lycra riding suit on back to front.
It did not matter that I finished next to last out of a field of 200 riders who included dozens of people old enough to be my father.
I was a winner. I'm telling this story in the sincere hope it will inspire you. After all, this is the classic sports tale of a down-and-out competitor who beats the odds to emerge victorious.
There were three massive challenges, in my opinion.
The first was squeezing into a Spandex bodysuit that was compulsory attire for the event.
Any fat man will tell you that Spandex and fat people are natural enemies.
I spent 10 minutes getting dressed, trying to suck in my stomach folds in such a way they might be mistaken for muscles.
Then came the second massive challenge: Going to the toilet.
The third challenge, perhaps the most difficult, was to zip around the Singapore street circuit without making car engine noises.
You think it's easy. You think you will not embarrass yourself by making those noises within earshot of other riders.
But it is a reflex action that you cannot stop - sort of like how football players hold their heads when they miss an open goal.
I suppose you are wondering why someone like me would even bother participating in something like this. Well, firstly, nobody told me about the compulsory lycra. Secondly, I thought it might help me gain a deeper appreciation of how difficult driving a Formula One car in the Singapore Grand Prix is.
Let me tell you how hard it is: I have no idea. I was on a bicycle in the day time. The experience is not comparable.
I did, however, develop a deeper appreciation for cyclists.
Because, all I could think of as I was cycling along the circuit on Sunday was: "This would be so much better in a car."
jeremyau@sph.com.sg

Get a copy of The Straits Times or go to straitstimes.com for more stories.