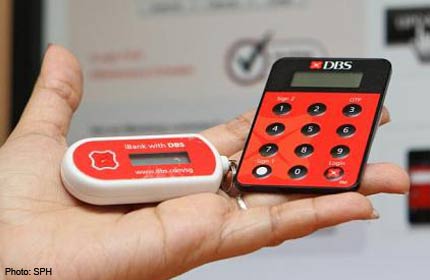 Cutting-Edge new security tokens designed to combat online banking fraud are to be activated this Sunday.
SINGAPORE - Three hundred thousand DBS Bank customers will be able to transfer funds and add new payees using the keypads that aim to counter increasingly sophisticated hacker scams.
The new devices are more secure than the traditional single-button tokens.
Instead of simply generating a one-time password, they require customers to enter details such as their account numbers and the amount they want to transfer - in a process known as transaction signing.
DBS is the first bank in Singapore to switch on the technology.
Another 900,000 of its e-banking customers will be able to start using it on Dec 16.
The move comes ahead of new requirements due to be introduced by the Monetary Authority of Singapore.
From January, all banks will have to use transaction-signing for high-risk online requests.
These include changing the account holder's details or adding a new payee for transfers.
Citibank, Maybank, OCBC Bank, Standard Chartered Bank and HSBC Bank have been issuing customers with keypad tokens since the start of the year, but have yet to activate the transaction signing.
DBS said it expects up to 600,000 customers to continue to hold on to their old one-button tokens after Dec 16.
It is giving them until March to switch to the new technology, after which the traditional tokens will be turned off.
However, customers without the latest keypads can still carry out low-risk transactions such as accessing their accounts and checking their balances.
In a separate move, DBS will start sending out one-time passwords for these more basic activities by text message.
In the past, this could only be done using the one-button tokens.
From Sunday, however, customers trying just to log into their online accounts will receive their password by SMS.
"We want to improve customers' online experience," said consumer banking group e-business managing director Sandeep Lal.
He added that the new service was being introduced in response to customer feedback.
Many of the bank's rivals, including Citibank, Maybank and OCBC, are already sending passwords to customers by SMS.
Events manager Noel Wong, 36, welcomed DBS's new SMS option: "At least I don't have to carry the bulky keypad token every day for simple online tasks like checking my bank balance," she said.