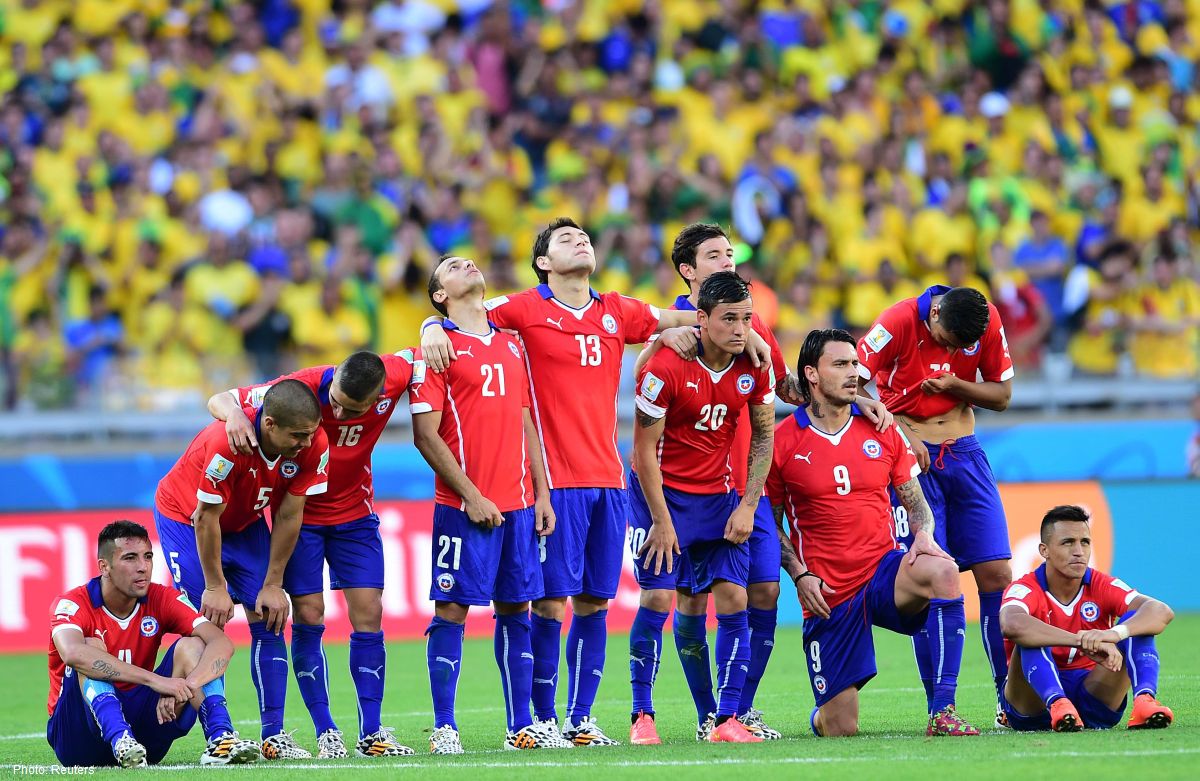 BELO HORIZONTE, Brazil - Chile's so nearly conquering heroes are sure of an incredible welcome on their return from a World Cup where they eliminated champions Spain but were cruelly knocked out by Brazil for the fourth time in their history. "The dream is over, but not the applause," said La Tercera newspaper in a chorus of praise round the nation. "Dry your tears and come back to Chile to be received with full honours."
One of the strongest Chile teams seen at a World Cup, 'La Roja' (The Red) lit up the tournament from swashbuckling wins over Australia and Spain to a heart-breaking loss on penalties to Brazil after a pulsating 1-1 draw in the last-16 clash.
It was a desperately harsh outcome for Chile, who had matched the hosts for 120 minutes of normal and extra time, and could so easily have snatched it at the death when Mauricio Pinilla smashed a glorious shot against the crossbar.
A few centimetres lower, and Chile would have overturned a painful history of defeats by Brazil, who knocked them out of the 2010, 1998 and 1962 World Cups.
As it was, the ball bounced to safety, Brazil held their nerve for a 3-2 penalty shootout win at Belo Horizonte's Mineirao stadium, and the old nemesis did it for a fourth time. "The shot that could have changed our lives," lamented one headline in Chile's Las Ultimas Noticias newspaper.
Everywhere, Chileans hailed their team's performance in a match quickly dubbed the 'Battle of the Mineirao' where Brazil's hordes of yellow-clad fans were made to sweat and agonise until Chile's final fateful penalty hit a post.
There was special praise for defender Gary Medel, nicknamed 'The Pitbull', who played despite an injury and was eventually carried off crying on a stretcher in the second half after successfully keeping Brazil forward Neymar at bay.
2015 COPA AMERICA LOOMS
While Chile and Brazil's benches were screaming at each other throughout the game, the respect between the players - and their shared pain during the shootout lottery - was clear for all to see. At the end, Neymar went one-by-one to congratulate his disconsolate and weeping opponents. "Chile have been one of the great teams of this World Cup without a shadow of a doubt. Today luck was on our side and not theirs, but they deserve all the praise imaginable," Brazil defender Dani Alves said. "The way they are able to put pressure on the opposition defence is simply amazing."
Though sometimes vulnerable at the back, not least because of their lack of height, Chile have played a high-octane, crowd-pleasing attacking game led by the tricky Alexis Sanchez.
As well as the 2-0 win over Spain, it also brought them a 3-1 victory against Australia at the group stage, though the Netherlands proved too strong and beat them 2-0.
Big crowds watched them at home and it was not only in the Mineirao stadium that tears were shed on Saturday. "This cup is staying in Chile, it belongs to my Chileans. I'll make another for whoever wins the World Cup. The Chilean spirit was beautiful," said fan Alvaro Quintana who fitted a large replica of the trophy onto a pickup and drove to Santiago's Plaza Italia with other fans on Saturday.
Chile will at least head into next year's Copa America tournament, which they are hosting, knowing they can match the best. Chile have yet to win in 36 attempts dating back to 1916.
That failure rankles and even their Andean rivals Peru and Bolivia have won the tournament. What they would give for a win in the final against Brazil to erase some of the pain. "We'll start thinking about the Copa America in the near future. For now, I'm just sad. My team left their lives out there," said proud but hurting coach Jorge Sampaoli.