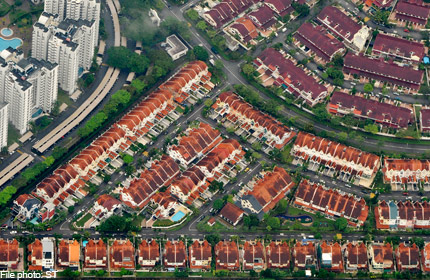 SINGAPORE - Developers' private home sales surged to a three-year high in September, taking the tally for the first nine months past the full-year 2010 record and underscoring the need for the latest cooling measures.
The 2,621 private homes, excluding executive condos (ECs), sold last month were 83.7 per cent more than the 1,427 units in August and the highest since July 2009's 2,772 units. The numbers were released by the Urban Redevelopment Authority yesterday.
This means that in the first nine months of this year alone, developers have found buyers for 17,927 homes - up 12.7 per cent from 15,904 units for the whole of last year and surpassing the full-year 2010 record of 16,292 units by around 10 per cent.
Market watchers generally attribute the surge in September sales to high liquidity/low interest rates and a jump in new launches. Developers launched 2,224 private homes last month, double the 1,118 units in August. Some developers held back releasing projects until after the Ghosts Month ended in mid-September. That also coincided with the announcement of QE3 in the US.
The preliminary Q3 2012 developer sales tally now stands at 5,999 units (the final number will be released on Oct 29). Most property consultants reckon sales will slow this quarter, ending the year at 21,000-22,000 units.
While the restrictions on home loan tenures could take some demand away, property remains an attractive option. "Because of a lack of investment alternatives, real estate comes across as quite compelling," said DTZ South-east Asia chief operating officer Ong Choon Fah.
"No 1, land is scarce in Singapore, although there will still be cycles. No 2, investors believe that if they put their money in real estate, they're unlikely to lose a significant part of it.
There are so many ways you can consume property - besides living in it, you could rent it out, use it as a weekend home, let a nephew who has just married live in it for the time being."
The September sales volume was also up 60.7 per cent year on year.
Home buying continued to be dominated by Outside Central Region (OCR), where suburban condos are located. The 2,062 units in this location that developers sold last month was a 146 per cent jump from 837 units in August as well as a new monthly benchmark sales record for OCR, notes Colliers International director Chia Siew Chuin.
Three major projects - Riversails in Upper Serangoon Crescent, Kovan Regency and eCO at Bedok South Avenue 3 - together contributed to sales of 974 units in September - or 37.2 per cent of developers' total sales in the month.
For eCO, 402 units were transacted at a median price of $1,283 psf, making it the top-selling project, followed by Kovan Regency (369 units at $1,275 psf median price), Riversails (203 units), Foresque Residences (104 units) and Bartley Residences (78 units).
Upcoming launches could include Eco Sanctuary at Chestnut Avenue and The Sennett.
URA figures yesterday also show that developers sold 150 ECs (a public-private hybrid housing) last month, up from 118 units in August. This takes the preliminary Q3 tally for ECs to 392 units - and that for the first nine months to 2,818 units, not far off the 2,883 units last year.
"We expect the pace of EC sales to pick up in Q4 with the launch of Heron Bay (394 units), Waterbay (383 units) and one or two other new projects," said CBRE executive director Joseph Tan.
September's priciest deal (in per square foot terms) was a unit in The Marq on Paterson Hill which sold for $6,215 psf, followed by a unit at Skyline@Orchard Boulevard which fetched $5,011 psf.
Savills Singapore research head Alan Cheong predicts sales of around 2,000-2,200 units excluding ECs in October and Q4 sales of about 5,200 units.
He expects URA's private home price index to increase around 10 per cent next year.
"Developers may have to keep prices going upwards for new launches in order to keep moving unsold units in earlier projects. The private housing market is now caught in a loop, with low interest rates, HDB buttressing the market base, and a perception that you cannot lose long term if you invest in real estate feeding expectations of further price increases. That will keep the momentum going strong."
Amid rising home sales, the government yesterday rolled out five residential sites and reiterated that it is ready to act, if and when necessary, to keep a good handle on the property market.