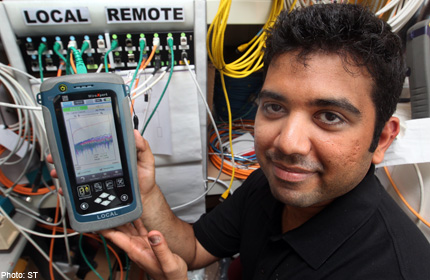 SINGAPORE - It is one of the irritations of modern life that the more time we spend on high-tech equipment, the more susceptible we are to the slightest glitch in these finely balanced machines.
So having a Mr Fixit on hand counts for a great deal when you have a business to run.
Singapore-based Psiber Data makes a machine performing that role for many firms worldwide which use IT networks to transfer data quickly and seamlessly.
These typically rely on copper and fibre optic cabling networks and while we take it all for granted, a problem can have massive consequences.
Work can come to a standstill if an office network is disrupted while banks and trading floors can lose a fortune if their trading networks are affected, even for just a few seconds.
The need to ensure that the high-tech show stays on the road at all times led Psiber to developed a product called WireXpert.
It tests copper and fibre wires to ensure that the network infrastructure meets the standards developed by international bodies. This is necessary when the wire networks are being installed.
And if there is a fault in the cabling after installation, the WireXpert machines - about the size of credit card readers seen in shops - will be able to identify where the problem is.
Certifying these networks becomes even more critical as bandwidths increase.
This has prompted international standards organisations to develop strict guidelines on certification, leading to strict compliance regulations being imposed by government bodies and private institutions.
In other words, there is little margin for error.
Marketing director Ravi Doddavaram, who is also one of the firm's four co-founders, told The Straits Times: "Every commercial building structure and data centre will have the cabling networks as their backbone of IT infrastructure. It's not just about laying the infrastructure, but also testing and certifying it. And that's where WireXpert comes in."
He added: "From a business point of view, it is a niche market and a compelling one, especially where business continuity and compliance are taken seriously."
Psiber sells WireXpert units to data-centre maintenance teams and systems integrators for about US$11,000 (S$14,000) each.
Many companies that run networks like to keep a unit of WireXpert for troubleshooting, said Mr Doddavaram. If a problem arises, the machine will tell the operator where a fault is and allow for quick repairs.
Psiber Data started in early 2009 by four people with testing, measurement and technology backgrounds.
WireXpert hit the market around January 2011, marking a developing period of about 18 months.
This was very fast by any measure of product development cycles, said Mr Doddavaram, 32, who added that the founders' industry background helped speed up development.
The office in Science Park Drive has 16 staff and is in charge of making the WireXpert units.
There is much room to grow, especially in Asia.
Mr Doddavaram estimates the market for network testing machines at US$120 million annually. There are only two firms in this market, he said - his company and a large established one based in the US.
Mr Doddavaram estimates Psiber Data has 7 per cent to 10 per cent share of the market, with the competitor holding about 90 per cent after being in the market for 60 to 70 years.
Mr Doddavaram did not reveal the exact revenue of his company. He wants Psiber to grab 20 per cent of the market in three years' time.

Get a copy of The Straits Times or go to straitstimes.com for more stories.