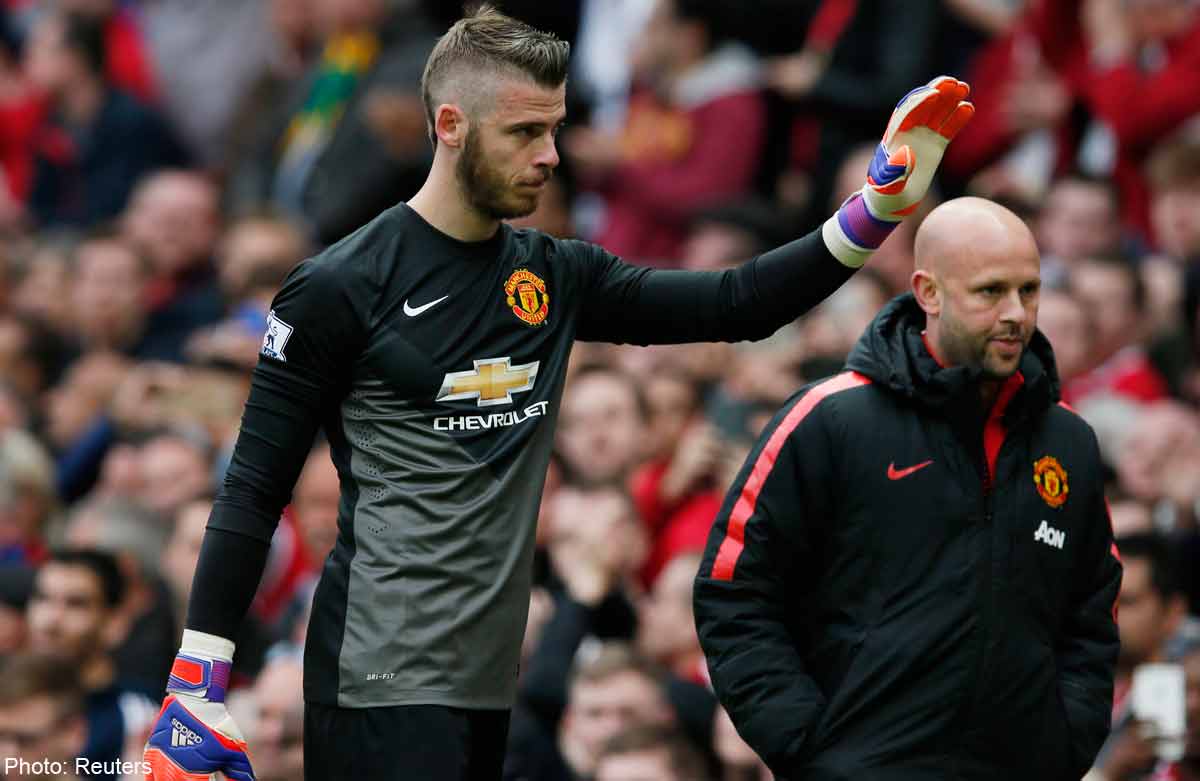 For a man in love with his own voice, Louis van Gaal said little in his public address to the crowd.
There was nothing to say. Manchester United's inaction spoke louder than words.
Their dull draw against Arsenal yesterday (Singapore time) was the latest exhibition of erratic, pedestrian football. Read between the lines of van Gaal's short speech and the subliminal message came through clearly at Old Trafford.
The Red Devils are at a crossroads, the most hazardous in years.
Forget David Moyes' ill-advised appointment, United's most uncertain period begins now.
They either spend well and establish a platform for their silverware charge or risk the house of cards coming down before the Christmas decorations go up.
Van Gaal slipped up once in the transfer market. He may not survive a second banana skin. His resume makes for impressive reading, but it's not chain mail.
Securing fourth spot in the Premier League cost United £150 million ($310m) in the transfer market. Reports suggest a similar amount is available this time around.
A £300m transfer kitty in 12 months exceeds the spending at both Barcelona and Real Madrid. And those clubs tend to fire their coaches for finishing second.
Ironically, van Gaal has a bumper crop of carrots to achieve success and the same number of sticks to beat him with if he fails, all 300 million of them.
He has the most expensively assembled squad in the club's history and still finds himself back to square one.
Robin van Persie and Radamel Falcao are almost certainly off, perhaps heading towards an autumnal stint in the slower Serie A.
SLOW DEVILS
They spent a season acclimatising to the pedestrian pace of Italian football, having been part of United's slowest collection of crustaceans in recent times.
United's crab-like, cautious game seldom raised the roof at Old Trafford and was tentative elsewhere, achieving only six away victories in the Premier League.
Road games require the quick, counter-attacking style championed by Chelsea and, increasingly, Arsenal. But it's been a laborious plod at United.
Against the Gunners, only three men demonstrated the creative impetus required for United to be taken seriously next season.
Ander Herrera took Santi Cazorla to the cleaners and left him in a spin cycle.
Marouane Fellaini schooled Francis Coquelin in the art of physical intimidation and Ashley Young basked in his Indian summer.
They are van Gaal's torch-bearers for progress. But how many make Chelsea's first 11?
United's best couldn't displace the Blues' most average performers. That's not an unfair yardstick. That's the only yardstick.
United spent more money than the Premier League champions and still relied mostly on a Moyes old boy and a former bench-warmer to save their campaign.
Angel di Maria fitted in only once all season, when he wandered around the lap of honour dressed like a local hooligan in a hoodie.
Starved of decent support acts, Wayne Rooney struggled up front - when he was allowed to play up front - and collected just 12 goals.
Remarkably, that's the club's best return for the season.
Defensively, Chris Smalling was an assured presence, but still prone to the odd mistake and positional error.
And he was the best defender on show.
At a conservative estimate, United require a couple of centre backs, a pair of fullbacks if Marcos Rojo fails to find any consistency and a defensive midfielder to play water boy alongside the irreplaceable Michael Carrick.
United's reliance on Carrick, Rooney, Young and Fellaini made a mockery of van Gaal's philosophical pretentious.
It's a Ferguson attack with an old Toffee on top.
But all of those names, and their contributions, pale in comparison to the one man, perhaps the only man, who really made van Gaal's top-four target a reality.
And David de Gea now wants to go home.
His misses his family, his culture, his native tongue and dry weather.
His potential loss is a far riskier proposition than Cristiano Ronaldo's departure. The Portuguese forward left behind a younger Rooney, in the prime of his career, a stable defence and midfield filled with Champions League winners.
De Gea will turn his back on a one-paced side with little invention.
He wasn't the final piece in the jigsaw. He was the jigsaw. He held the uneven pieces together.
If de Gea goes, United become half the side they were when Moyes was in charge, leaving van Gaal with the unenviable task of replacing the other half.
Suddenly, £150 million seems like loose change.
If the Dutchman doesn't spend it wisely, United will be out of pocket. And their manager will be out of excuses.
Who to replace de Gea?
1) HUGO LLORIS
Manchester United are known to be interested in the Tottenham custodian, who is at his peak and is an ideal replacement. But the 28-year-old won't come cheap.
2) ASMIR BEGOVIC
The Bosnian was linked regularly with a move to Old Trafford when de Gea was considered a liability. Has continued to impress with Mark Hughes' Stoke City.
3) PETR CECH
The Chelsea stalwart, who has lost No. 1 status to Thibaut Courtois, has stated his desire to move, but Jose Mourinho is unlikely to sell such a big player to one of his title rivals.
4) SAMIR HANDANOVIC
The Slovenian has been a steady pair of hands for Inter Milan, but with his side likely to miss out on Europe next season, a move to United would look attractive.
5) VICTOR VALDES
Valdes (right), who signed an 18-month deal with United, would certainly be a cheaper option, but the knee injury which ended his Barca career might act up.

This article was first published on May 18, 2015.
Get The New Paper for more stories.