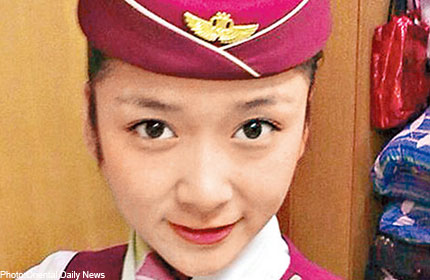 Apple Inc is investigating an incident in which a Chinese woman was killed by an electric shock when answering a call on her iPhone 5 while it was charging, the US technology company said on Monday.
Ms Ma Ailun, a 23-year-old woman from China's western Xinjiang region is a former flight attendant with China Southern Airlines, the official Xinhua news agency said on Sunday.
"We are deeply saddened to learn of this tragic incident and offer our condolences to the Ma family. We will fully investigate and cooperate with authorities in this matter," Apple said in an e-mail.
Apple declined to comment on details, such as whether this was an isolated case, reported Reuters.
Ms Ma's sister tweeted on Sina's microblog saying that Ma collapsed and died after using her charging iPhone 5 and urged users to be careful, a message that went viral on the site.
"(I) hope that Apple Inc can give us an explanation. I also hope that all of you will refrain from using your mobile devices while charging," her post read.
The post has gone viral online, with many forwarding the message and warning others of the dangers of using mobile devices while they are being charged, reported Xinhua.
Ms Ma's father, Mr Ma Guanghui, confirmed that his daughter was electrocuted.
Signs of electrocution
He said her body showed signs of electrocution.
Ms Ma had recently quit her flight attendant job.
The police confirmed that Ms Ma died of electrocution, but they have yet to verify if her phone was involved in the incident.
In April, Apple apologised to Chinese consumers and altered iPhone warranty policies in its second-biggest market after its after-sales service suffered more than two weeks of condemnation by state-run media.