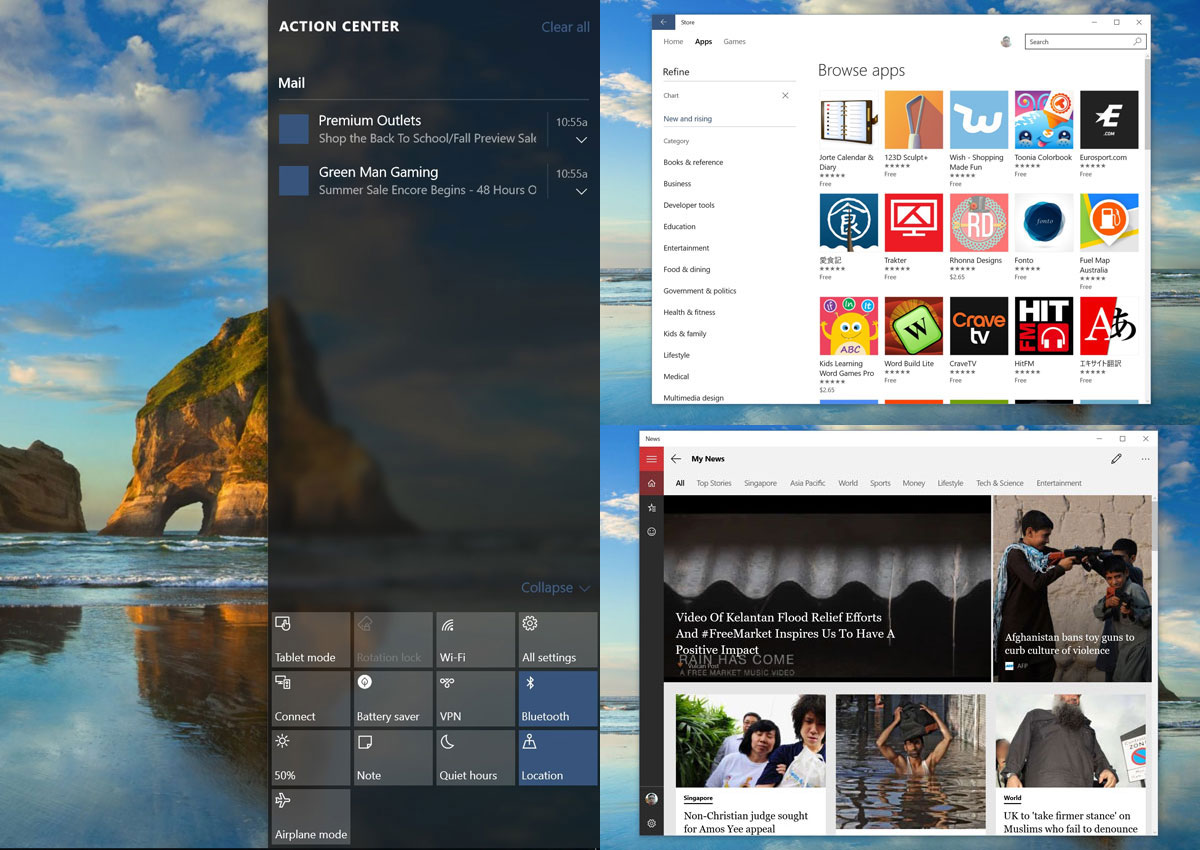 It is looking good for Windows 10, Microsoft's new operating system (OS). Since its July 29 launch, there have been glowing reviews. The download numbers - between 25 million and 45 million users to date, according to analysts - are also impressive. It probably helps that Windows 10 is a free upgrade for Windows 7 and Windows 8.1 users.
If you have upgraded, here are 10 must-know tips.
GET CORTANA
Officially, the Cortana personal assistant in Windows 10 is available in the US, Britain, China, France, Italy, Germany and Spain. But users here can enable it too, though location-based tasks will not show relevant results.
For instance, when I asked Cortana for movies playing nearby, it returned search results for US cinemas.
But Cortana works well enough for tasks such as setting reminders or playing music.
To enable Cortana, click on the Action Centre in the system tray and then All Settings. Under time and language, select region and language.
Change the country to one where Cortana is available, such as the US. Add a language and set it to default. You should now get Cortana in the search bar.
CHANGE DEFAULT SEARCH PROVIDER IN EDGE
The new Edge browser in Windows 10 may still not be good enough to supplant Chrome and Firefox, but it is clean and fast. However, its default search engine is Bing. To change to a more popular search engine, click on the three dots at the right corner of the browser and select settings.
Scroll down and select advanced settings. Now, select your preferred search engine using the dropdown list under "Search in the address bar with".
Don't be alarmed if you do not see a choice of search engine options in this list. Just visit the search engine's website to add it. For instance, to add Google, go to Google's homepage. The option to add it will then be updated.
SET DEFAULT APPS IN WINDOWS 10
If you do not fancy having Edge or other apps as your default apps, you can change them in Settings >System >Default apps. You can also have a specific app open a certain file type or protocol.
PIN SETTINGS TO START MENU
You can pin specific settings to the Start menu. For instance, I like having Windows Update on the Start menu because I like my PC to be updated all the time. To do so, go to Action Centre >Settings and right-click on your desired setting to pin it.
PRINT TO PDF
Unlike older versions of Windows, you do not need a third-party app to save a document in the PDF format. It is a native feature in Windows 10. Open a file or Web page and you should find the option under its print menu.
TURN OFF WI-FI SENSE
Wi-Fi Sense is a new feature that connects to Wi-Fi hotspots automatically based on information shared by your contacts on social media or e-mail. If enabled, your PC will also share network information with your contacts.
I have disabled this feature because I am not comfortable sharing my network password with my contacts. If you want to do the same, go to Settings >Network and Internet >Wi-Fi >Manage Wi-Fi settings.
GUARD YOUR PRIVACY
To guard your privacy, you might want to disable two Windows 10 settings. Go to Settings >Privacy >General and turn off the option to let apps use your advertising ID. I also recommend scrolling to "feedback and diagnostics" and turning off the options there.
SCROLL INACTIVE WINDOWS
A nifty new feature is the ability to scroll with the mouse wheel by positioning the mouse cursor over the inactive window. In older versions of Windows, you need to click on the window before you can scroll.
To enable this, go to Settings >Devices >Mouse and touchpad. Look for the option "Scroll inactive windows when I hover over them" and click on the toggle switch below.
TURN ON BATTERY SAVER
The battery saver tool helps extend the battery life of devices like tablets and laptops by reducing the number of background processes and limiting push notifications.
To access this, go to Settings >System >Battery saver. By default, it is configured to kick in when the device's battery level drops below 20 per cent. This can be tweaked in the settings. You can also let essential apps run in the background regardless of battery level.
RECORD GAME VIDEOS USING THE XBOX APP
The Windows 10 Xbox app is awesome, even if you do not have an Xbox console. Besides letting you chat with gamer friends, its built-in game-recording feature, Game DVR, can take screenshots and record gameplay videos. First, sign in to the Xbox app. The Game DVR settings are found at the bottom under the Xbox app settings.
A keyboard shortcut - Windows key + G - lets you open the recording controls quickly, though this bar will pop up only when you have a game or an app open. Nothing will happen if you use the short cut on the Windows desktop.

This article was first published on Aug 19, 2015.
Get a copy of The Straits Times or go to straitstimes.com for more stories.