As the coronavirus pandemic rages on worldwide, working from home and social distancing become the new normal. Here are five gadgets to improve your productivity and mood, and help keep your home clean, fresh, and comfortable.
Asus MiniPC PN62
While laptops are excellent for moving between meeting rooms, they are otherwise uncomfortable due to the poor positions of their keyboards and excess heat.
The Asus MiniPC PN62 is a small but powerful productivity machine that the boss might even pay for. Just plug it into a wall socket and add an external monitor.
The presence of a 10th Gen Intel processor and solid-state drive (SSD) means the MiniPC PN62 performs very well for productivity tasks.
The MiniPC PN62 offers a full plethora of ports that includes multiple USB 3.1 ports, gigabit LAN, an optional Thunderbolt 3 port, as well as built-in Wi-fi 6 and Bluetooth 5 with no visible antennas. RAM can go up to 64GB and there is even space to add a 2.5-inch storage drive for additional storage capacity.
While the MiniPC PN62 is typically whisper quiet, the high-pitched whine of the CPU fan means it can get audible when under heavy load. Toggling "Max Power Saving" mode from the Asus Business Manager app keeps it so quiet you forget it's there.
Price: from US$618 (S$884)
Huawei FreeBuds 3
The Huawei FreeBuds 3 ergonomic earbuds are engineered for maximum comfort, and come sans cables to tangle with.
Active noise cancellation reduces background noise such as the air conditioner, while music playback is nice with punchy bass. If you need to make the occasional call, the FreeBuds 3 incorporate a bone sensor that Huawei says will better pick up your voice and enhance it.
Get up to four hours of music playback on a single charge and use with the included USB-C charging case for a total of 20 hours of music.
The charging case works with wireless chargers, and you can use either a Qi-compatible wireless charger or the reverse charging capability on the newer Huawei smartphone. The ultra-glossy case and earbuds pick up fingerprints from the very first touch, and the earbuds only come in a standard size.
Price: US$180
LG PuriCare air purifier
LG PuriCare Air Purifier. PHOTO: LG
The LG PuriCare Air Purifier can simultaneously clean the air and deliver it throughout your house. The fan section at the top blows upwards, or can be tilted for specific section for ventilation - delivering purified air up to eight metres away.
The built-in true HEPA air filter ensures that allergens, dust and a variety of harmful gases are quickly removed. A PM 1.0 sensor detects contaminants as tiny as one micron.
Or launch the Smart ThinQ app on your smartphone to adjust fan speed and review air cleanliness ranging from the presence of odours or particles in the PM10, PM2.5 or to PM1.0 categories.
Price: US$540 (Built-in Pro)
Roidmi X20 vacuum cleaner
The Roidmi X20 from Xiaomi comes with more powerful suction, as well as an integrated mop to get the cleaning done in double-quick time.
To mop, snap the wet mop accessory on, fill the water tank and attach it magnetically. An advanced design keeps the mop pad consistently damp, while the hydrophilic fibre on the main rotating brush continues to pick up lint even when wet. An upgraded six-layer air filtration system keeps its exhaust air dust free.
The brushless motor spins at 2,000 rounds per second for 145 air watts of suction power and can keep going for an hour. To recharge, dock the Roidmi X20 with the included magnetic charging dock. The built-in battery is replaceable - buy new battery modules from Roidmi.
Price: US$299
HaierTAB robot cleaner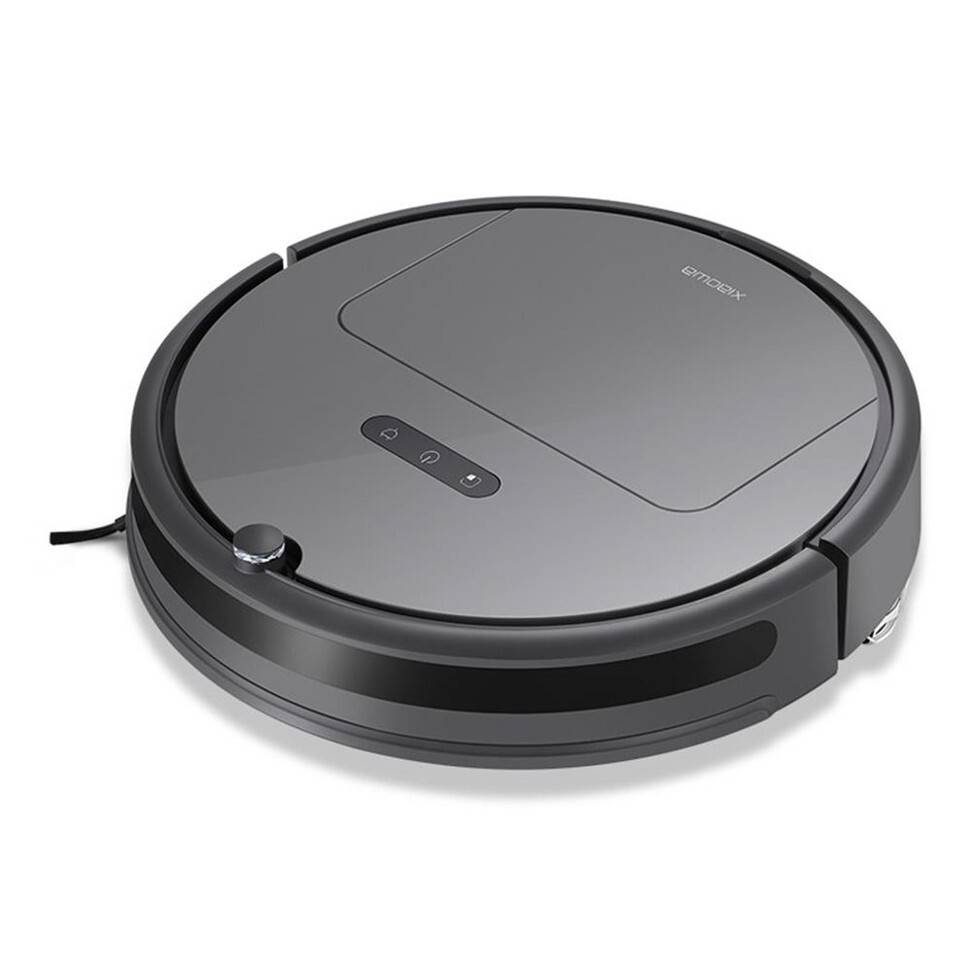 HaierTAB robot cleaner. PHOTO: Haier
The HaeirTAB uses a unique anti-winding brush design that uses steel blades in the roller to chop up annoying clumps of hair.
A powerful motor delivers a strong suction that should work as well on hardwood floors as on carpet, though we couldn't verify the latter. The 'Tabot' mops the floor, too, and is equipped with a large capacity water tank to clean a larger floor area before needing to be refilled.
A powerful 4-core 1.2GHz CPU works with built-in radar sensors to map out your house's floor plan down to an accuracy of 1cm. A single charge is enough for 2 and a half hours of cleaning.
Finally, the Tabot comes with a smaller handheld vacuum cleaner for a quick clean without taking out your stand-alone unit. And it supports Alexa or Google Assistant so you can order it around.
Price: US$439
For the latest updates on the coronavirus, visit here.
This article was first published in South China Morning Post.