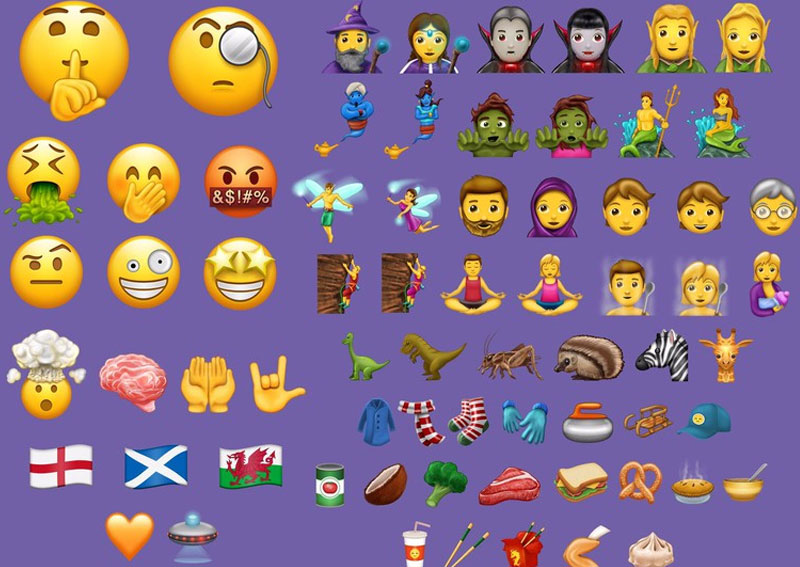 Good news, emoji fans: 56 new characters are officially ready to make their debut. But that doesn't mean the wait is over just yet, as it will take some time before companies will make the update available.
Unicode, the organisation that oversees the creation of new emoji, released the latest version of its Unicode Standard, which includes support for the new emoji as well as thousands of other characters.
The list of the 56 new characters (183 when you account for gender and skin tone variations) had previously been finalized back in March, but Unicode hadn't made the update available until now.
As we previously detailed, the new emoji set includes a number of highly anticipated symbols.
There are nine new "face" (ie: smiley) emoji, including "exploding head," "face with symbols," and "face vomiting."
There are also new animals (hello, cricket and giraffe), food items (what up, pretzel, coconut and broccoli), and 14 new "fantasy" characters (witches, wizards, mermaids, elves and the like).
Also included: the hijab emoji first proposed by a 15-year-old girl and a breastfeeding emoji. You can check out the full list of all the new emoji over at Emojipedia.
Unicode 10.0 also adds a new currency symbol for Bitcoin, though the character is not an emoji.
Even though the Unicode update is now ready for the masses, it will still take some time before you start seeing the new emoji (and the rest of the new Unicode characters) everywhere.
As always, Unicode depends on each platform to make its updates available and each company moves on a different schedule.
Read the full artcle here.