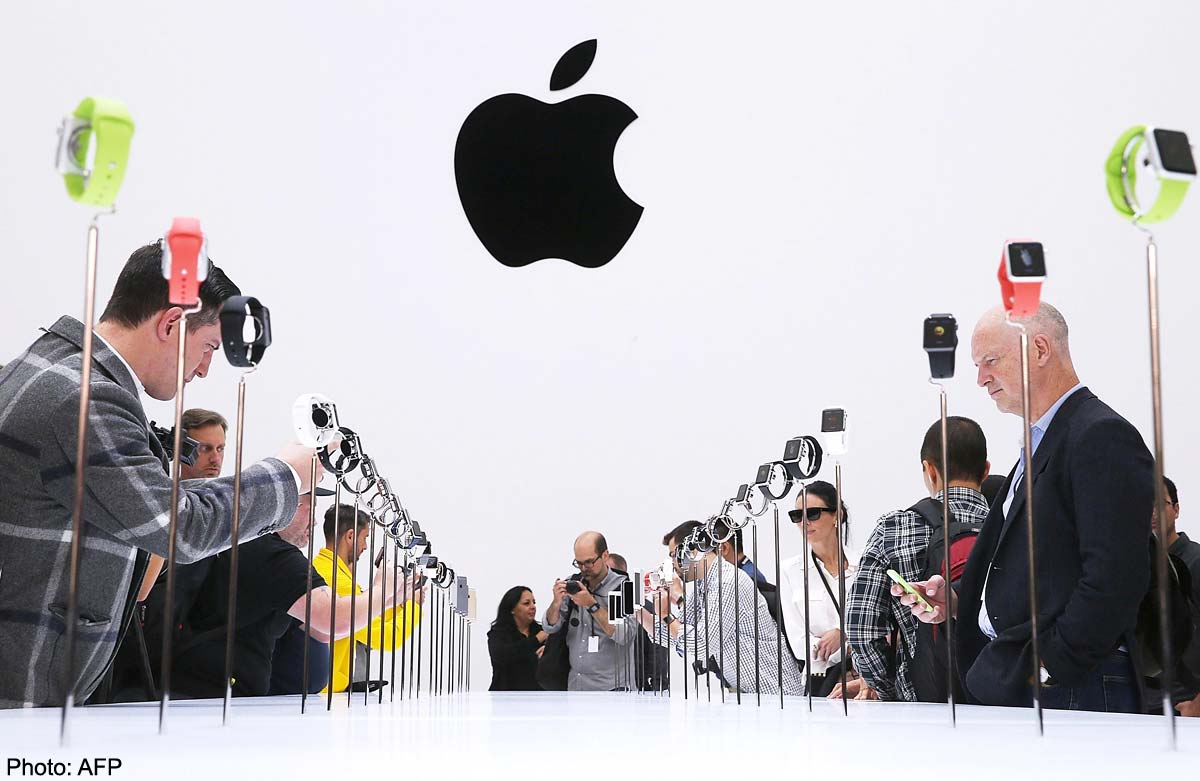 SINGAPORE - In unveiling its bigger iPhones and a new watch, Apple's head Tim Cook and gang blazed through the key features of their new gadgets in a tight media two-hour event.
So palpable was the rush to quell the anticipation in the room that Mr Cook even decided to do away with the regular sales updates.
"We have so much to cover today, I'm dispensing with those other than to tell you that everything's great," he told the audience before immediately diving into the new iPhones.
And there was indeed much to cover. The new devices are so chock full of features (the watch more so than the phone really) that it was impossible to cover it all in under 120 minutes. Here are some additional features that I think are worth highlighting - and in some cases re-highlighting:
iPhone 6 and iPhone 6 Plus
Much of the spotlight on the iPhone 6 and 6 Plus inevitably fell on the larger screens of the devices. The 4.7-inch iPhone 6 will retail in Singapore starting from $988 (16GB) and the 5.5-inch iPhone 6 Plus will start at $1,148 (16GB). Both iPhones will be available in colours of silver, space grey and gold. The new iPhones will hit Singapore's shores on Sept 19.
1. Reachability: The biggest complaint I get from my phablet-toting friends is that it's hard to reach a menu button at the top corners of their device.
Apple solves this on its bigger iPhones with a new gesture: double-tap twice on the home button and the top of the screen slides down to just about a third from the bottom. It's just enough for your thumb to reach the navigation bar of a browser for example.
The sleep/wake button has also been shifted to the right side of the phone for easier one-hand operation.
2. Time lapse function in Camera: The iPhone's improved camera function will now include a time-lapse function that apparently allows you to record as much as 30 hours of video.
3. Barometer: On top of an accelerometer and gyroscope, Apple is throwing in a barometer into its new phones as well. The barometer senses air pressure to determine relative elevation. This means the phone can track stairs climbed or how high you've trekked up, say, Bukit Timah hill.
4. iOS 8: There was little mention of iOS 8 today, given that it took centre stage at Apple's WWDC event earlier this year. But Apple did announce that the latest update to the software that powers iPhones and iPads will be available free in a week's time on Sept 17.
5. Voice over LTE (VoLTE): The new phones support Voice over LTE (VoLTE), a technology that lets users make high-definition (HD) voice calls over a 4G network. SingTel and StarHub have both launched VoLTE services but it remains to be seen if they will support the new iPhone 6.
Apple Watch
It's a timepiece, it's a fitness band, it's a phone, it's a remote… it's everything! With two sizes, three editions, a lot of bands and so many functions, this watch truly packs a punch.
6. Handling calls and messages: The Apple Watch has a built-in speaker and microphone for quick chats and dictating messages. It would be weird though, I think, to be caught talking to it a la Dick Tracy. What's a little more impressive is the ability to transfer calls from the watch to your car's speakerphone or Bluetooth headset. An incoming call can be silenced by covering the watch with your hand. Nifty!
7. Walkie-Talkie: This is quite self explanatory really. It's reminiscent of the push-to-talk function some phones used to have. It'll be quite a sight to see goldchain-wearing, Hokkien-spewing towkays sport the gold-plated edition Apple Watch and shouting into the device, won't it?
8. Achievements: Achievements is the Activity app's way in the Apple Watch to gamify exercise routines. You can earn special badges for a variety of achievements although it's still unclear what these badges are.
9. Remote Camera: It might be time to chuck that Bluetooth remote that came with the selfie-stick you bought. The Apple Watch doubles as a remote for the iSight camera on your iPhone. There's even a live preview of what your phone sees.

This article was first published on September 10, 2014.
Get a copy of The Straits Times or go to straitstimes.com for more stories.