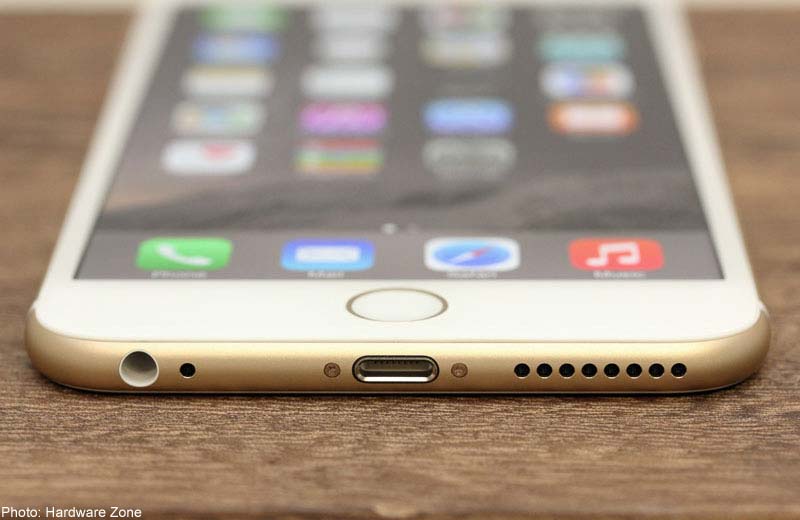 Has there ever been a phone more eagerly anticipated than the iPhone 6? After the design revolution that was the iPhone 4, the iPhone 5 and 5S disappointed many with their modest visual updates and half-hearted screen-size increase. People craved a phone that looked significantly different from previous models, and thus all expectations turned to the iPhone 6.
The hype leading up to the iPhone 6 was unprecedented. Some of the more outlandish rumours included a flexible sapphire crystal display, a wraparound screen, and a light-up Apple logo that would display notifications. By far the most anticipated rumour was that Apple would finally abandon Steve Jobs' mantra that smaller displays are better, in favour of a big 5-inch or larger form-factor, long championed by Android manufacturers for their flagship models.
On 9th September this year, for the first time ever, Apple unveiled two flagship iPhones: the 4.7-inch iPhone 6 and the 5.5-inch iPhone 6 Plus. Do they live up to the hype? Let's find out.
Design & Build
Aside from the display size, the iPhone 6 and 6 Plus look identical. Apple has ditched the angular, industrial design of the past four iPhones (from the 4 to the 5S), and returned to a softer, more organic form-factor, reminiscent of earlier models. Gone are the chamfered edges of the 5 and 5S, replaced instead with gently curved edges and an aluminium unibody build. It's not a complete redesign, and the aesthetic borrows heavily from the iPod touch and the iPad, but it feels fresh, especially after years of only modest design tweaks.
Both iPhones are thinner than anything Apple has made before, and they feel like it too. While the 5 and 5S was 7.6mm thick, the 6 comes in at 6.9mm and the 6 Plus is a hair thicker at 7.1mm. The increased screen size and rounded edges really emphasise the thinness, so while the actual difference in specs is only half a millimeter between the 5S and the 6 Plus, the 6 Plus feels much thinner. In fact, the 6 Plus is so big and thin, there's a certain aura of fragility to it, something compounded by the recent reports that the phone is actually bending in people's pockets when they sit down.
In terms of overall size, there's no way around it, the iPhone 6 Plus is massive. It looks big and it feels big, and unless you have exceedingly large hands, it's probably too big for you too. It might be something you can accept for all the extra perks a bigger display bring (not to mention bigger battery and optical image stabilization), but there's no doubt in my mind that the majority of people will find the iPhone 6 fits their hand better. It's also worth noting that, while the thin, rounded edges and super smooth aluminium finish look beautiful, they actually make the phones feel a bit precarious in hand and, while you can just grip the iPhone 6 a bit tighter (I know I did), the 6 Plus is a bit too big to comfortably wrap your fingers around and feel entirely secure that you're not going to drop it at any second.
When you have a big phone, your hand needs a secure grip, for example the Samsung Galaxy Note 3 has thick, ridged sides and a textured back, giving it a relatively easy grip, but with the 6 Plus, those thin edges start feeling a bit painful when you're grasping onto them as hard as you can, and the slippery aluminium feels like if you squeeze it too hard it might just pop right out of your hand. I actually found the 6 Plus more manageable when I added a case to it. The official Apple 6 Plus case has rounded edges too, but the leather is softer, wider and not as slick as aluminium.
Moving onto the back of each device, it's impossible not to notice the excessive use of antenna lines. The two stripes stretching across the top and bottom sections are fine, but the addition of two more unsightly lines that follow the upper and lower perimeter look out of place. Obviously Apple considered it a necessary trade-off between aesthetics and functionality, and no-one wants a second case of antennagate, but the lines do detract from the otherwise clean finish. It's especially noticeable on the gold colour, where the lines are stark white against the warm gold.
Something interesting to point out here is that the shiny Apple logo, which was previously just a laser-etched logo, is now actually part of the antenna system on the iPhone 6. That being the case, it makes me wonder if Apple couldn't have cut back on the extra antenna lines.
The other sore point I have regarding the rear of each phone is the camera module. While the phones got thinner, the camera module did not, resulting in a lens that sticks out from the rest of the chassis. While the lens is protected by sapphire crystal glass and is unlikely to get scratched, it doesn't look as nice, and as it's always the first thing to contact whatever surface you put your phone down on. I don't doubt the strength of sapphire crystal, but I'd rather not have to put it to the test. Of course, a nice case on the back of your phone once again solves both of these issues.
On the sides of the phone, the volume buttons, which were previously round, raised buttons, are now elongated oblongs like those on the iPod Touch and iPad. The ring/silent toggle switch above the volume buttons remains mostly unchanged, as does the 3.5mm headphone jack, which sits at the bottom, next to the speaker grille, like it did on the 5S. The top-right power/sleep button has been shifted to the right, like you find on many Android phones, which makes it much easier to press, now that the phones are bigger.
On the front of the phone, the round Touch ID home button, which first debuted on the iPhone 5S, returns and works much the same as before: a simple press unlocks your phone. It's incredibly simple, but a massive quality-of-life improvement. I've said this before, but it's worth mentioning again: once you've gotten used to unlocking your phone with Touch ID, going back to a passcode or pattern makes you feel like some kind of caveman, and you'll wonder how you ever lived without it. This time around, it's a bit more fiddly to get your thumb onto the home button, especially for the 6 Plus, but it's still worth getting used to. This year, Apple is also launching Apple Pay, which will allow you to do more with Touch ID, but unfortunately, for now at least, that feature will only be available in the US
As expected from Apple, both phones are a masterclass in build quality, fit and finish. The ion-strengthened glass panel (which Apple says is stronger than Corning Gorilla Glass III) on the front of the phone curves down ever so slightly at the edge for a beautiful, luxurious finish, and attention to detail is abundant in every corner of the phone, from the colour matched torx screws to the precisely machined and flawlessly cut out ports and speaker grill. Apple fans have a right to taunt rivals about the quality of their phones, and this is why.
Like the iPhone 5S, both phones come in three finishes: Silver, Gold and Space Gray. Silver and Gold have white front panels, while Space Gray is black. Despite retaining the same name, this year's Space Gray is actually much lighter than last year's, and is now only slightly darker than Silver. On the other hand, the Gold finish is a shade darker than last year's, and looks more gold now, rather than the coppery tone used on the 5S.
Display
Both models sport new Retina HD IPS displays, with the iPhone 6 fitted with a 1334 x 750 pixels resolution panel, giving it 326 pixels per inch (which is the same screen pixel density as the 5S), and the iPhone 6 Plus boasting a 1920 x 1080 pixels Full HD panel and 401 ppi density. Both displays are sharp, and it's hard to see any differences between them without scrutinizing closely, but up close it's just about possible to see some jaggedness on the 6 that just isn't there on the 6 Plus. We've also noticed that the 6 Plus at maximum brightness is just a hair brighter than the 6, but it's only really noticeable if you compare both side-by-side. Having said that, neither of these issues should be enough to persuade you to get a 6 Plus over the 6, and both displays look fantastic under normal usage conditions.
Natural colour reproduction has always been one of the strengths of Apple's displays, and both the 6 and 6 Plus are no exception. Colors aren't as vivid or saturated as they are on Samsung's Super AMOLED panels, which may cause some people fond of that particular look to describe it as washed out, but they're extremely accurate in terms of real world representation.
With the Retina HD display, Apple is also introducing 'dual-domain pixels,' a technology which arrange the display's subpixels into a chevron-like pattern designed to compensate for the loss of viewing quality that normally occurs when you look at the screen from the side. It also helps produce more contrast with deeper blacks and brighter whites. The viewing angles are indeed among the best we've seen, offering nearly 180-degree viewing without any loss of brightness or colour, and blacks also look darker than before, although they're still not pitch black like on a Super AMOLED display. It's actually worth noting that Apple isn't the first to introduce this technology, HTC uses a similar screen technology on the HTC One range.
Audio
As with previous iPhones, audio on the 6 series is once again provided by an internal speaker and a small speaker grille located on the bottom edge of the phone. Volume is louder than on previous models, but is still noticeably quieter than stereo front-facing equipped phones like the HTC One (M8) and Sony Xperia Z2. Furthermore, with the phone held in landscape orientation, there's an annoying one-sided quality to the audio, and it's all too easy to accidentally cover up the speaker grille with your hand.
Exclusive iOS 8 Features
Naturally, the new iPhones run on iOS 8. While the new OS wasn't as dramatic an update as iOS 7, it still includes a significant number of improvements, including support for third-party keyboards, Touch ID for third-party apps, and new widgets for quick app alerts in the notification centre. For a full rundown of the new features in iOS 8 check out our coverage from WWDC this year. On top of the features available for all compatible iOS 8 phones, the iPhone 6 and 6 Plus get a few exclusive features too.
Reachability
To cope with the larger screen real estate, and the fact that people don't have 5.5-inch thumbs, Apple's Reachability feature, which is activated with two quick taps on the Home button, lets any content at the top of the display slide down to the middle, putting it within easy reach. It sounds like a good idea, but in actual usage it's often easier to just strain your thumb or re-position your hand, especially on the 6. The problem is that it's inconvenient to do that much tapping. For example, if you want to open a folder of apps at the top of the display, double-tapping the home button will bring it down. Tap on that folder to open it and the display will slide back to normal again, requiring another double-tap on the home button to bring the app you want back within reach. On the 6 Plus, it's already a bit of a strain to re-position your thumb down to the Home button, and if you're doing that, you might as well just strain (or use your other hand) to open the app you want.
Other manufacturer's have tried similar tactics for one-handed phablet usage, such as Samsung and LG's method of shrinking the entire on screen display down to one corner, and Huawei's method of moving the keyboard and number dialer closer to one side, but none of them are ideal solutions. At the end of the day, if you're buying a phablet, don't expect to be able to use it comfortably one-handed.
Landscape Mode
Landscape Mode is exclusive to the 6 Plus, and takes advantage of the phone's huge screen real estate by changing the UI layout when the phone is held in landscape orientation. The bottom app shelf moves to the right, and apps like Mail and Messages are presented in an iPad-like view, with a list of messages on the left and their content displayed in a separate column to the right. A few apps also take advantage of Landscape mode, such as CNN, which also uses the two column tablet-style layout to present content. The 6 Plus feels really comfortable to use with two hands in landscape orientation, and Landscape mode makes good use of the extra screen space, making the 6 Plus feel like a mini-tablet, rather than just an oversized phone.
Performance Benchmarks
When Apple unveiled the iPhone 5S, one of its most significant upgrades was that it would be the first phone with 64-bit support, thanks to its A7 processor. A year on, and most consumers haven't noticed the difference. But while the potential of 64-bit architecture still hasn't been fully realised, that hasn't stopped Apple from bumping up the performance of this year's A8 chip. The dual-core A8 gets a modest clockspeed boost, going from 1.2GHz to 1.4GHz, which Apple says is good for a 25 per cent increase in CPU performance, and a 50 per cent boost in GPU output. Like the 5S, RAM remains at 1GB.
If those specs don't sound very impressive compared to the quad-core 2.5GHz Qualcomm Snapdragon 801 processors and 2 to 3 GB RAM most Android flagship phones come equipped with, remember that Apple's strength has always been the level of optimization between its hardware and software, something that Android manufacturers can only dream of, and something that isn't apparent from specs alone.
For this review, we'll be seeing how the 6 and 6 Plus fare against the most popular Android flagships out there: the LG G3, Samsung Galaxy S5 and Sony Xperia Z2. We'll also see how much better the A8 is compared to the iPhone 5S' A7.
Sunspider Javascript
SunSpider JavaScript measures the browsing performance of a device. It not only takes into consideration the underlying hardware performance, but also assesses how optimized a particular platform is at delivering a high-speed web browsing experience.
Safari has always been well optimized for Apple's processors and it only continues to get better with the A8. Both the 6 and 6 Plus beat every other device, with the 6 boasting a slightly faster time. In actual web browsing usage, there were no noticeable differences between the two phones, with both providing a snappy and responsive experience.
3DMark (2013)
3DMark (2013) is a synthetic benchmark consisting of two graphics tests packed with high quality textures and post-processing effects designed to stress the GPU performance of the device and a physics test to stress its CPU performance. With all of our devices easily maxing out the Normal and Extreme versions of this test, we'll just be looking at Ice Storm Unlimited, which is used to make chip-to-chip comparisons of different chipsets, CPUs and GPUs, without vertical sync, display resolution scaling and other operating system factors affecting the result.
The A8 chip delivered a 25 per cent increase in performance from last year's A7, bringing the iPhones in line with the Qualcomm Snapdragon 801 processors. Strangely enough. despite having exactly the same specs, and with screen resolution taken out of the equation on the Unlimited benchmark, the 6 Plus consistently (albeit it marginally) outperformed the 6.
Imaging Performance
While the megapixel war rages on among manufacturers like LG, Samsung, Sony, and Microsoft, Apple apparently doesn't feel compelled to join the fray. Instead, it's kept to the same 8MP iSight camera as the 5S, with the same f/2.2 aperture lens and 1/3-inch sensor size. What it has added is 'Focus Pixels,' which is Apple's fancy term for Phase Detection Autofocus. This tech is used in many DSLRs, as well as the Samsung Galaxy S5, and enables faster autofocusing by using standard contrast detect to get you close to focus, and then phase detection, which compares the actual light received by the sensor to fine-tune the focus. Phase Detect is available on both the 6 and 6 Plus and results in lightning fast, accurate auto focus. Even in low light situations, we were impressed by how quickly the 6 was able to lock on.
The only difference between the two cameras is that the 6 Plus comes with Optical Image Stabilization (OIS), whereas the 6 is stuck with Digital Image Stabilization. OIS uses a gyroscope inside the camera lens to reduce blurriness from unsteady hands or other camera shaking. In use, we found the OIS especially handy in low-light situations and the 6 Plus consistently provided sharper images than the 6, despite identical conditions.
iOS 8 also added a bevy of new camera features, not just for the 6 and 6 Plus, but for all older compatible iPhones too.
Battery Life
Apple has taken full advantage of the 6 and 6 Plus' larger form factors to address one of the issues that has plagued previous iPhones: battery life. The 6 is fitted with a 1810mAh, 3.872V battery, which puts it much closer to the units found in similar Android smartphones, while the 6 Plus boasts a whopping 2915mAh, 3.82V battery.
As always, our standard battery test for mobile phones has the following parameters:
- Looping a 800 x 480-pixel video with screen brightness and volume at 100 per cent
- Wi-Fi and Bluetooth connectivity turned on
- Constant data streaming through email and Twitter
We expected the iPhone 6 to do better, but we were surprised by how much better it did, lasting a whopping eight hours in our battery benchmark. The 6 Plus did even better, outlasting every device we've compared here, and running for an unprecedented 8 hours and 42 minutes. As impressive as it sounds, the iPhone 6 Plus still can't trump the Samsung Galaxy Note 3 which has a higher capacity battery and a more efficient screen.
In real world usage, the 6's battery life is noticeably improved, and we had no problems using it throughout the work day, watching a variety of videos, browsing websites, and playing games, ending the day with about 20 per cent remaining battery life. The 6 Plus was even better, ending a full work day with about 30-40 per cent remaining.
Portability
We measure the portability of a device by calculating its battery life to (weight x volume) ratio. As expected, the super thin and (relatively) compact iPhone 6 easily bested the competition in this metric, while the sheer size of the 6 Plus held it back. However, it still performed relatively well compared to other phablets like the LG G3.
Conclusion
To some it may seem like Apple is playing catch up with the iPhone 6 and 6 Plus. After all, larger display sizes have been available on Android phones for years, and new features in iOS 8 like third-party keyboards and notification menu widgets have all been present in Android from day one. It's true too that the iPhone can't compete with the myriad of boundary-pushing (and occasionally gimmicky) features found on many rival phones, from LG's QHD and flexible curved screen displays, to Sony and Samsung's dust and waterproof builds, to Microsoft's 41-megapixel cameras, but ultimately it doesn't matter, because nobody does the core tenets of smartphone construction better than Apple. The combination of class-leading design, build-quality, camera-quality, system performance and navigation, and software-hardware integration is a formula that's hard to beat, and it's the reason why so many people keep coming back to Apple.
So yes, the iPhone 6 isn't revolutionary. It's a long overdue screen upgrade for Apple, and it also fixes some issues, like battery life, that have long been a sore point for previous iPhones. It isn't perfect either. The excessive antenna lines and bulging camera bump are unsightly, and it might just be too thin for its own good. But it is the best iPhone Apple has ever made, and it offers not just competitive, but leading performance as well as enough useful features to rival any phone out there. And now that Apple offers two screen sizes - three if you include the iPhone 5S - there's an iPhone to fit all size and comfort levels.
As for which iPhone is right for you, it really depends on your usage patterns. I will say this though, as good as they are, I don't think the extra battery life, higher resolution display and optical image stabilization are important enough features for to pick the 6 Plus over the 6. Get the 6 Plus because you'll make use of the form factor, and you watch videos or read a lot on your smartphone, not because its battery lasts 40 minutes longer and it takes better pictures in the dark.
For most people, the 6 will be the perfect size: it displays websites and videos on a large enough display that you don't need to squint to see what you're looking at, it will fit most people's hands, and it isn't so far removed from the 3.5-inch iPhone 4 and 4-inch iPhone 5 that it will feel completely foreign to long-time iPhone users. Personally, I've been carrying both phones around with me for the past week, but now that I've finished this review, which one will I continue using? The iPhone 6.

Visit Hardware Zone for more stories.