Feeling isolated as social distancing slowly continues to become the norm? Don't worry - artist KAWS' Companion is here to relieve you from your lonely reality. Or at the very least to augment it.
Venturing into the digital realm, KAWS presents Expanded Holiday, an augmented reality exhibition which you can access on your phone through the app Acute Art.
The public exhibition - the first in a three-part project - will feature 12 monumental AR Companion sculptures placed by KAWS in 12 locations on six continents (missing out Antarctica).
Viewers can encounter Companion floating over Hong Kong's Observatory Wheel, Times Square in New York, the Millennium Bridge in London, and even the Serengeti National Park in Tanzania. The exhibition can be seen via the app from March 12 to March 26.
What's more, you can even own a KAWS, either permanently or temporarily from 24 hours up to 10 days, if you're willing to pay for it.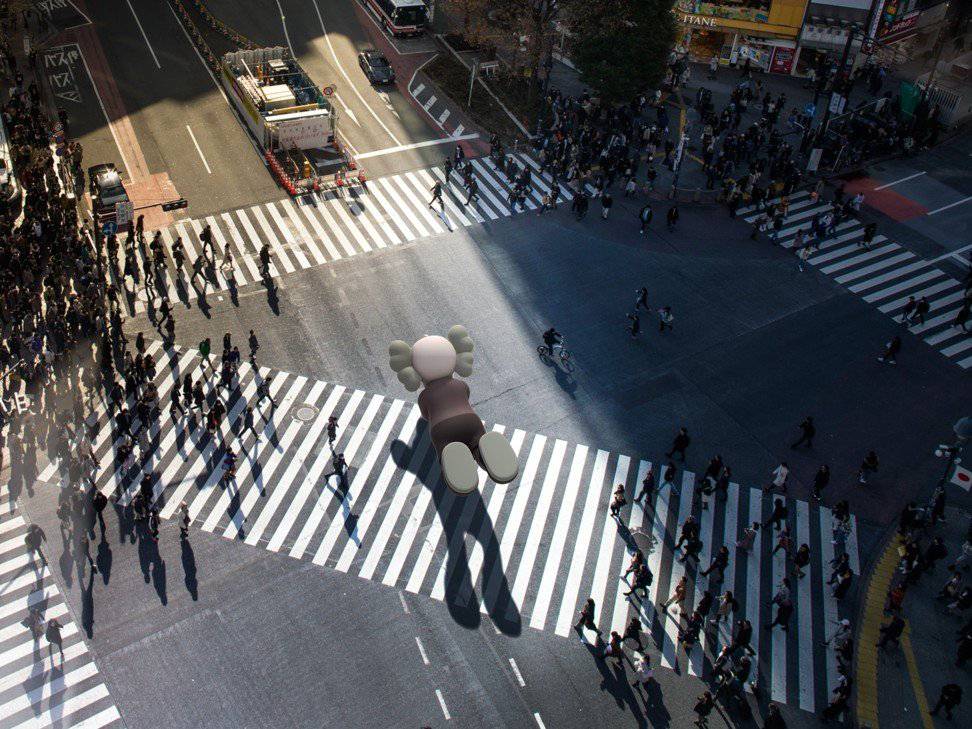 For the second component in the project, Edition of 25 (Companion Expanded), 25 AR sculptures are available for US$10,000 (S$15,000) via the Acute Art website. In the third, Open Edition At this Time (Expanded), you can own an AR sculpture, with prices starting at US$6.99 for 24 hours.
Acute Art is a platform which allows the public to access, experience, and even own artworks in VR/AR by providing the required technology to leading visual artists, who can then realise their creative visions and reach audiences on a potentially massive scale.
"I have been creating objects and exhibiting works in public spaces throughout my career, and this allows me to expand on that in a whole new arena. The possibilities of locations and scale are endless, and I'm excited to start a new dialogue in this medium," says KAWS.
The definition of what constitutes art continues to expand, push boundaries (and buttons). While contemporary artists have started to experiment and have engaged with VR/AR mediums for some years now, its accessibility to the public as a visual art form has yet to be established.
Which is precisely why Acute Art co-founder and chief executive Jacob Geer thinks KAWS, as "an artist with an unparalleled fan base, is the perfect artist to launch the Acute Art App".
The artistic director of Acute Art - curator Daniel Birnbaum (whose long list of credentials include serving as the director of Moderna Museet in Stockholm in addition to being the director of the 53rd Venice Biennale in 2009) - says: "I have followed how he has developed into this phenomenon. I think he is the ideal artist for this medium.
"We have realised AR works with other artists, like Koo Jeong A. Her reflective ice cube, Density, hovered in a secret garden inside Regent's Park [in London] for a few weeks. Nobody really saw it, yet it was there. For me it opened an entirely new realm for exhibitions.
"I think KAWS' participatory work will be seen by thousands of people, perhaps millions. We want to develop AR into a participatory and interactive art form. We also want to create an international spectacle. Is it possible to create a virtual blockbuster? We will see."
The company has already worked with a number of leading artists, including Antony Gormley, Jeff Koons, Olafur Eliasson, Marina Abramovic, and most recently, Cao Fei. It featured the latter's new VR work The Eternal Wave, co-presented at her acclaimed show which opened this month at the Serpentine Galleries in London.
Acute Art is attempting simultaneously to write the digital course of art history through innovation and engage a wider audience. Birnbaum says: "We want to work with significant artists and we want them to explore these new visual possibilities through works that could not have been realised in more traditional mediums. If the piece could have been a sculpture or a film, we see no reason to realise it in mixed reality or augmented reality."
He adds: "I wonder if we should look a little bit outside the art world? What about Daft Punk or a choreographer like Anne Teresa De Keersmaeker or a genius designer like Virgil Abloh?"
As the lines between art, design, pop culture, and technology continue to be crossed, Birnbaum stresses that AR and VR are not replacements for traditional artistic mediums. However, they do provide a sustainable alternative for an art world that is causing environmental damage mostly from mass travel.
"Thousands of people flying to Hong Kong for a weekend to look at art that also has been shipped there doesn't seem like the ideal model," says Birnbaum. "Politically aware artists and curators flying to distant biennials to discuss the climate crisis is a bit bizarre too. I know, I have been one of them.
"I'm not saying that AR is the answer to all these issues, but I think we need a new curatorial toolbox and I'm quite sure that new technologies will help us navigate the changing landscape."
This article was first published in South China Morning Post.