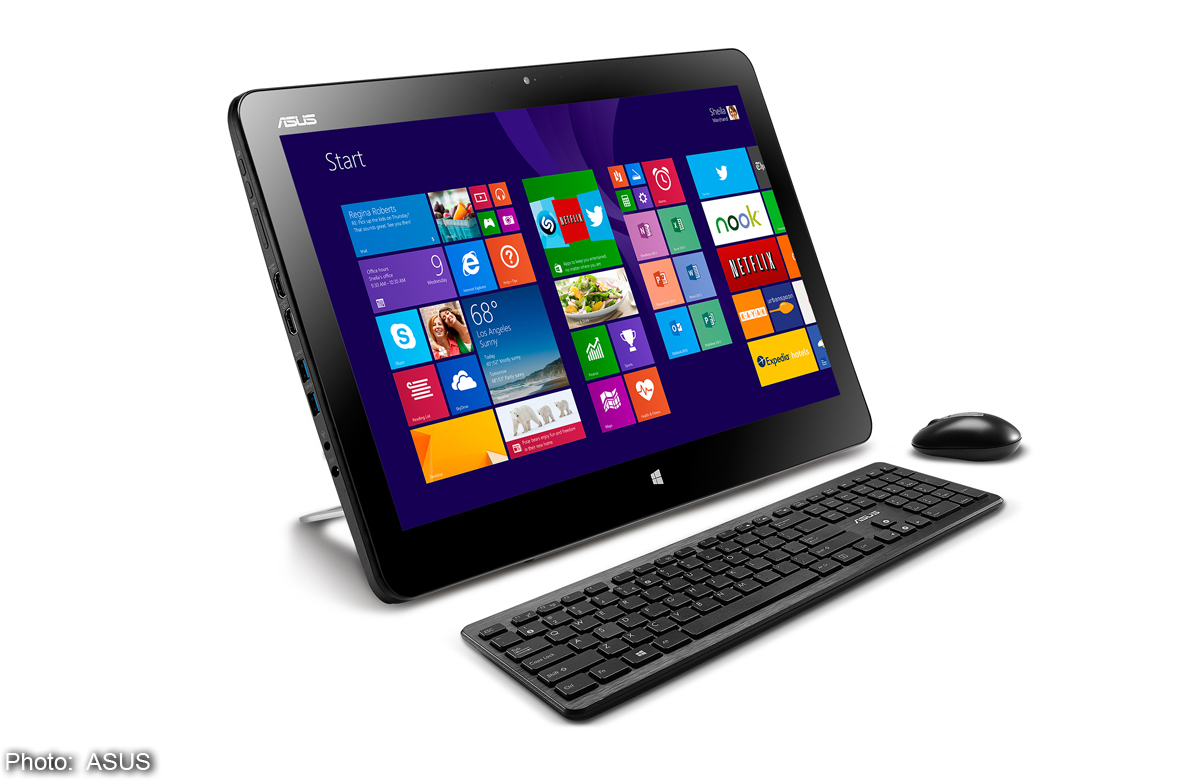 I cannot quite decide what this Asus computer is for, despite spending a couple of days with it.
Like a tablet, the PT2001 has an integrated battery that kept it ticking for 4hr 10min in our video-loop battery test.
But it weighs 3.3kg and has a 19.5-inch display that makes it too bulky to be a conventional slate.
So is it an all-in-one (AIO) computer then? The screen is a tad small for an AIO, but acceptable. An adjustable kickstand keeps it upright like an AIO. Asus even throws in a wireless keyboard and mouse to make the PT2001 feel more like a PC. It comes with standard USB ports, HDMI and even an SD card reader. But there is no Ethernet port.
In fact, we have seen such devices a couple of years back with the Sony Vaio Tap 20 and the
Dell XPS 18. But these desktop-tablet hybrids were not available in Singapore.
What this Asus has that is better than the Sony and Dell is an HDMI input port, which turns the Asus into a portable display.
Onscreen monitor settings let you adjust the contrast, brightness and colour temperature of the display. The downside: You cannot tweak screen brightness using the Windows display settings.
Its ability to function as a monitor is useful as you can save space on your desktop by using the Asus as both a PC and a monitor for another computer or console.
But the screen resolution (1,600 x 900 pixels) is puny for its size, though viewing angles are good because it uses in-plane switching technology.
The Asus runs Windows 8.1, so you get both the tile-based Modern interface and the traditional desktop environment. The touchscreen comes in handy when navigating the Modern interface.
Included on the computer is PointGrab, an app that lets you control the PC via gestures detected by the webcam. But the novelty wears off once your arm starts to ache from having to hold it up to execute these gestures.
Performance is mediocre at best. The Asus has a new Broadwell-class Intel processor, but it is a less powerful Core i3 version. Integrated graphics rule out most games other than casual titles. The hard drive is a 5,400rpm model that provides decent capacity but not speed. Having to wait 8sec to load a simple app is frustrating.
The saving grace is the price tag. It is affordable enough at $769, though I am not convinced that its versatility can make up for its overall mediocrity.
A desktop-tablet hybrid that is merely adequate for basic computing tasks.
TECH SPECS
Price: $769
Processor: Intel Core i3-5010U (2.1GHz)
Graphics: Intel HD Graphics 5500
RAM: 4GB
Screen size: 19.5 inches, 1,600 x 900 pixels
Storage: 500GB 5,400rpm hard drive
Connectivity: 2 x USB 3.0, 1 x USB 2.0, HDMI input, HDMI output, SD card reader, audio jacks
Battery: 66 watt-hour
RATING
Features 3/5
Design 3/5
Performance 3/5
Value for money 4/5
Overall 3/5
vinchang@sph.com.sg

This article was first published on June 10, 2015.
Get a copy of Digital Life, The Straits Times or go to straitstimes.com for more stories.