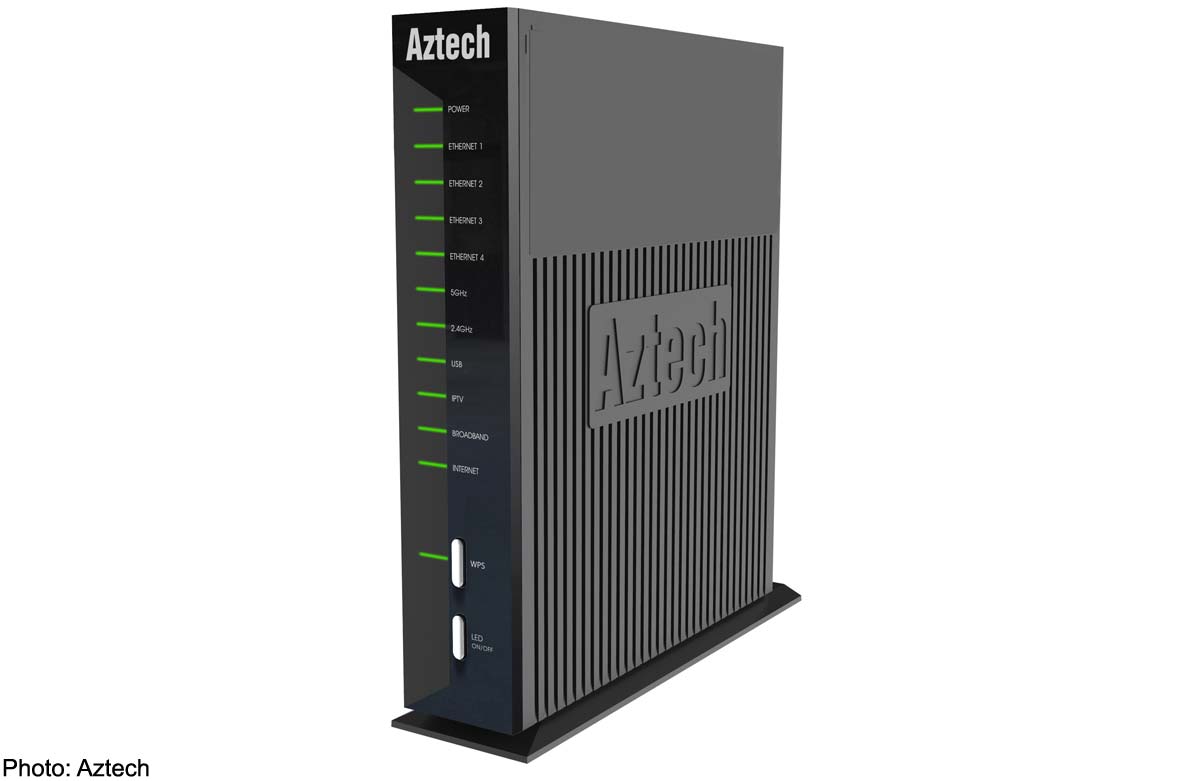 Singapore conglomerate Aztech is the latest networking vendor to release a "Wave 2" Wi-Fi 802.11ac router that boasts an aggregate speed of 2,400Mbps.
Like the other Wave 2 routers on the market - Asus RT-AC87U and the Linksys E8350 - Aztech's offers four spatial streams on the 802.11ac standard (1,733Mbps) and one on the older 802.11n standard (600Mbps). Add the two numbers to get the advertised 2,400Mbps figure.
The catch: no single client device is currently capable of using all that speed. Laptops typically support two spatial streams, while desktop PCs may support up to three.
But many people have multiple Wi-Fi devices at home. And they will benefit from the MU-MIMO (multi-user, multiple input multiple output) feature found in Wave 2 routers. This technology lets the router send data to multiple devices at full speed for every device.
Aztech's router comes in an upright rectangular black box that looks much like its predecessors. It has no holes for it to be mounted easily on a wall.
Unlike its rivals, the Aztech router lacks external antennas. An array of LEDs on the front panel indicates the status of your Internet connection - green bars are good. A Wi-Fi Protected Set-up button lets you connect supported devices to the router without your having to enter the Wi-Fi password.
At the back of the router, you will find the standard four Ethernet LAN ports, two USB 3.0 ports and a Reset button if you need to change the router settings back to the factory default.
Designed for the local market, the Aztech can automatically detect your fibre connection settings once you connect it to the Optical Network Terminal installed by NetLink Trust (formerly OpenNet). In short, it is plug and play.
By default, the Web interface is set to Basic mode, which lets you access a handful of settings. You can enable port forwarding and change the names and passwords for the Wi-Fi networks. Settings are sorted by categories and available as drop-down items.
To update the router's firmware, you download an update file from Aztech's website to a computer, then upload it to the router via the Web interface. This is an extra step compared with routers that can download the updated firmware directly.
Changing the Web interface to Advanced mode unlocks more settings. Some, such as parent controls, are useful. But features on competing routers, such as guest networks, are missing. The interface also lacks tool tips to explain what each setting does. But the interface feels responsive because it is simple and also because the router uses a capable 1GHz dual-core chip.
More importantly, in my tests, the router's actual download speed (around 222Mbps) is comparable with those of its more expensive rivals.
Despite lacking some of the features found on more expensive routers, this Aztech router performs well enough.
TECH SPECS
Price: $329
Ethernet interface: 1 x 10/100/1,000 Gigabit WAN, 4 x 10/100/1,000 Gigabit LAN
Standards: 802.11a/b/g/n/ac
Security: WPA/WPA2, WEP, Advanced Firewall
Features: SPI, NAT, DoS protection
RATING
Features: 3/5
Design: 3/5
Performance: 4/5
Value for money: 3/5
Overall: 3/5

This article was first published on Jan 07, 2015.
Get a copy of Digital Life, The Straits Times or go to straitstimes.com for more stories.