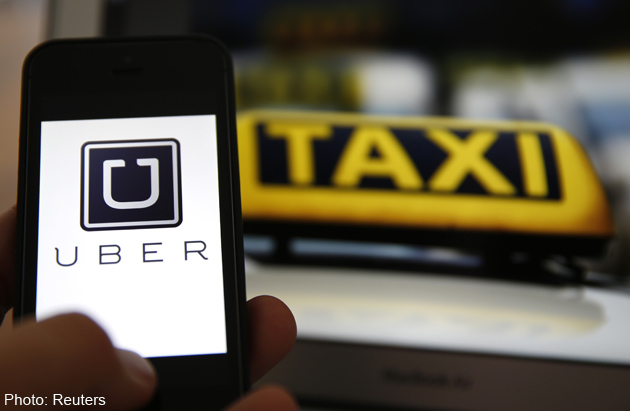 Korea's lawmakers and administration officials are pushing to ban Uber, the app-enabled taxi service, from operating in local cities.
A ruling party lawmaker recently submitted a bill aimed at punishing providers of the service, which links private cab drivers with customers over the Internet. The bill also calls for rewarding people who report taxi app operators to the authorities.
Officials at the Transportation Ministry agreed to introduce the measure, noting that, under current law, it is possible to punish unlicensed private taxi drivers but not those who have connected them to consumers.
What is missing from this move is the perception that cabs should be regulated in the interests of passengers, not licensed drivers. The expansion of the app service launched by the San Francisco-based company in 2010 to more than 170 cities worldwide reflects consumers' discontent with the incumbent licensed taxi businesses.
The Korean public are no exception, often complaining that they have difficulty hailing cabs during rush hour and late at night. Some licensed drivers even refuse to accept passengers who want to travel to places that are inconvenient for them. Lawmakers and administration officials should think more actively about expanding choice to citizens. They would be unwise to ban the Uber service that enables customers to hail private-hire cars quickly from any location.
The licensed cab business raises concern about the risk that the taxi app service will allow drivers to circumvent the rules. Regulation is certainly needed to ensure safety and quality are maintained, but it should not be a pretext for anticompetitive restrictions.
The number of licensed taxis has continued to rise, particularly in Seoul. But this cannot be allowed to prevent consumers from benefiting from the convenience offered by the taxi app.
It should be noted that a regional court in Germany banned the Uber service last year only to withdraw it within two weeks, acknowledging consumers' demand for e-hailing.
Licensed drivers need to learn lessons from the taxi-app business rather than insisting on protecting their vested interests. They should do more than arguing their service is more reliable and safer, a claim most consumers appear to turn a deaf ear to.