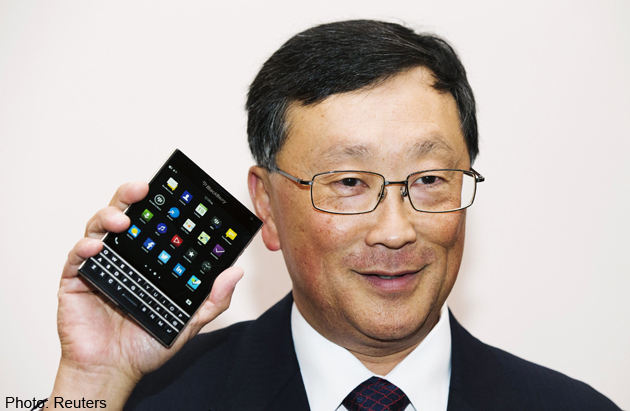 OTTAWA (Ontario) - There are plenty of signs suggesting that BlackBerry chief executive John Chen should sprint as fast as possible away from making phones.
Handsets drove the firm's initial success, but they then brought it to the edge of financial ruin, also-rans behind Apple and Samsung. Even Mr Chen, brought in last November to salvage BlackBerry, has made it clear that the company's future lies mainly in selling mobile data management security and services to governments and corporations.
But on Wednesday, BlackBerry reached for smartphone magic once more, introducing the Passport. The phone features a novel square display and a physical keyboard that doubles as a trackpad.
If Passport fails, however, it will likely signal the end of BlackBerry's handset business.
Mr Chen plans to aim sales efforts for the Passport at BlackBerry's traditional customer base - regulated industries like banking, health care and government, particularly law enforcement and the military. The security concerns of such users make them far less concerned about price than many other buyers.
But some analysts say BlackBerry must overcome several significant hurdles to re-establish its phone business with the Passport.
Unlike, say, makers of sports cars, BlackBerry cannot sell the Passport as an executive phone that commands an unusually high price. Apple, most analysts agree, has set the ceiling for smartphone prices. The Passport, when bought without a carrier subsidy or large corporate buyer's discount, will cost US$600 (S$760) in the United States, US$50 less than the basic iPhone 6.
But smartphones are a product for which large-scale manufacturing brings significant savings - and scale is something the much- diminished BlackBerry lacks. IDC, a research company, estimates that Apple shipped 32.5 million iPhones during the second quarter of this year while BlackBerry moved only 1.5 million handsets.
Mr Dick James, an analyst with Chipworks, said the Passport's two most obviously unique pieces of hardware, the square screen and keyboard, were also among its most expensive parts. "They won't have scale, so their costs are going to be higher than that of the other leading-edge phones," he said. "This phone will be lucky if it hits a million in total."

This article was first published on Sep 26, 2014.
Get a copy of The Straits Times or go to straitstimes.com for more stories.