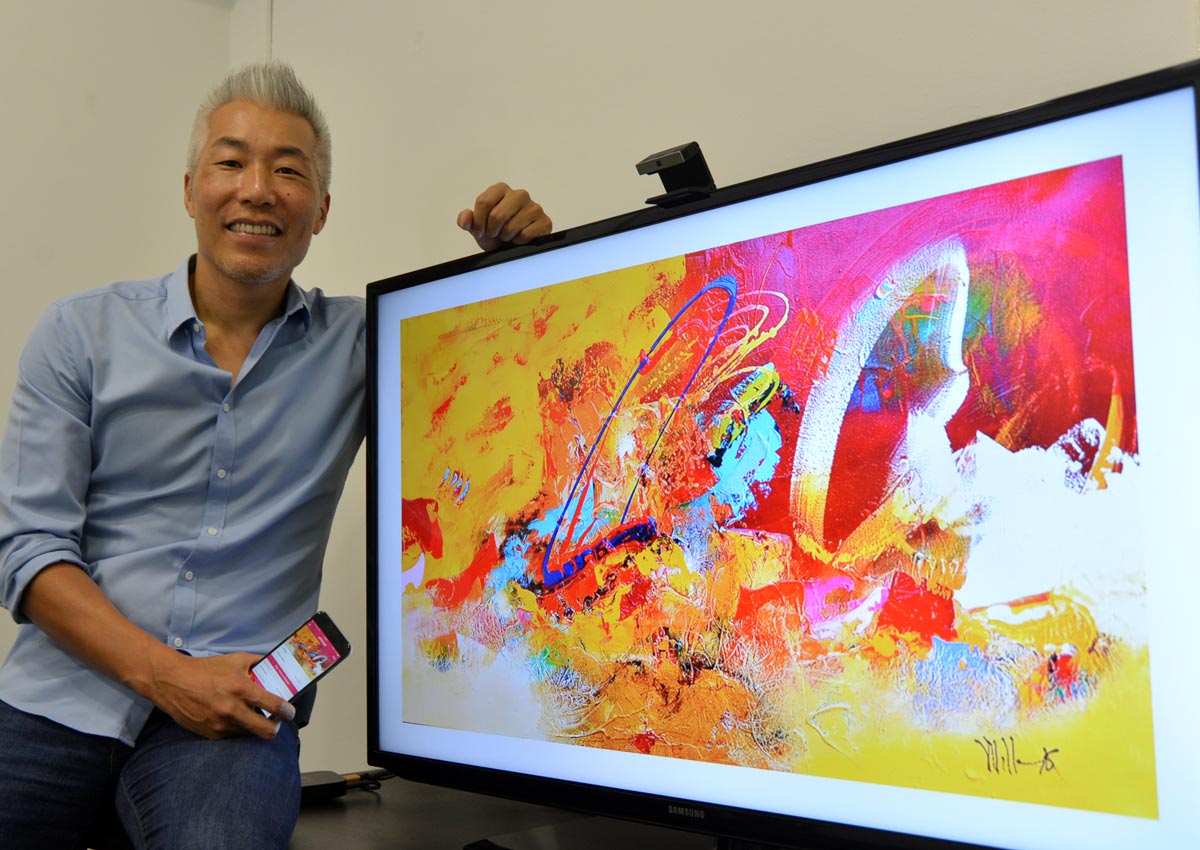 Purchasing art online can be tricky if you do not have the vocabulary to describe what sort of style you would like.
Being unable to narrow down your art preferences through words means browsing through page after page of art pieces, which can be a tedious process.
This was what mobile consultant Jonie Oostveen, 42, faced when he went online to search for an art piece for his apartment.
And this eventually led to his developing an art-recommendation and marketplace app, Arto.
"I was at a website with over 5,000 art pieces and, after 20 minutes of browsing, I realised I needed to narrow down the search results to something more specific," said the Dutchman, who has been living in Singapore for the past six years.
"I was staring at the search box and thinking: What is my art taste? How do I describe it?"
This realisation that searching for art would be much easier with a visual search engine led to the development of Arto, which was released last October.
Arto's "special sauce", as Mr Oostveen puts it, is its art-recommendation engine.
A machine-learning algorithm is used to "learn" what sort of art customers may like and Arto recommends them pieces based on initial preferences.
The four-man Singapore-based start-up began development on Arto in December 2015, when it obtained a six-figure investment sum from angel investors.
It is the first art-recommendation app developed here which also collaborates with local art events and fairs to put the works on display onto a digital platform.
Currently available only on iOS, Arto lets users view more than 15,000 art pieces from all over the world, including those from museums and individual artists, and buy pieces which are up for sale.
The first time a user starts up the app, he is presented with a series of art pieces ranging from photography works to modern, abstract art.
Users can swipe right to like the piece, or swipe left to dislike it.
With the machine-learning algorithm, Arto also creates special lists of artwork for each individual user.
"It's like Tinder for art; very easy, very playful," said Mr Oostveen, referring to the dating app where users "swipe" to show their interest in other users.
"The more they swipe, the more the app learns what they like or don't like, and gives them better recommendations".
This recommendation engine is what differentiates Arto from other art gallery apps which have a similar swipe-to-like feature, such as Swiss-based app art Wydr.
Such apps keep a playlist of the pieces users have liked, but do not use the information to recommend pieces to users, unlike Arto.
The pieces recommended can be purchased by users, as each piece is linked to the artist's or gallery page which users can get in contact with.
The app is not just for people looking to buy art - art lovers who want to have a mobile feed of galleries can also use it to scroll through pieces from museums.
Arto collaborates with international galleries and places like the Singapore Art Museum and the Rijksmuseum in Amsterdamto feature their artwork on the app.
It has also worked with art events here, such as the contemporary art fair Art Stage held last weekend and the Affordable Art Fair in November last year.
It designed a special playlist filled with the pieces on display and sale at both events for show-goers and interested buyers.
lesterh@sph.com.sg

This article was first published on January 18, 2017.
Get a copy of The Straits Times or go to straitstimes.com for more stories.