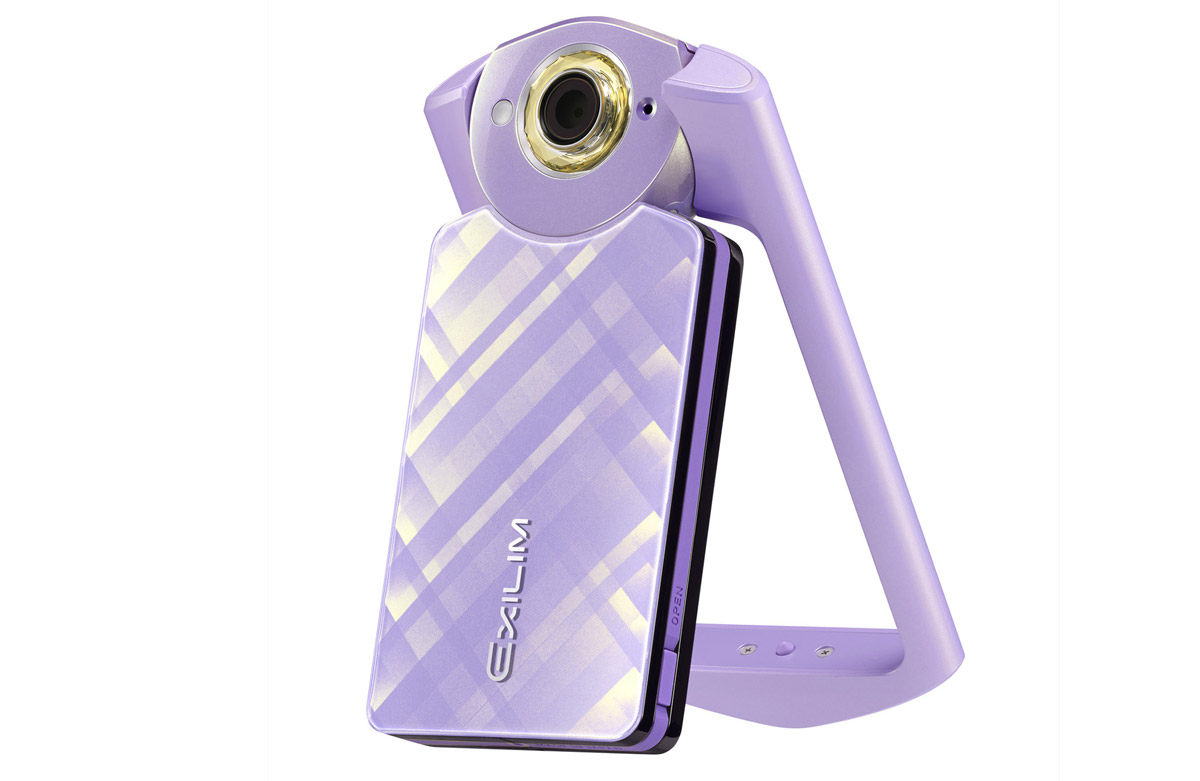 TECH REPORTER TREVOR TAN'S TAKE
I hate taking selfies. Seriously, who wants to look at pictures of a guy who always looks tired?
So, Casio's Exilim TR-series selfie cameras have never excited me, even though they are usually sold out despite their hefty price tags.
After Casio launched its latest Exilim EX-TR60, it took the company two months before it could get hold of a review unit for us.
It comes in violet, green, pink and gold. At only 14.6mm thick, the TR60 is slim enough to slip into your pants pocket. Despite its good looks, the body is plasticky.
But it has a frame that can be rotated 315 degrees and a 3-inch touchscreen display that can be rotated 270 degrees. This means it can be contorted to almost any angle for creative shots. The rotatable frame can be used as a handle.
The shutter release is on one side of the frame, with a Selfie Pad - a capacitive sensor pad - beside it. The Selfie Pad is what you use to control Selfie Art, Zoom and Shutter. It took me a while to work out how to use it. You double-tap to activate it. Its most useful function is Zoom. You slide a finger or thumb on the Selfie Pad to use it.
Settings can be changed easily using the touchscreen. You can take a photo by pressing the shutter button, tapping the touch shutter, or simply waving at the camera.
Since this is a selfie-centric camera, forget about conventional shooting modes such as aperture-priority or shutter-priority. In their place, you have Auto, Premium Auto Pro, Art Shot, Best Shot and Make-up Bracketing modes.
I found the Premium Auto Pro mode the most useful as it automatically changes settings according to the scene, yet allows you to use the Make-up feature. Some modes deactivate the Make-up feature.
Make-up lets you lighten and smooth out a subject's skin. Who needs SK-II Men when you can get a smooth complexion instantly?
The TR60 is surprisingly quick. It powers up in 1.5sec but takes 3sec to shut down. Autofocusing in bright sunlight takes 0.2sec. In dim conditions, it takes 2sec.
Image quality is sharp with nice vivid colours. Auto white balance is spot on in most lighting conditions. But the ISO performance is not very good - image noise is evident at ISO 400 with loss of details. Anything above ISO 800 is not recommended. On a fully charged battery, it manages about 240 still images. But if you connect it to your smartphone often to transfer images, the mileage will decline .
• As a woman colleague commented, I looked ridiculous holding the Casio Exilim EX-TR60. There is no doubt that this camera shoots beautiful selfies. But it is not a camera for everyone - and certainly not for me.
FASHION REPORTER, GLADYS CHUNG'S TAKE
I've been a fan of the Casio Exilim since my selfie-queen friends - a beauty blogger and a make-up artist - introduced it to me a couple of years ago.
I borrowed the compact camera for a few shots and was impressed at how it was almost impossible to take a bad selfie with the gadget.
But I never understood why anyone would fork out more than $1,000 for a camera expressly made for selfies. Until I road-tested the latest EX-TR60 version of the Exilim series for two days.
First, I compared it with the Beauty Face function of my Samsung Note 4 phone, which I use to blur out imperfections on my face.
The TR60's Make-up Bracketing function topped that. It perfected my complexion and added a realistic rosiness and radiance to my skin. Like a good BB cream. (BB or beauty balm is a moisturising foundation with anti-ageing ingredients that adds colour and an immediate glow to the skin.)
Next, I pitted the TR60 against the popular selfie picture-editing MeituPic app, which lets me brighten my skin tone and smoothen my complexion on a sliding scale of zero to 100. But I did not like the end result - my features seemed to blur out and disappear as I slid the scale towards the maximum.
The TR60's Make-up mode does the same function, but on a scale of zero to 13. And when I went all the way on the scale, the camera just made me look like I had naturally beautiful skin.
The clarity of the pictures was impressive as well: Every strand of my hair was clearly visible.
I thought the TR60 made me look so good, I was confident enough to post a #wokeuplikethis selfie on my Instagram account right after I rolled out of bed.
I like many of the camera's other features too. The lock function was helpful in preventing me from accidentally deleting my favourite pictures. Besides great selfies, I could take super-clear pictures of both landscapes and small objects, even with the light behind me.
It was easy to use Bluetooth to beam the pictures to my phone.
It helps that the camera comes in attractive colours and designs, and fits in the palm of my hand.
There are, however, some things I wish the TR60 had. Like a 360-degree pivot instead of a 270-degree one. And by the end of the two-day road-test, I still could not activate the Selfie Pad function, which lets the user control the various camera features just with the sensor pad on the frame of the camera.
All in all, I find this piece of selfie equipment a worthy investment.
• If you wear make-up to look good, why not use the best selfie camera to look even better on social media?
TECH SPECS
PRICE: $1,299
IMAGE SENSOR: 12.1-megapixel 1/1.7-inch CMOS
LENS: 21mm f/2.8
DISPLAY: Rotatable touchscreen LCD with 921,600 dots
SENSITIVITY: ISO 80 to 3,200
WEIGHT: 167g (with battery and memory card)
---
TREVOR'S RATING
FEATURES 1 2 3 4 5
DESIGN 1 2 3 4 5
PERFORMANCE 1 2 3 4 5
BATTERY LIFE 1 2 3 4 5
VALUE FOR MONEY 1 2 3 4 5
OVERALL 1 2 3 4 5
---
GLADYS' RATING
FEATURES 1 2 3 4 5
DESIGN 1 2 3 4 5
PERFORMANCE 1 2 3 4 5
BATTERY LIFE 1 2 3 4 5
VALUE FOR MONEY 1 2 3 4 5
OVERALL 1 2 3 4 5

This article was first published on July 01, 2015.
Get a copy of The Straits Times or go to straitstimes.com for more stories.