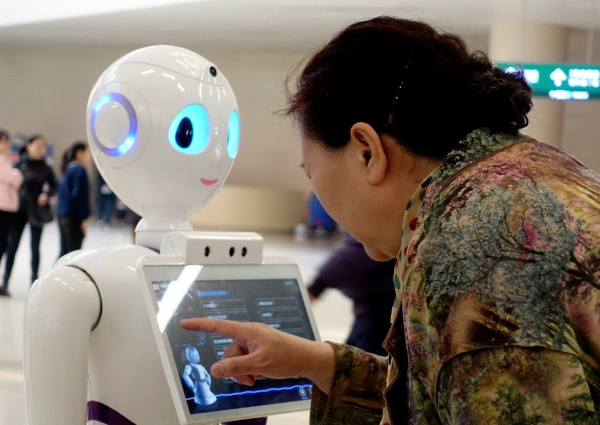 iFlytek executive Hu Yu may have spoken too soon when he made a positive comparison of his company to Huawei Technologies during a new product launch in Shanghai earlier this week.
The president of the Chinese voice recognition leader boasted on stage that it had a lot in common with Huawei, the global telecoms leader that is considered a national security threat by the US.
"Huawei and iFlytek are very similar in DNA. Both are the kind of companies persistent enough to take 10 years to sharpen one sword," said Hu, who takes the title of rotating president of iFlytek in another apparent nod to Huawei which has long used "rotating" CEOs and chairmen.
The next day the Hefei-based company was caught in the crosshairs of the US government, after reports said Washington was considering placing it and four other Chinese companies on the same export control blacklist as Huawei.
In an official statement on Thursday, iFlytek said it has not received any official notification regarding the ban and is hoping to get fair treatment from the US government.
Facial recognition technology developed by Megvii (or Face++).
Photo: South China Morning Post
Overseas markets only account for a small share of its business and iFlytek already had a plan in place to cope with an "extreme situation" that threatened its supply of foreign components used in certain consumer products, the statement said. "We think there will be no major impact on iFlytek's daily operation even if the extreme situation happens," said the statement.
The US is deliberating whether to add Hangzhou Hikvision Digital Technology, Zhejiang Dahua Technology, Megvii and two other surveillance companies to a blacklist that would bar them from purchasing US components or software without US government approval, Bloomberg reported, citing people familiar with the matter. The two others under consideration are Meiya Pico and iFlytek, according to one of the people.
In the case of the surveillance companies, the US is concerned that their products can be used to aid espionage, according to media reports. Hikvision has sold products to more than 150 countries and territories globally. The US government banned the procurement of Hikvision and Dahua products by federal agencies last year, citing national security risk.
Reports of iFlytek's possible addition to the blacklist sent shares of the Shenzhen-traded company down more than 7 per cent on Thursday.
In November 2017 iFlytek was hand-picked by Beijing as a member of China's national artificial intelligence "team".
Hu Yu, the co-founder and rotating president of Shenzhen-listed iFlytek, speaks at an artificial intelligence conference in Shanghai. 
Photo: Handout
Megvii, which develops facial recognition systems under the name of Face++, issued a statement to the Post saying it was not aware of being put on any US government black list. "Unfortunately, the current geopolitical climate leads to inaccurate and unhelpful speculation about individual companies," Megvii said.
"Megvii believes in the power of AI to solve problems and make a positive social impact, and wants to collaborate with global peers to promote best practices in AI applications," it said.
SenseTime and Yitu Technology, also facial recognition companies, did not immediately comment on the reported ban.
When reached by the Post on Thursday, staff at Megvii and SenseTime said they have been told to direct all outside inquiries on the matter to marketing and public relation teams. In the meantime, they have been instructed to withhold making comments on social media.
If the ban is slapped on these companies, it will pose challenges in algorithm development because US company Nvidia is the market leader in server platforms used to train AI algorithms, according to the staff, who agreed to speak on condition of anonymity due to the sensitivity of the issue.
In November, when Nvidia launched its HGX-2 server platform, the American computing and chip giant hailed it as "the world's most powerful accelerated server platform" for AI deep learning, machine learning and high performance computing.
The company also highlighted its corporate customers from China, which included Baidu and Tencent, and cited its partnership with Huawei for a cloud server platform.
"Nvidia has definitely been a top choice in server platforms among companies who can afford them, but they are not irreplaceable," said Zhao Xiaoma, executive director of Shanghai-based China Insights Consultancy. He said there were domestic suppliers like Huawei's chipmaking affiliate HiSilicon that could potentially fill in the need.
Still, given that Chinese suppliers will fall short in performance and reliability in the short term, it will take some time before they can match the US in quality, Zhao said.
Nvidia shares have plunged 16 per cent since the beginning of May on investor fears that the US-China trade war would eventually lead to restrictions on the company's shipments of semiconductors and GPU cards to China.
Referring to the US export black list, China's commerce ministry spokesman Gao Feng said on Thursday that it opposes any country using its laws to arbitrarily restrict Chinese firms or individuals. "We urge the US to stop such wrong actions and open up for co-operation for companies in the two countries, and to avoid further damage to China and US trade relations."
This article was first published in South China Morning Post.