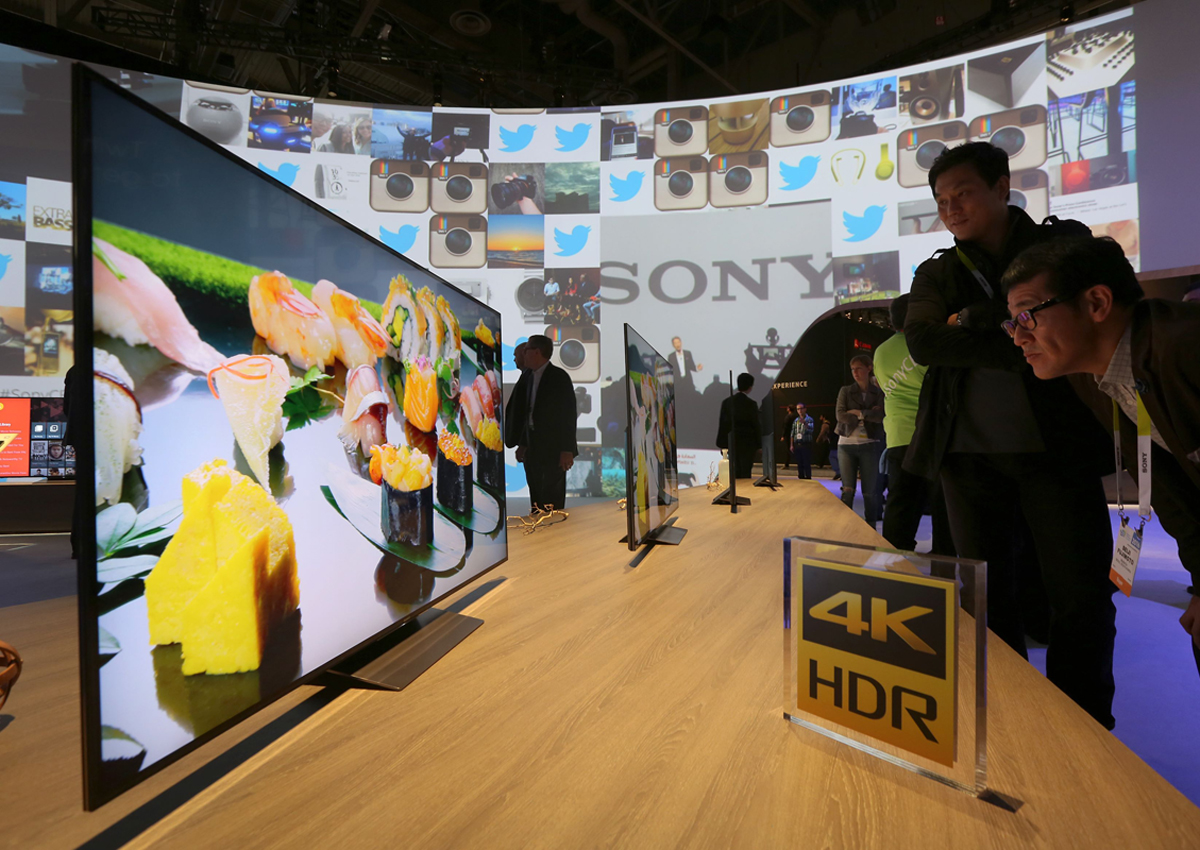 THE biggest show in the technology calendar, the International Consumer Electronics Show (CES), is a prelude to the tech products and services we can expect throughout the year.
Sure, some are destined to be vapourware right from the get-go but some will materialise, right?
Here are some tech trends to keep an eye on this year:
ULTRA HD PREMIUM TV SETS
Resisting the new 4K high-definition format is futile.
Said to offer a screen resolution four times sharper than that of current 1,080p HD displays, 4K - also called ultra HD (UHD) - is here to stay, and so are its associated products.
Besides new UHD goggle boxes with improvements from TV makers, the bigger story is the standardisation of UHD specifications by the UHD Alliance, an inter-industry group formed a year ago.
Because UHD also encompasses a wider gamut of colours than before and offers high dynamic range (which allows for better contrast so that an image appears more realistic), it is important for everyone, from content producers to TV makers, to be on the same page.
Consumers like us do not need to know the details but we do need to know how to spot a TV set that conforms to the high standards set out by the UHD Alliance.
And that's by the "Ultra HD Premium" logo that a TV set carries.
Does that make pre-2016 flagship 4K TV sets not as good overnight?
No, but it does leave a sour taste for early buyers. Does that mean all 4K TV sets moving forward will follow the UHD Alliance's specifications?
No, because not every 4K TV buyer is looking for a premium model.
If anything, this certification aims to separate the wheat from the chaff at the high-end segment of the market.
NETFLIX EVERYWHERE
There is no stopping Netflix.
The Internet streaming giant is now available in 130 countries worldwide.
They include both developed markets like Singapore and South Korea as well as emerging markets like India, Indonesia, Russia and Azerbaijan.
One major exception is China although Netflix chief executive Reed Hastings said: "We hope to also be (in China) in the future."
To support its new global audience, Netflix also added Arabic, Korean and simplified and traditional Chinese to the 17 languages it already supports.
As for how Netflix plans to deliver smooth video streaming to a country like Azerbaijan where the average Internet speed in its capital city, Baku, is just 5Mbps, the answer lies in Netflix's Open Connect Initiative, a cache server designed to maximise streaming efficiency and reduce bandwidth load by localising substantial amounts of online traffic.
Each Open Connect server can be optimised for individual Internet service providers. So whether you're binge-watching at home in Singapore (StarHub has already announced that it's on board with the Open Connect Initiative) or catching up on the latest episode of Daredevil from your hotel room in Baku, you should always be able to catch Netflix and chill.
But can Netflix co-exist with traditional pay-TV operators like StarHub and Singtel?
For now at least, things look peaceful enough with the local telcos embracing Netflix with partnership deals.
Singtel was the first onboard, announcing up to nine months of complimentary Netflix subscription for its subscribers. StarHub also announced a partnership that will let its TV subscribers enjoy Netflix content delivered through its set-top boxes.
A lack of local content and live sports on Netflix means the local telcos probably do not need to worry just yet.
WEARABLE TECH BEYOND SMARTWATCHES
Huge brands are now jumping into the second wave of "smart" products, emulating the moderate success stories and trends of last year's releases.
One direction electronic giants are going with wearables is venturing beyond the smartwatch form factor.
While the concept has been bounced about by hopeful Kickstarter entrepreneurs for a good year or three, brands like Samsung are beginning to pick up on introducing smartclothes at CES this year, like the Samsung Body Compass.
It's a smart workout suit that lets you track various fitness statistics more accurately, right down to your fat levels and stance.
There is also the Samsung Welt (wellness belt) that comes with sensors to track your waistline, eating habits, steps taken and sedentary periods while giving you wiggle room during a heavy meal.
Then, there are the likes of HTC and its HealthBox wearable kit.
By working together with Under Armour in developing the HealthBox, both brands take the best from their fields of expertise - technology and sports science - to bring a realistic option to the table with a fitness tracking band, a smart weighing scale and a chest strap that tracks your heart rate.
LIGHTER AND FASTER COMPUTING
Faster, cooler, better.
That is always been the expectation as we welcome the latest crop of laptops and gaming machines.
But we have also seen growing demand for smaller but equally powerful devices. This year at CES, we saw a push to combine computing prowess and small form factors, driven by a range of new silicon and design innovations that promise slimmer and meaner notebooks and personal computers.
For instance, AMD's next-generation Polaris graphics processing unit architecture will supposedly be more power-efficient than ever. But the biggest takeaway from AMD's announcement was that it wanted to allow 1,080p HD gaming at a smooth 60 frames per second on compact notebooks, something that used to be the purview of larger laptops intended as desktop replacements.
Then, there is the Razer Blade Stealth, a 12.5-inch gaming ultrabook that supports the external Razer Core graphics dock, allowing it to function as both a portable work machine and a gaming powerhouse.
The dock interfaces with the notebook through a USB Type-C Thunderbolt 3 port, and with Razer saying that it had no plans to make the connection proprietary, any notebook with a Thunderbolt 3 port could soon get an easy graphics upgrade, reducing the need for a separate desktop PC for gaming.
Not to be outdone is the new mini-STX motherboard from Intel, which could allow for truly customisable and small PCs (think PCs the size of a lunchbox).
It is still early days but it is arguably all part of a larger convergence of small form factors and performance.
And it may just be what the flagging PC market needs - a booster shot from notebooks and PCs that can do it all.

Visit Hardware Zone for more stories.