Best overall game & role-playing game
Editor's choice:
Dragon Age: Inquisition
For those who love role-playing games (RPGs), 2014 was a great year.
We saw the likes of Kickstarter- funded RPGs, such as Divinity: Original Sin and Wasteland 2, finally being released after repeated delays.
Despite their crowdfunding roots, both RPGs, with their quirky dialogue, moral choices and turn-based combat, delivered memorable classic role-playing experiences.
The hardcore action RPG Dark Souls II continues to be as difficult as ever. And you have the fan favourite, Diablo III: Ultimate Evil Edition. Designed for next-generation consoles, this edition of the popular hack-and-slash action RPG comes with the original Diablo III and Reaper Of Souls expansion, as well as the endless Adventure mode in which you can keep playing to get loot and gain experience to level up.
But Dragon Age: Inquisition is a completely different proposition. Its world is so open that it will take you at least 40 hours to complete the main quests alone.
If you like to explore every corner and loot everything in your path, you may end up spending more than 100 hours on the game. The RPG's superb graphics, majestic music, great tactical combat and engaging reactive plot make it an addictive experience.
Readers' choice:

Best overall game
Destiny
64.6 per cent of total votes
Best role-playing game
Diablo III: Ultimate Evil Edition
39.2 per cent of total votes
Best overall game finalists:
Civilization: Beyond Earth
Infamous: Second Son
Middle-earth: Shadow Of Mordor
Best role-playing game finalists:
Dark Souls II
Divinity: Original Sin
Wasteland 2 Games
category sponsor: HP Omen
Best action-adventure game
Editor's choice:
Middle-earth: Shadow Of Mordor
Middle-earth rules. This action-packed game's fluid combat controls, stunning graphics and unique Nemesis System game mechanic raised it above its peers.
The game is reminiscent of the Batman: Arkham franchise, letting players execute melee combos with little fuss. Watching Talion, the protagonist, maul various creatures made for an oddly elegant sight.
But what made this game stand out was the Nemesis System. Bosses that you killed had the ability to return with a vengeance, sporting scars and injuries you had inflicted on them.
Readers' choice:
Assassin's Creed: Unity
45.8 per cent of total votes
Other finalists:
Watch Dogs
Infamous: Second Son
Alien: Isolation
Games category sponsor: HP Omen
Best sports/racing game
Editor's choice:
Forza Horizon 2
DriveClub is one of the most gorgeous racing games we have ever played. Its attention to detail is amazing. So it is unfortunate that the game's artificial intelligence is suspect; and the gameplay repetitive.
The other racing simulator in the running, Forza Horizon 2, has a stunning open game world that lets you drive from southern France to northern Italy on what must be one of the most picturesque road trips. The game's driving area is three times bigger than those of earlier editions.
Whether you are a purist or an amateur, Forza Horizon 2 lets you feel the differences in each car's power and cornering and braking abilities. In the end, it is the clear winner.
Readers' choice:
Forza Horizon 2
0.7 per cent of total votes
Other finalists:
DriveClub
Fifa 15
NBA 2K15
World Football: Winning Eleven 2015
Games category sponsor: HP Omen
Best shooter game
Editor's choice:
Destiny
With its blend of role-playing, shooter and massively multiplayer elements, Destiny is both addictive and enthralling.
Its levelling and loot systems have kept our readers coming back for more of this game. Set in a post- apocalyptic future, in the aftermath of a mysterious event known as the Collapse, it is the end of a golden age during which mankind prospered and spread out through the solar system.
Players are free to create unique characters in three classes - Titan, Warlock and Hunter, each with its own abilities, strengths and weaknesses. They can choose from three races for their character.
Destiny is Bungie's first title since it split from Microsoft in 2007. It was one of last year's most anticipated games and had no shortage of hype in the months leading up to its release.
Readers' choice:
Destiny
61.2 per cent of total votes
Other finalists:
Call Of Duty: Advanced Warfare
Far Cry 4
Sunset Overdrive
Wolfenstein: The New Order
Best made-in-Singapore games
Editor's choice:
Autumn Dynasty Warlords
Touch Dimensions successfully created the real-time strategy genre for the touch interface with its first Autumn Dynasty game. In that game, gamers used their fingers like calligraphy brushes to move units around the battlefield.
With Warlords, the Singapore game developer has stretched its creativ
ity, resulting in a grand conquest game in the spirit of Romance Of The Three Kingdoms, a PC strategy game. Players choose a warlord and apply his powers, special attacks and a variety of military units, including elephants, cavalry and archers, to conquer the Middle Kingdom.
First runner-up:
One Upon Light
Deceptively simple-looking, this game packs a punch with top-notch game design. SUTD Game Lab is the successor to the Gambit Lab which used to focus a lot on researching gameplay theories in partnership with the Massachusetts Institute of Technology.
In this black-and-white game, the player controls a character who has to find his way out of a crumbling lab but needs to stay out of lighted areas. The game looks easy at first, but it gets increasingly difficult as you go deeper into it, and it takes plenty of trial and error before you can succeed.
Second runner-up: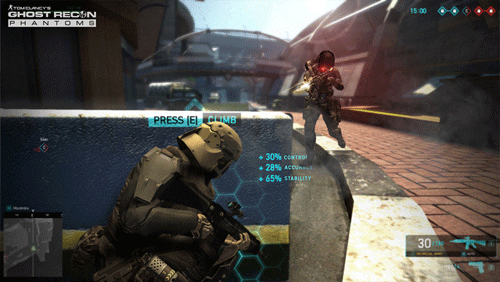 Ghost Recon Phantoms
Ghost Recon Phantoms by Ubisoft Singapore stands out as a shooter because you need both tactical strategy and shooting skills to win in this free-to-play multiplayer PC game.
The first to be developed fully by the Singapore studio of the French gaming giant, the game requires players to work as a team to earn points by capturing and holding strategic locations on the map.
Running and gunning Rambo-style will get you nowhere in this shooter for the thinking gamer.
Readers' choice:
Ghost Recon Phantoms
52.2 per cent of total votes
First runner-up:
Big Hero 6 - Bot Fight
25.4 per cent
Second runner-up:
Autumn Dynasty Warlords
19.5 per cent

This article was first published on Jan 28, 2015.
Get a copy of Digital Life, The Straits Times or go to straitstimes.com for more stories.