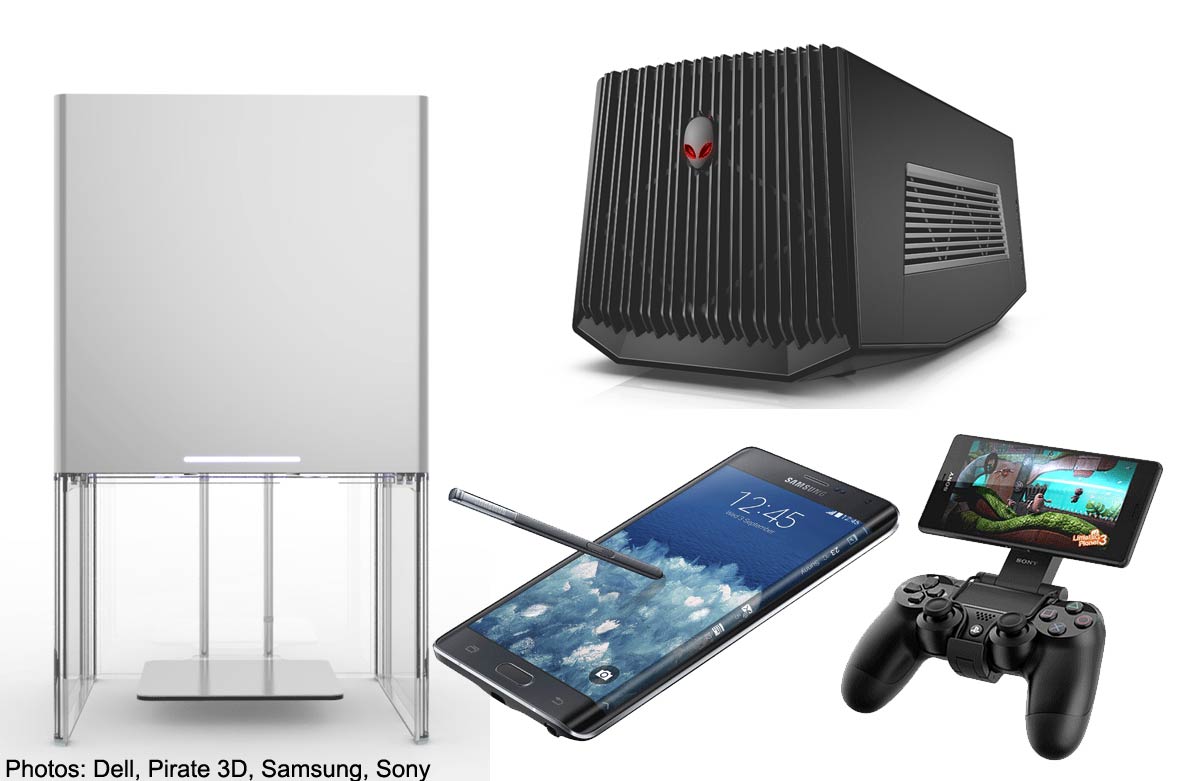 Dell Alienware Graphics Amplifier
Although it can be used with only the latest Alienware 13 laptop for now, Dell's Alienware Graphics Amplifier looks to be a game-changer. It is expected to be compatible with future Alienware laptops and even though there are other external graphics card solutions in the market, Alienware's device is notably cheaper at $419.
The device has its own enclosure and houses a 460W power supply. It lets you connect a desktop PC graphics card to your Alienware 13 laptop via a proprietary connector.
Samsung Galaxy Note Edge
Curved screens seem to be in vogue and the Galaxy Note Edge is one of the best examples of this smartphone form.
Its main screen curves to form a second sidebar screen, where it can be used to display information and apps such as a ruler and news ticker.
Notifications for calls and messages are displayed subtly via this sidebar screen whenever the main screen is being used.
Sony Remote Play
Have the urge to use the PlayStation 4 (PS4) that is sitting in your living room while you are relaxing in the bedroom?
Sony's Remote Play technology allows you to connect your PS4 to a PS Vita handheld game console and play games on the latter device.
You can also use one of the Xperia Z3 or Z2 line of smartphones and tablets instead of a PS Vita. This is done through the Remote Play app, which you can get from the Google Play Store.
The devices act as the screen while you control the gaming action through a PS4 DualShock 4 gamepad. The phones can also be mounted on the controllers through a separate accessory.
Casio G-Shock GPW-1000
It looks like one of the brand's watches, but this G-Shock watch packs a number of unconventional touches. One is the ability to automatically adjust itself whenever its wearer crosses time zones - a boon for the frequent traveller.
Another is its solar-charging system. Just eight minutes under direct sunlight will power the watch for a full day.
Pirate3D Buccaneer 3D Printer
Local company Pirate3D's laudable effort to produce an affordable 3-D printer has resulted in a device which costs US$999 (S$1,310).
The Buccaneer takes only minutes to set up and sending print jobs via its app is equally fuss-free and quick, with each one taking only a matter of seconds to send across.
All reports by Oo Gin Lee, Sherwin Loh, Trevor Tan, Vincent Chang, Ebel Tang and Joshua Chen. For a chance to win and to vote, go to www.straitstimes.com/2015DigitalLifeAwards
This article was first published on Dec 17, 2014. Get a copy of Digital Life, The Straits Times or go to straitstimes.com for more stories.