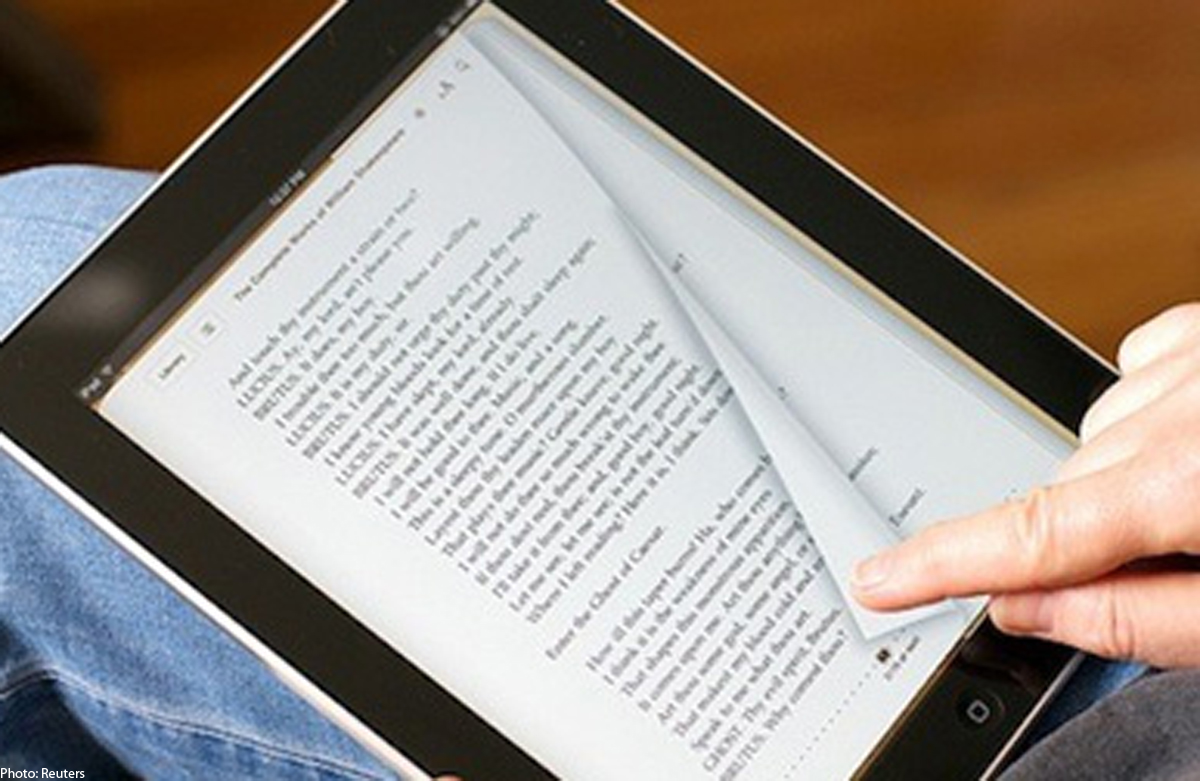 JAPAN - The outlook for the domestic market in Japanese-made electronic-book readers has become darker with the recent announcement by Toshiba Corp. that it will stop manufacturing e-book readers. The announcement followed the departure of all other major Japanese electronics makers from the market.
The electronics makers' failure in the market has been attributed to putting e-book readers on the back burner while smartphones and foreign companies' products, such as Kindle of Amazon.com Inc. of the United States, have been aggressively marketed.
Japanese electronics makers have shifted their focus to e-book distribution services, but the business will likely face problems.
E-book readers can store data equivalent to at least 1,000 novels. They also boast long-lasting batteries and easy-to-read text.
Kindle and Kobo of Rakuten Inc. now hold the lead in the domestic e-reader market. Kobo readers are produced by Rakuten's subsidiary based in Canada.
Though Toshiba tied up with a website to expand sales of its e-readers, the company failed to improve its products' name recognition.
"It's like going to larger bookstores when searching for specific books," said Eiji Mori, an analyst of BCN Inc., a market research firm. "Users naturally choose websites with vastly more e-book titles in their lineups."
When readers search for a new release, many initially search for the title in book form and buy it as an e-book when it becomes available.
Therefore, Amazon.com and Ra-kuten are at an advantage because they market conventional books and e-books as a package.
Tablet computers and smartphones are strong rivals for e-book readers. Because consumers can now easily read e-books on their smartphones and other mobile devices using e-book apps, it has become difficult to promote e-book readers.
Sony Corp. first released its e-book readers in 2004, and discontinued production and sales in August this year. Panasonic Corp. also disconti-nued production and sales in 2012.
Economists assume their decisions were partly affected by the proliferation of lower-priced tablet computers made in other countries such as China.
Japan's e-book market has been expanding, however. According to an estimate by Yano Research Institute, the size of the domestic market of e-books in fiscal 2014 will increase 23.5 per cent from the previous fiscal year to ¥105 billion, and will grow to ¥191 billion in fiscal 2017.
Until recently, comics were the main sellers in the e-book market, but an increasing number of novels and business books have been released as e-books.
Because an increasing number of smartphones and tablet computers can be used as e-readers, the electronics makers are focusing on distribution services for e-books.
Sharp Corp. began a service to distribute e-books for its mobile information devices in 1999. Using its own know-how, Sharp opened its current distribution service website in 2010.
Sharp focuses on the convenience of the service. For example, users can buy e-books with devices other than e-book readers, and the website automatically notifies users of releases of their favourite magazines.
And Sony has begun releasing e-books through its distribution service site.
However, major bookstore chains and publishing companies have started their own e-book distribution services. Thus, websites where e-books can be bought are mushrooming.
In addition to the abundant lineups of products and convenience in purchasing e-books, electronics makers will likely have to further step up their efforts.