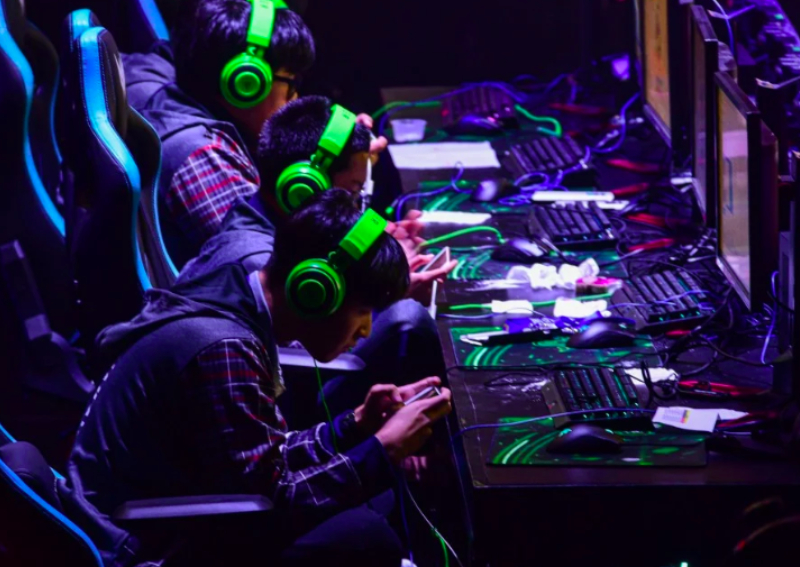 Caviar Acampado is a Sea Games gold medallist - and he did not even need to leave his computer screen.
After a decade as a professional gamer, Acampado, 27, landed the Philippines its last gold medal in the 2019 Southeast Asian Games' esports category as he beat Singapore's contender in the computer game Starcraft II.
By the end of the campaign, the Philippine esports team had won three gold medals, the most of any team.
The regional championship, which took place last December, was the first time esports was a medal event at a multi-sport competition approved by the International Olympic Committee - which makes it all the more unthinkable that a month prior, Acampado was not even sure if he would be taking part.
"I didn't want to [join] at first," he said, explaining that he had actually considered retiring from professional gaming in 2017.
"But when I got to the opening ceremony and saw thousands of people supporting the players, I felt humbled and that really drove me to win."
Those words captured not just his victorious feeling, but that of the entire local industry.
Gaming has become a serious business in the Philippines. According to the 2019 We Are Social Report, 32 per cent of internet users in the country play games via streaming, while 42 per cent watch live streams of other players playing online games.
Those are both higher than the global average of 30 and 23 per cent respectively.
The local video-game industry, which includes all game purchases over the internet, was worth US$796 million (S$1 billion) last year and will surge to US$917 million in the next five years, according to Statista.
In contrast, sales of outdoor sports-related goods in the Philippines, including merchandise, are poised to hit US$50 million by 2024.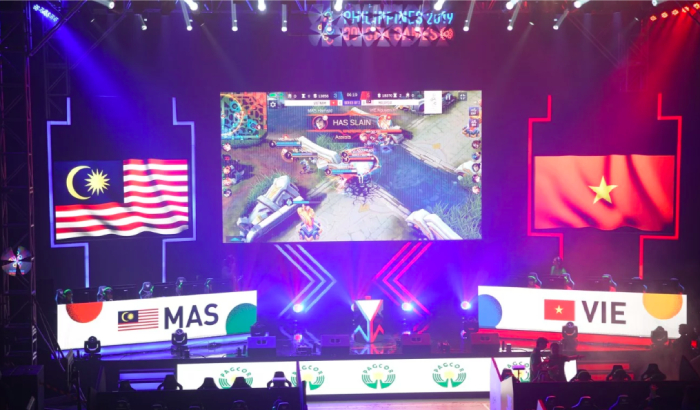 Gamers from Malaysia and Vietnam compete in the qualifying rounds of the esports event at last year's Southeast Asian Games in Manila. PHOTO: AFP
Nevertheless, esports players in the Philippines still do not get the same fervent admiration enjoyed by players of basketball, the country's most popular sport. It is something the Nationals, the country's first franchise-based esports league, wants to change.
"The league is here to show there's a real skill required to become a professional. Getting to this stage is actually a difficult thing to achieve, and our professionals can show that," said commissioner Darren Vitug.
The league was founded last year after different organisers of esports events across the country - including the Philippines' largest telecommunications company, PLDT - spent a year working to create a single league that would bring their teams together.
The seven-member league has weekly matches, broadcast on streaming sites as well as national television. The titles in competition are Dota 2, for computer gaming; Mobile Legends: Bang Bang for mobile phones; and Tekken 7 for consoles.
The Nationals' existence is seen as a big win for the community, as teams now have regular games to train for as well as regular pay cheques.
Vitug said participating e-athletes ranged from 15 to 25 years old, all of whom received monthly salaries of between 20,000 and 50,000 pesos based on their skill level.
"We want to encourage two things - that exceptional players can build a career in this space, and to grow the community of esports," Vitug said.
Esports in the Philippines has come a long way from its beginnings in cybercafes - venues with computers that provided internet access for a fee - in the early 2000s.
The likes of Ronald Robins started playing in local cybercafes when he was in college, but soon went as far afield as Cebu, an hour's flight from Manila, in search of competition.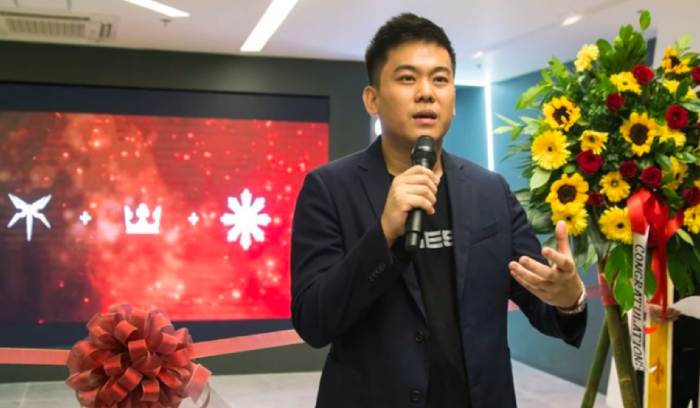 Mineski CEO Ronald Robins leads the ribbon-cutting ceremony of its headquarters in San Juan City. PHOTO: South China Morning Post
After two years of playing in computer shops, Robins and his friends eventually took their chances in international tilts.
In 2008, his team Mineski represented the Philippines at the Asian DotA Championship, a first for the country. "Back then, we played only for the fun of it," he said.
"I'd say that's how esports started here. Competitions among players grew organically and it's all for the love of the game."
In 2009, after retiring from professional gaming, Robins and his friends started their own cybercafe.
"There were no internet shops back then that really catered to the needs of players because they didn't care," he said.
"There was a time when my team needed to stay beyond the store hours, way past midnight, since the team we were competing with online was based abroad. I tried to ask the owner if she could extend, and outright, she said 'No'. That stuck with me."
Robins called their space Mineski Cyber Cafe, after their team name.
According to him, it was the first cybercafe in Manila to be open 24 hours. Equipped with gaming-ready computers, it seated 15 people and was located near De La Salle University Manila, where he and his partners studied.
"By the next year, more internet shops in Manila started to open for 24 hours. We started a trend," Robins said.
The concept proved to be pivotal for the growth of esports in the Philippines, as the shops became breeding grounds for professional gamers.
Mineski went on to open branches all over Metro Manila, and now has a presence in Malaysia, Thailand and Indonesia.
In 2012, the company had its own inter-branch esports competition, allowing Robins to recruit exemplary players he could train to compete on the world stage.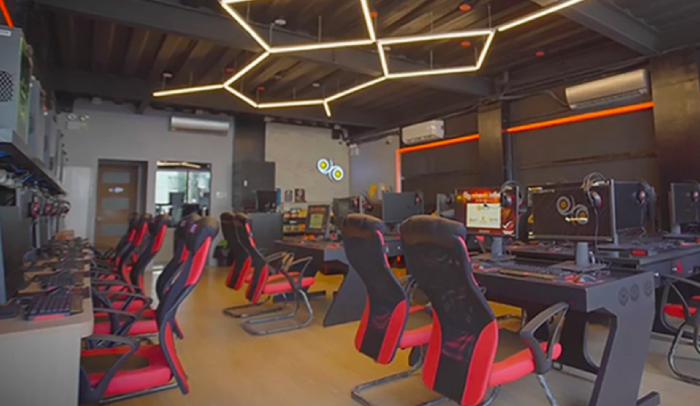 One of the more upscale Mineski branches. It is equipped with leather seats, and LED computer screens. PHOTO: South China Morning Post
TNC Cyber Cafe, which has a similar business concept as Mineski's, similarly organised teams to compete in esports competitions abroad as it put up more branches.
Both companies now have more than 200 branches across the Philippines, and, according to data gathered by GosuGamers, one of the oldest international esports communities online, their Dota 2 teams have collectively brought home more than US$6 million in prize money.
The Philippine scene might not be as developed as that in South Korea, which is regarded as the birthplace of esports, but it is a contender to be the biggest esports market in Southeast Asia, based on the expected revenue from video games purchased in every country in the region, as reported by Statista.
Local esports began to attract significant corporate interest in the mid-2000s, with telecoms providers organising events in malls nationwide.
By 2016, international esports tournament organisers such as European firms ESL and PGL E-sports held Dota 2 events in the Philippines, a sign of esports' strong foothold.
Mineski in 2017 organised an international competition for Dota 2 teams - a first for any Philippine esports organisation - called the Manila Masters, which had a prize pot of US$250,000.
That experience led Robins to expand his company into other services, which now include talent training, coaching, event production and consultancy.
Right now, however, he is primarily focused on convincing Vietnam, which will host the 2021 Southeast Asian Games, to maintain esports as a medal event.
"I think that's what drove me to grow Mineski as big as it is now, to build the ecosystem needed to institutionalise the sport," Robins said.
"Now, we're not just playing to win big cash prizes. We win for our country."
When asked if he thinks esports will ever be an Olympic event, his response is accompanied by an infectious grin. "We're working on it," Robins said.
"There are now initiatives under way to make it possible, just like we did in the Sea Games." 
This article was first published in South China Morning Post.