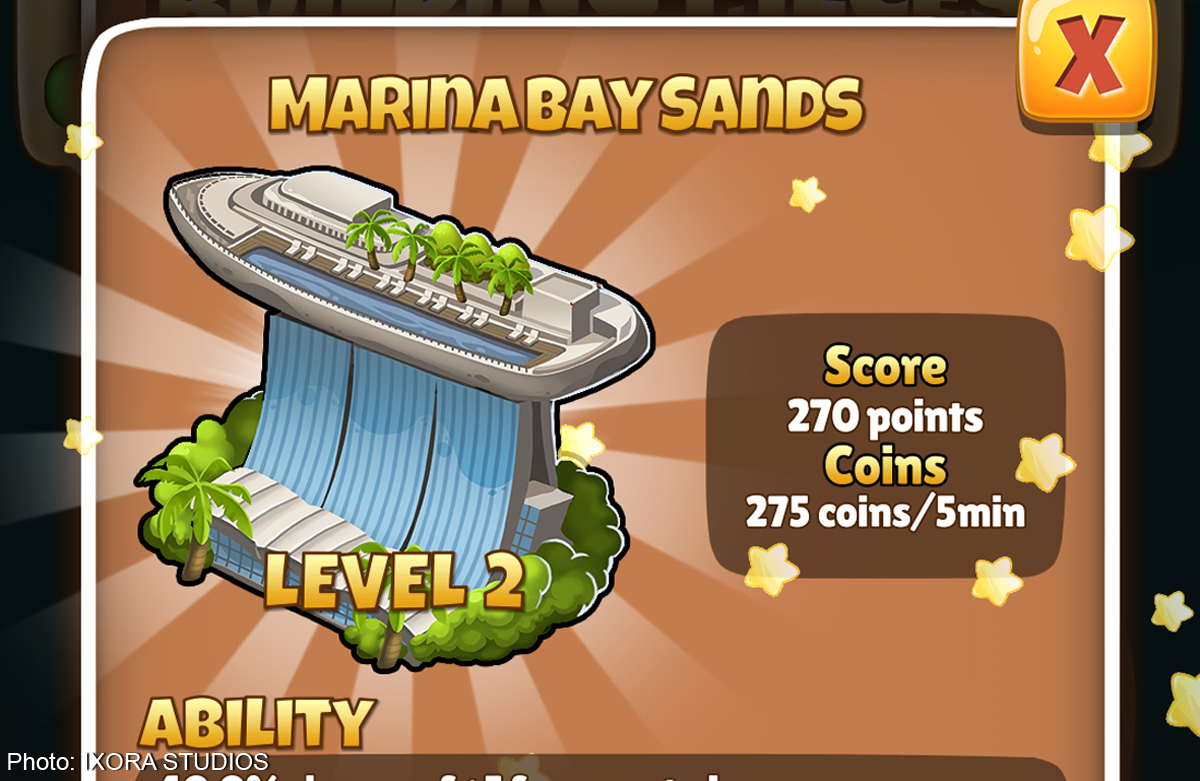 To celebrate the 50th birthday of Singapore, the Media Development Authority commissioned the creation of several video games – made from the ground up – by Singapore's talented local developers.
While the games are expected to be completed and launched to the public for free only in July, Oo Gin Lee got a sneak peek of all four games as he was one of the four judges on the selection panel. Here are his first impression.
---
Kan-Cheong! Kopitiam SagaDeveloper: Mojo Cat Games
This game lets you pit your skills against one, two or three online players at the same time. It consists of nine mini-games centred on the unique local culture of the Singapore kopitiams, or coffee shops. I tried two of these games.
Auntie Lai Liao (meaning "the parking attendant is here") is about how motorists like to park their cars near a favourite kopitiam without posting a parking coupon. Slyly, the motorists rush through a meal, keeping an eye out for patrolling parking attendants who will quickly issue parking tickets to such "coupon misers".
In the game, you must tap on your bowl of noodles to eat as quickly as possible, while trying to spot the "auntie" approaching your car, through the pedestrians who are blocking your view.
Upon spotting the "auntie", you must stop tapping and swipe upwards before she gets to your car. The game gets more challenging as more and more pedestrians appear on screen to block your view, even as the "auntie" speeds up.
It is a great game, and best played at a real kopitiam to soak in the atmosphere.
The second game has you at the kopitiam with your "bros" watching a live football match. Intermittently, a special screen will appear with one of three possible scenarios: Goal, Miss or Foul. You must hit the correct symbol to score points. It gets more challenging when the waitress walks past your table to block your view.
Both games are fun and, yes, my palms were sweating from the tension, as I grew more and more "kan cheong" (Cantonese for frenzied nervousness) playing both mini-games.
Rickshaw RusDeveloper: Mojo Forest
Combining old and new things about Singapore, this fast-action arcade game puts you in the shoes of a rickshaw puller who needs to ferry passengers around the streets of Singapore.
Created in lovable pixel-art style, the aim of the game is to pick up the passengers as they appear on the streets and drop them off at their desired destinations.
Take too long and your customers will refuse to pay you.
Your prospective passengers are no ordinary folk. Many are historical figures who have played vital roles in the country's development. They include Sir Stamford Raffles; Zubir Said, composer of the national anthem; and philanthropist Tan Tock Seng, after whom the hospital is named.
As you move around the streets, you will unlock historic landmarks and interesting attractions, including the "dragon" playground in Toa Payoh.
You navigate the streets of Singapore by swiping up, down, left and right.
During the preview, I found that the game did not respond well to the swiping actions. One hopes this will be fixed before the launch.
As you progress in the game and earn coins, you can upgrade your rickshaw so that it can travel faster, carry more passengers at the same time, and provide greater comfort, so that your passengers will be happier.
Electronic Road Pricing toll gantries are strewn all over the map and the smart rickshaw puller will need to balance the desire to avoid paying tolls, and getting to his destination more speedily - just like in real life.
Building The LionDeveloper: Swag Soft
Four players can go head to head in this board game that promises plenty of family fun.
Think of this game as a sort of updated 3-D Monopoly-like game. Players take turns to roll the dice and progress across a board.
Depending on where you land, you can earn money, buy key landmarks and attractions, and unlock famous people, such as singer JJ Lin and the late Mr Lee Kuan Yew, as well as Singapore icons such as Singa the Courtesy Lion.
The 3-D graphics are beautifully rendered and you will be thrilled to be able to own The Cathay building and even Marina Bay Sands. When another player lands on a building that you own, he needs to pay you money. But becoming the richest player is only one of five ways to win the game.
You can win by being the first to fill up any one of the five meters - Peace, Happiness, Progress, Prosperity and Knowledge.
You fill up the Prosperity meter by earning money but the other meters require you to unlock cards corresponding to the various goals.
Knowledge, for instance, requires you to unlock the historical and current personalities while the Progress meter fills up when you unlock History cards of key moments in independent Singapore's 50 years of existence.
There are also opportunities to land on special event squares where you get to play mini-games such as capteh, spin the top, or go "longkang" fishing.
My Singapore CityDeveloper: Ixora Studios
This game combines social city building with a good, old tile-matching memory game. The main game requires you to open up closed tiles to match pairs of identical images of historical landmarks and places in Singapore.
Match all the tiles successfully within the time limit to complete each challenge. If you match correct pairs in succession, you will gain "combo" bonus points. As you complete the challenges, you will also unlock icons of more than 80 buildings and landmarks, which you can then place on your main map of Singapore.
Each of these building icons provides special bonuses when you play the main memory games.
While this is a single-player game, there is a social element to it. You can visit your friends' "cities" to see how they are faring and study their city-building strategies.
This article was first published on Apr 15, 2015. Get a copy of Digital Life, The Straits Times or go to straitstimes.com for more stories.