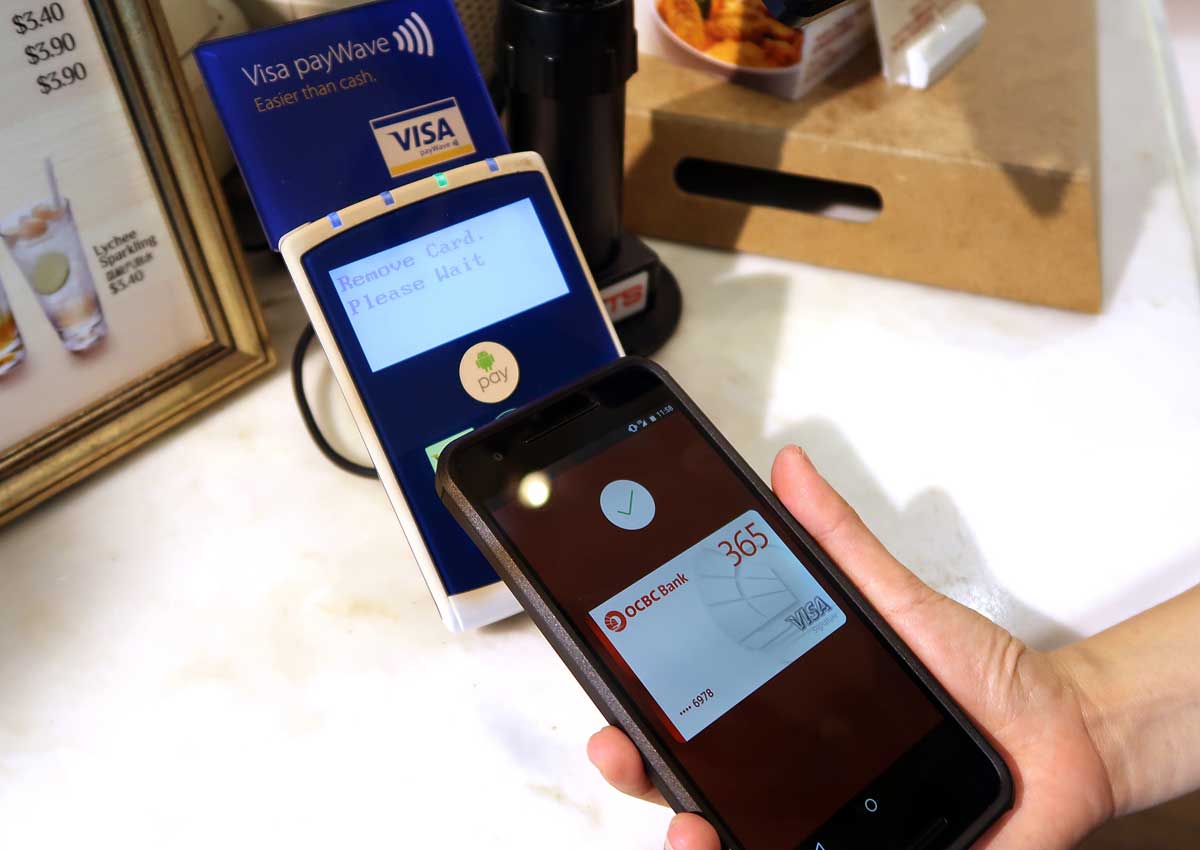 SINGAPORE - Android Pay, Google's mobile payment service, launches in Singapore today.
Singapore is only the third country in the world to enjoy Android Pay, after its launch in the United States last September and in Britain last month.
It is similar to Apple Pay and Samsung Pay. But with Android Pay, you do not need the latest smartphone models.
Android Pay will work on any Android smartphones as long as they have Near Field Communications (NFC) wireless technology and runs on Android 4.4 mobile operating system or later.
You just need to download the Android Pay app from Google Play Store.
On the other hand, Samsung Pay can only work on four of its latest smartphones, such as Galaxy S7 and Note 5, while Apple Pay requires at least an iPhone 6 and later models like iPhone SE.
Android Pay supports Visa and MasterCard credit or debit cards issued by five major banks here - POSB, DBS Bank, OCBC Bank, United Overseas Bank (UOB) and Standard Chartered Bank - which represent more than 80 per cent of the Visa and MasterCard credit and debit cards issued in Singapore.
Unlike Apple Pay and Samsung Pay, no fingerprint or PIN authentication is required for each Android Pay transaction.
You do not even need to unlock the phone.
However, after every third consecutive transaction, Android Pay will ask you for the phone's pass code, pattern, PIN or fingerprint for security purposes.
The $100 limit for each contactless transaction still applies though, except for UOB credit or debit cards.
A UOB spokesman said the bank is in the process of removing the $100 limit for all its 10,000 NFC payment terminals by the end of 2017.
Currently, 2,000 of UOB's NFC payment terminals have the $100 cap removed.
However, like Apple Pay, Android Pay can only work with NFC payment terminals while Samsung Pay can work with both NFC and traditional magnetic-stripe payment terminals.
But Android Pay does not have a limit on how many credit or debit cards you can save on the device, unlike Samsung Pay's limit of 10 cards and Apple Pay's limit of eight cards.
Perhaps, Android Pay's most attractive feature is Google's initiative to include reward programme cards in Android Pay.
At its launch, Google announced that NTUC Plus Link! card will support Android Pay very soon, while other reward cards are in the works.
Google also said it will be working to include ez-link card in Android Pay in the future.
Correction note: The original article stated that "after every fourth consecutive transaction, Android Pay will ask you for the phone's pass code, pattern, PIN or fingerprint for security purposes". Google has clarified that it is after every third consecutive transaction.
See also:

This article was first published on June 28, 2016.
Get a copy of The Straits Times or go to straitstimes.com for more stories.