Almost everyone you know probably has a Facebook account, making the social media platform an easy place to share all sorts of personal information with friends and family.
But all that data may not always remain between just you and those on your friends list.
As it's been recently revealed through the Cambridge Analytica scandal, data shared on Facebook could allegedly end up in someone else's hands and be used by external parties, such as advertising companies or, as the scandal has shown, directed to influence your political vote.
Following the shocking revelations, some have opted to leave Facebook altogether. An example of this is the #deletefacebook movement that is gaining momentum, as seen by recent support shown by WhatsApp cofounder Brian Acton, whose messaging service was acquired by the social network in 2014. 
Others may not want to be as extreme, but have subsequently taken cautious steps in looking through how much data they are actually sharing on the social media platform. You can actually download a copy of your Facebook data, through an option found in your settings, and see all of your activities on your account since it was first set up.
While it can't be guaranteed that shared data would remain private, there are steps that can help protect personal information.
YOU DECIDE WHAT YOU SHARE
Before uploading anything to Facebook, think about if the information you are about to reveal needs to be shared in the first place. 
As a user, you have the power to control what you want to be known by the public, which is essentially how the social media platform can be viewed. Keep in mind that anything you upload may have consequences — information such as keywords and pages you follow could influence what ads show up on your homepage.
It is also worth noting that "likes" also contribute toward the understanding of your personality and predicting psychological patterns through the online platform. According to The Guardian, the algorithm at the center of the Facebook data breach picks up on "likes" to "gather sensitive personal information about sexual orientation, race, gender, even intelligence and childhood trauma". 
GET TO KNOW YOUR PRIVACY SETTINGS
When was the last time you went through your settings? Take time to familiarize yourself with the privacy settings and various security options Facebook offers its users. 
Click the drop-down arrow sitting on the top right-hand corner next to the Quick Help icon (the question mark inside a circle). Click on "Settings" then select "Privacy".

Facebook privacy settings. (Photo: JP/File)
A post can either be viewed by only you, your friends, selected friends or the public, meaning anyone outside your friends list. This also leads to another issue: know who your friends are. Those on your friends list may not have as strict privacy settings as you have imposed on your own, which could subsequently affect your account.
As Facebook states in its Privacy Settings and Tools page: "Remember that your friends control who can see their friendship on their own timelines. If people can see your friendship on timeline, they'll be able to see it in News Feed, search and other places on Facebook."
BEWARE OF QUIZZES, THIRD-PARTY APPS
One of the most important revelations from the Facebook breach is that data from over 50 million users was acquired through "personality quizzes", from which individuals could then be targeted with highly personalized advertising.
Online quizzes and external apps are common on the network, and they often require you to sign up while also asking permission to access your profile, including your friends list.
This is also why it's important to urge your friends to be more aware of security settings. 
TAKE A BREAK FROM FACEBOOK
If the recent scandal makes you exhausted and worried to the point that you want to take a break from Facebook, there is no other option than to deactivate your account.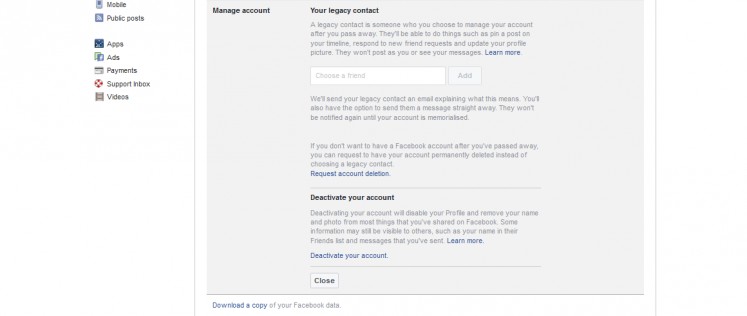 Facebook allows users to deactivate their account, but to delete it completely, you'll have to make a direct request to Facebook. (Photo: JP/File) 
Click on the drop-down menu on the top-right of your Facebook page and select Settings. You will land on the General Account Settings page. From there, click the Edit option on the Manage account section, which will reveal further options. On the bottom, you will find a link to deactivate your account.
However, while deactivating your account hides some of your information, it does not permanently delete your data, as you can log back in to find your account as you have left it. To delete your account completely, you must request Facebook to do so.