Three years ago today, the augmented reality smartphone game Pokemon Go - where players catch animated characters in the real world - "invaded" Hong Kong, spawning hordes of phone-wielding zombies who took over streets, parks and other public spaces.
Trainers (that is what players are called) varied in age, race, sex and religion, but they shared one mission: to catch as many weird-looking virtual creatures as possible.
Soon after the launch, the city - like the rest of the world - was in the grip of what became known as "Pokemania". Governments around the globe issued warnings as gamers, glued to their phones, fell off cliffs and walked into traffic, spurred on by the game's slogan, "Gotta Catch 'Em All". In Hong Kong, posters were put up at construction sites warning them to stay away, while employees were under strict orders not to play during work hours.
To say the game was hugely popular is an understatement - it was one of the most used and profitable mobile apps in 2016 and was downloaded 500 million times worldwide as of September that year, according to the Statista website.
People playing Pokemon Go on the tram in Hong Kong's Admiralty area in August 2016. The slow speed of trams provides good conditions for Pokemon hunting. PHOTO: South China Morning Post
Those who think the Pokemon Go craze is over, think again. The game is still going strong and is on course to pass one billion downloads globally by the end of this year.
For the game's developer, US software firm Niantic - also behind augmented reality mobile games Ingress and Harry Potter: Wizards Unite - Pokemon Go has been a moneymaking machine, pulling in a staggering US$2.65 billion globally in since its launch three years ago, according to market analyst Sensor Tower.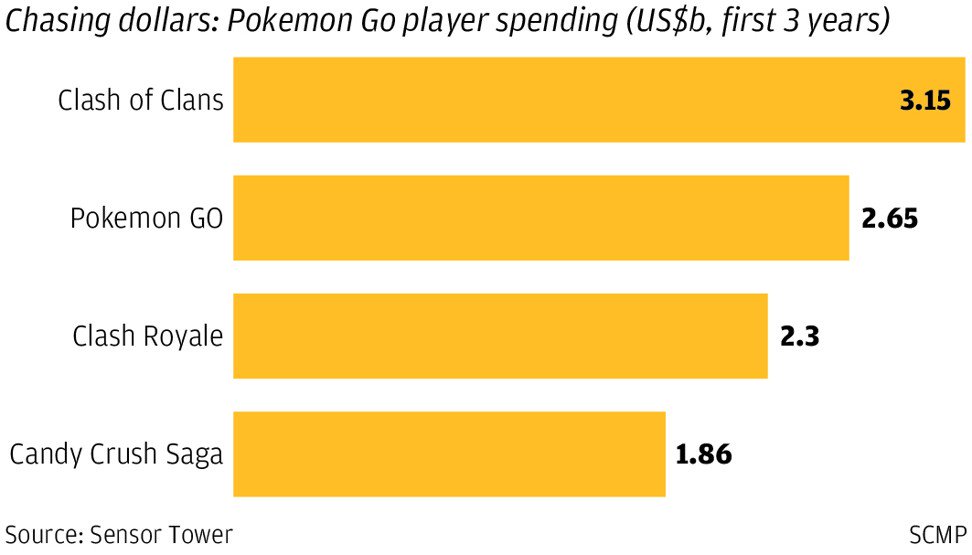 Pokemon Go ranks behind only Clash of Clans, a freemium mobile strategy game released in 2012, in the highest grossing mobile games of the last three years. PHOTO: South China Morning Post
The game is unavailable in China, but as an indication of how popular it could be there, Let's Hunt Monsters - a game involving catching mythological beasts like dragons and phoenixes that has been widely labelled a Pokemon Go clone - was released in the country in April and quickly became its most downloaded free game in China's iOS app store.
Confessed "crazy hard-core fan" Sam Cheung has fond memories of July 25, 2016, the day Pokemon Go landed in Hong Kong.
"I was so thrilled that I literally cried when I caught my first Pokemon in real life," says the 30-year-old English teacher. "It was a dream come true. I've been a big fan of Pokemon since I was seven."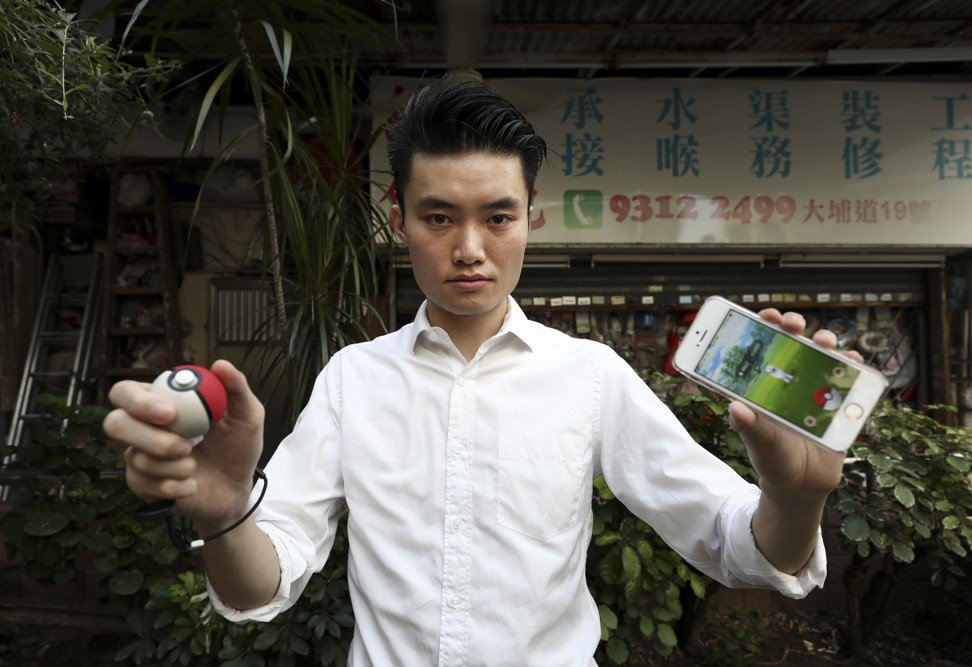 Sam Cheung with his phone and Poke Ball Plus, which he uses for playing even when he's not looking at the screen. PHOTO: South China Morning Post
The Pokemon franchise was created in Japan in 1995 by bug-lover Satoshi Tajiri. Since then it has grown into the world's highest-grossing media franchise worth US$90 billion (S$123 billion) and counting, according to a list on Wikipedia. For some perspective, Hello Kitty is second with US$80 billion, Star Wars is fifth on US$65 billion and Spider-Man is 12th at US$27 billion.
"I knew what a Butterfree was before I could call a butterfly a butterfly," Cheung says, referring to the bug-like creature that releases toxic dust into the air, one of the over 800 Pokemon in existence.
Soon after the game's launch, Cheung established a Pokemon Go Facebook fan page. Today it has almost 57,000 followers.
"The Chinese and Cantonese Pokemon Go news available at the time, in my opinion, was poorly translated - and sometimes mistranslated," Cheung says. "And there wasn't any official Hong Kong Pokemon Go Facebook Page, YouTube channel or website. This is why it was difficult for Pokemon trainers in Hong Kong to get proper news and updates."
In the early days of Pokemon Go, Cheung, like many hard-core players, slept just three to four hours a night. At a park in Lai Chi Kok he shows his Pokemon skills, catching a Pokemon that is worth 100 experience points (XP) - small change compared with his accumulated total of almost 60 million, with over 87,000 Pokemon caught.
"It's not much compared to top trainers," he says. The world's number one is Singapore-based Brandon Tan, with more than 900 million experience points as of May this year.
Cheung plays round the clock. "The momentum never stops. It's no longer a game; it's part of my life." And he is always connected.
"This is a Poke Ball Plus," he says, holding up a giant eyeball-like object. "It's a device that helps you catch Pokemon without having to look at the screen. I take it everywhere. With this gadget, I'm still throwing Poke Balls even if I'm working or sleeping. Most active players are doing exactly the same - we don't switch off this handy tool."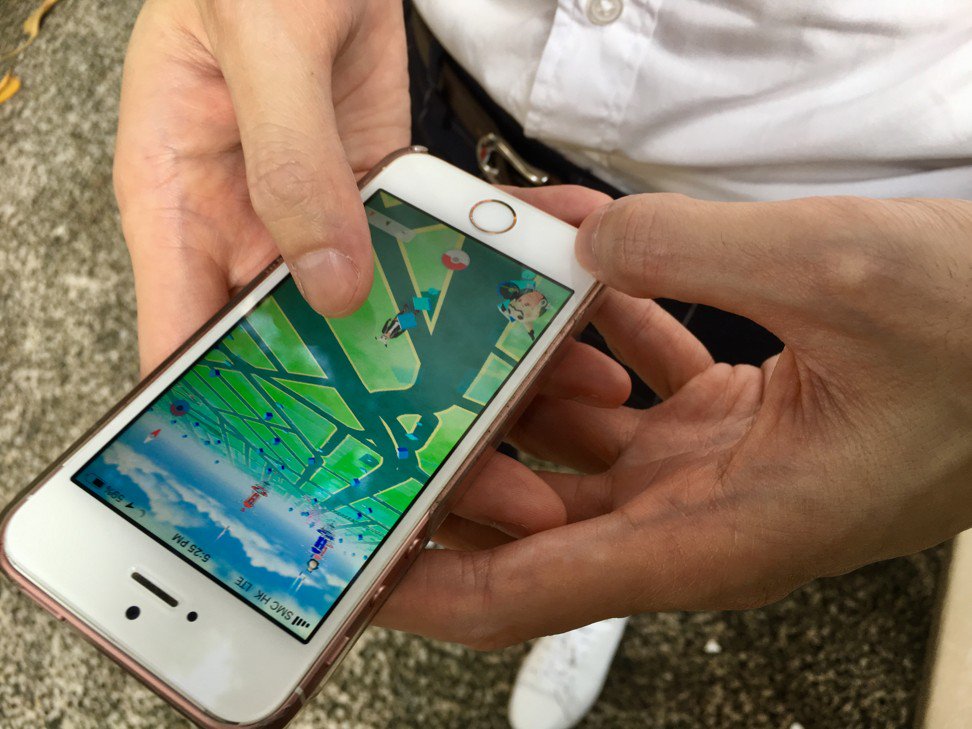 Cheung playing Pokemon Go. PHOTO: South China Morning Post
Poke Balls, PokeStops, PokeGyms, PokeCoins - Cheung's language is littered with lingo from the game. But for him, the jargon is one piece in the bigger Pokemon picture. For him, the sense of community that the game creates is what has kept him hooked for so long.
"To be honest, the game itself sucks - seriously. It's why many of my friends have 'retired'. But I love the team spirit it fosters," he says.
"Almost every weekend I join my friends and we catch Pokemon together - it's better as a team game. You need someone to look at the radar, and say, 'Let's go to Tai Po MTR station now, let's go to the airport now.' Someone has to plan the logistics of the trips and someone has to drive … and no, I haven't received a speeding ticket while trying to catch Pokemon, although I should have," he laughs.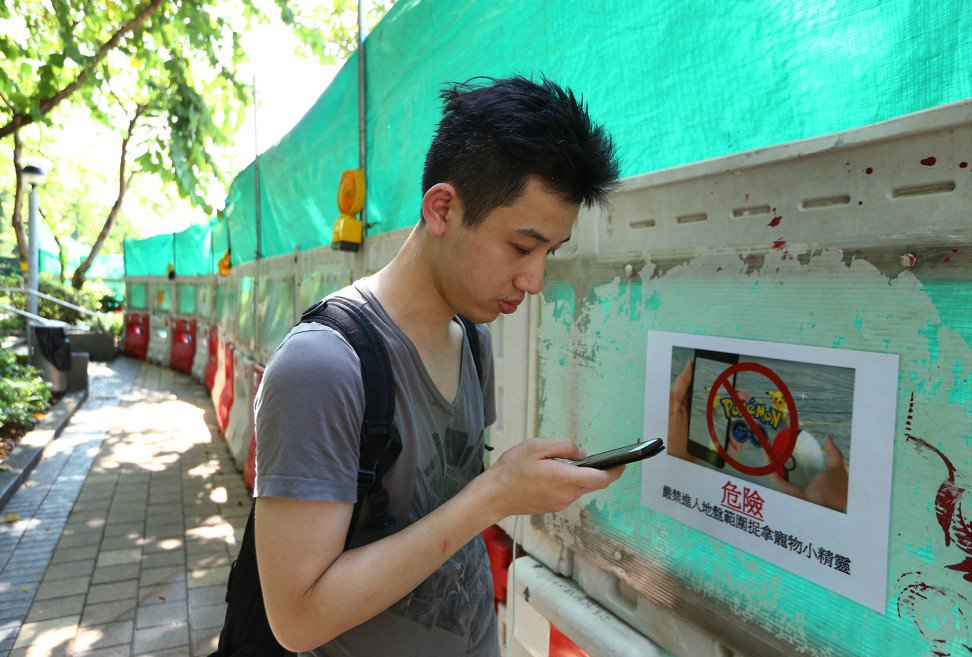 A Pokemon Go player near a construction site in Causeway Bay with a sign warning not to play the game. PHOTO: South China Morning Post
Some might see the Pokemon phenomenon as a silly obsession with cartoons, but others have delved deeper into its popularity.
Bruno Lovric is a lecturer at City University of Hong Kong's Department of Media and Communications. He found the Pokemon phenomenon so intriguing that he wrote a paper, "Pokemon Fandom as a Religion", examining the game's role in shaping players' identities.
Lovric found the game's ritual, myth and community facets provided users with certain satisfactions akin to religious experiences.
"The game has provided players with moments of transcendence by connecting their childhood personas with their adult selves," Lovric says. "It's also helped Pokemon fans bond with their offline community while teaching them about the values of hard work, dedication, and resilience."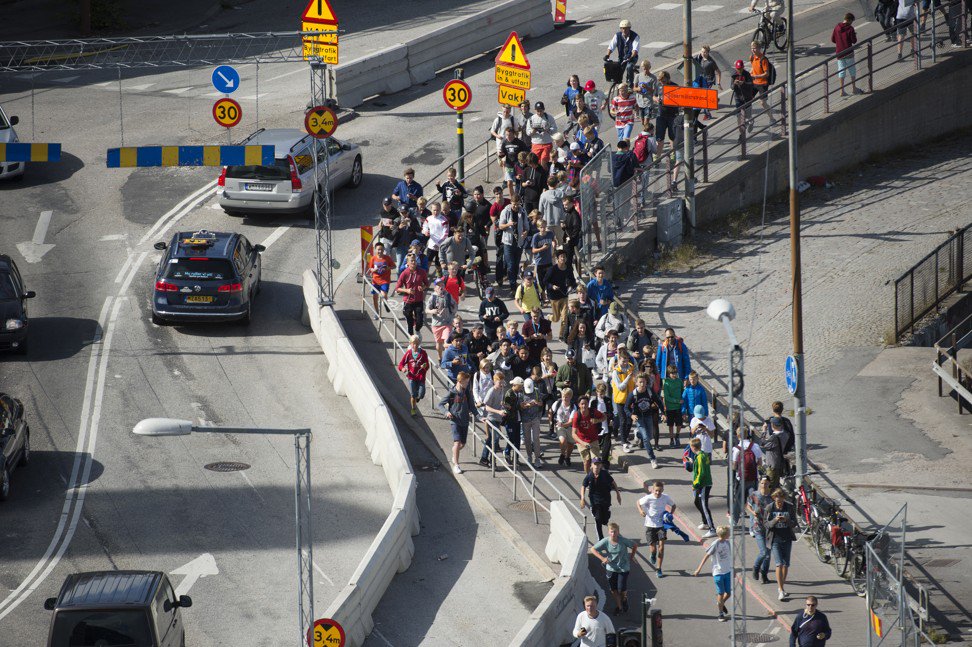 Hundreds of Pokémon Go players invading the central parts of Stockholm, Sweden, in August last year in their hunt for a reported very special Pokemon. PHOTO: AFP
He adds that the Pokemon world symbolically explores a variety of human experiences and offers ethical codes to help guide players.
"It celebrates the quest for self-advancement, the overcoming of obstacles, and offers a model on how to deal with life's changes, losses and daily battles."
Cheung can relate to Lovric's theories and believes that fans of Pokemon Go see the world differently to the uninitiated.
"I learnt that to become successful [as a Pokemon Go trainer], you need to work super hard. When I lost, I learned from my mistakes and studied my opponents' moves. It's OK to make mistakes, but you have to get up quickly and learn from them," he says.
Unlike most games that get a bad rap for encouraging players to sit in front of a computer screen for hours, Pokemon Go has been applauded for promoting physical activity, as well as helping businesses thanks to an increase in foot traffic.
"The best way to spend a weekend is to go to a local park. We can walk around there for six hours without feeling fatigued, as catching Pokemon is a joy," Cheung says. His passion even took him abroad when in May he attended a Pokemon Go Week in South Korea.
In Taiwan, Pokemon Go player Chen San-yuan, a 70-year-old grandfather, found fame when images of him with 15 smartphones strapped to his bicycle went viral. In media reports, Chen - known as the "Pokemon Go Grandpa" - said the game was a great way to connect with people as well as helping to stave off Alzheimer's disease.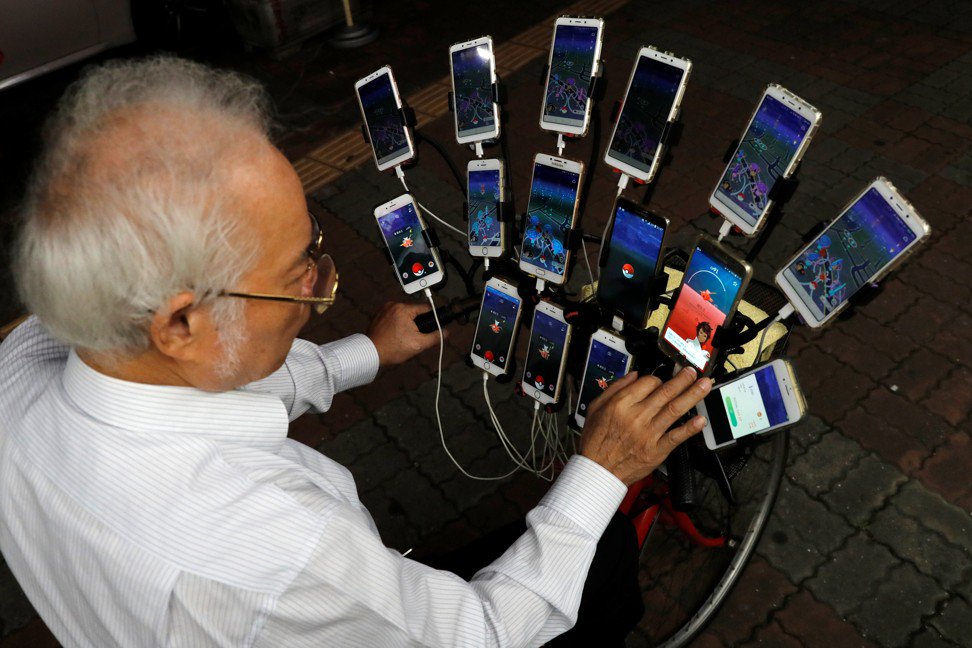 Chen San-yuan, known as the "Pokemon Go Grandpa", near his Taipei home with just the 15 mobile phones on this Pokemon hunt. PHOTO: Reuters
No story on Pokemon would be complete without referencing its massive merchandising machine.
You can consume Pokemon at any time of the day, with everything from Pokemon-themed cornflakes and eggo waffles to macaroni and cheese and wonton soup, as well as fried rice seasoning and jams.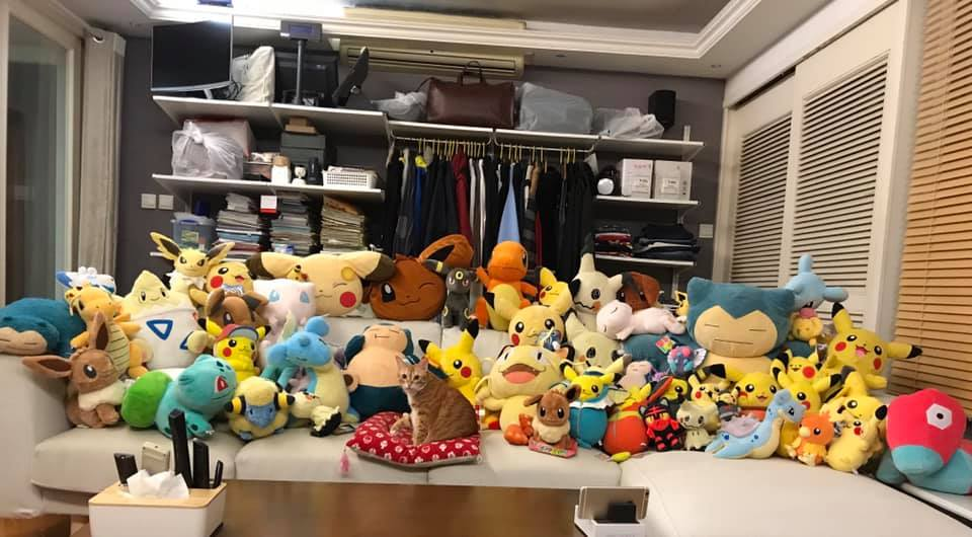 Cheung's collection of Pokemon soft toys, with his cat Ban Ban in the middle. PHOTO: Sam Cheung via South China Morning Post
There are also the usual items: trading cards, figures, books and, of course, soft toys.
"I love Pokemon plush toys," Cheung says. "Do you want to see a picture of my collection?"
The picture shows 40 Pokemon soft toys all competing for sofa space with Cheung's cat, Ban Ban. "The toys are so cute," he says.
At Pokemon Hub, a retailer in Mong Kok's bustling Langham Place shopping centre, Pokemon-themed merchandise including mugs, stationery, handheld fans and plush toys line the shelves.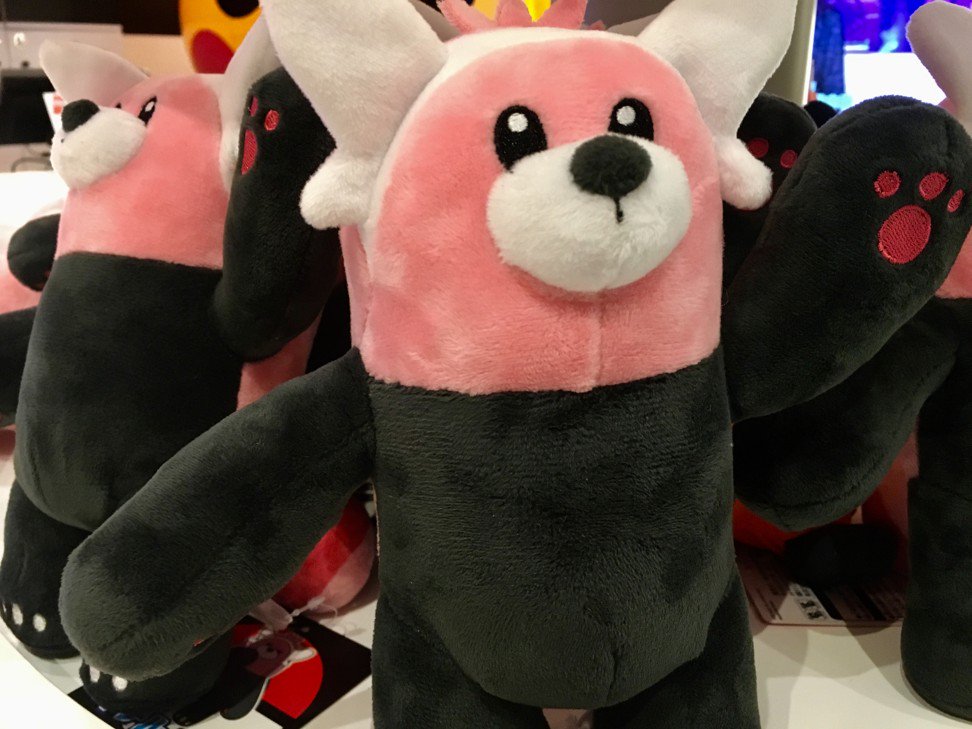 Bewear soft toys at Pokemon Hub in Langham Place. PHOTO: South China Morning Post
Among the handful of female customers are school friends Bonnie and Cecile, both 17, who bonded over their mutual love of Pokemon Go. They don't want to give their last names, or have their photo taken, concerned their parents might see the article.
"My mum says I spend too much time playing Pokemon Go," says Bonnie, pulling a Pokemon soft toy - his name is Bewear, she tells me - from a shelf.
"My mum will never understand my love of Pokemon Go," she continues. "She doesn't get it."
This article was first published in South China Morning Post.