The next seven weeks could prove to be a period of reckoning for Huawei Technologies' smartphone business, as the company prepares for the overseas launch of its next flagship device - the Mate 30.
Indications are that Huawei could launch the smartphone in Germany around mid-to-late September. But a successful launch would depend on a host of factors - chief among them is whether the Chinese firm will receive approval to use Google's Android operating system.
Huawei is currently blocked from licensing Android from Google because of its inclusion on the US Department of Commerce's Entity List, which bans American companies from doing business with Huawei without government approval.
Company chairman Liang Hua, at a press conference on Tuesday, said supplies for less important products have recovered, but key components such as the Android OS are still blocked under the US trade ban.
The latest Huawei smartphone on sale is the Mate 20 X, which still runs on Android because the licence was granted before the US government put Huawei on its trade blacklist on May 16.
Huawei could potentially launch the Mate 30 and subsequent models without Android. The world's largest telecommunications equipment vendor could decide to use its proprietary mobile operating system, which the South China Morning Post had earlier reported to have been under development since 2012.
Huawei could also postpone the Mate 30 launch, while it works to regain the Android licence, which would be a signal that the firm's own OS is not yet ready for commercial use.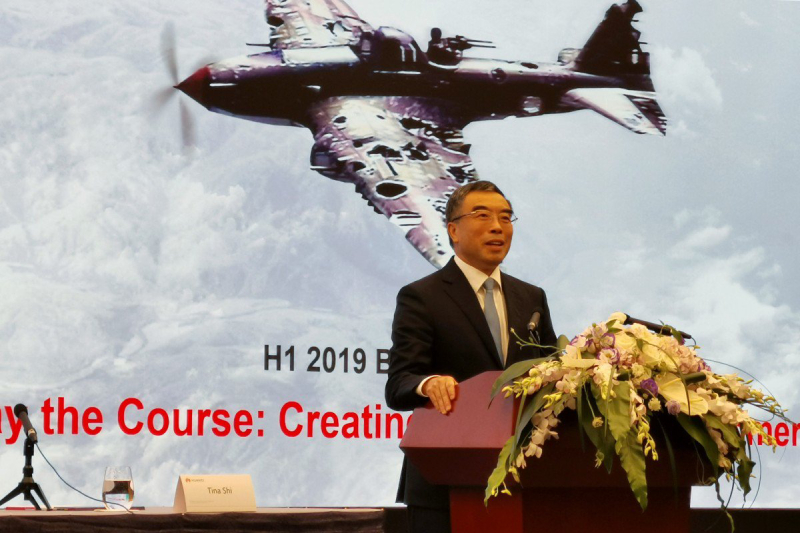 Huawei Technologies chairman Liang Hua warned of possible headwinds that Huawei might face in the second half of the year. PHOTO: Reuters
Liang did not directly address a reporter's question on Tuesday on whether the Mate 30 will be launched with Huawei's own OS if it did not receive the go-ahead from Google.
"If the US allows us to use Android OS for our smartphone, that ecosystem is always our preferred choice," Liang said. "If the US won't allow us to use it, we need capabilities to develop [our own] and an ecosystem."
"As for new product launches, you will be able to see with your own eyes how ready we are by then," he said.
Maintaining a successful product roll-out is crucial to Huawei because about 50 per cent of its revenue is derived from its consumer business.
The Shenzhen-based company said first-half revenue rose 23 per cent to 401.3 billion yuan (S$79.9 billion). The firm also had the largest smartphone market share in China with 38 per cent during the same period, up from 28 per cent a year ago. Comparatively, other Chinese smartphone brands saw their market share decline.
Following its inclusion in the Entity List, Huawei has targeted a significant increase in its share of China's smartphone and telecoms network equipment market to help offset potential losses overseas because of the US action, the Post reported in late June, citing people familiar with the matter.
Whether Huawei gains approval to use Android on its new smartphone models is crucial because the operating system supports essential Google services that, while unavailable on the Chinese mainland, are widely used around the world.
The Android OS, together with Apple's iOS, are the two dominant smartphone operating systems globally. Attempts in recent years by other players, such as Microsoft Corp and BlackBerry, to develop rival mobile operating systems have largely failed.
As Huawei needs time to test and prepare its new handsets, the company normally has to apply for Android licences from Google several months ahead of an official product launch, according to a person familiar with the process.
If Huawei has obtained the Android licences for the upcoming Mate 30 series before May 16, then its use of that OS for the upcoming flagship models will not be affected, according to the person.
Huawei declined to comment further on the details of its Mate 30 launch.
At the briefing on Tuesday, Liang warned of possible headwinds that Huawei might face in the second half of this year. He also said the company is currently focused on "fixing the holes" in its consumer business after patching certain deficiencies at its carrier equipment business.
Huawei has taken to referring to itself as a bullet-ridden war plane that still continues to fly.
The company's efforts to gain access to US components and services are taking place against the backdrop of trade talks between US and China.
The latest round of US-China trade negotiations began in Shanghai on Tuesday morning in extremely low-key fashion, with both sides seeking to play down expectations of a quick end to their trade dispute.
This article was first published in South China Morning Post.