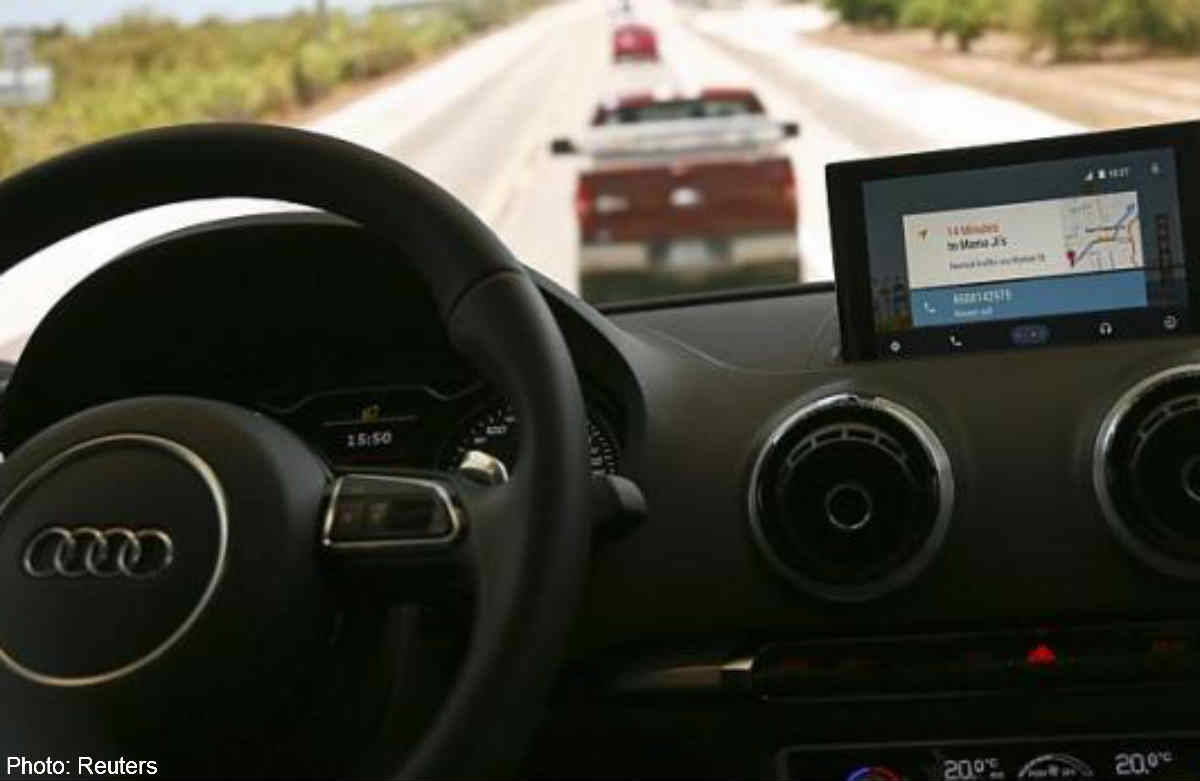 No Google Glass. No Nexus devices. No gadgets. Like Apple's WWDC, Google's I/O developer conference last week was more about the software than the hardware.
Google's senior vice-president Sundar Pichai got the ball rolling by boasting that there are now a billion active monthly users of the Android platform, up from 538 million last year. Mr Pichai, who heads Android and Chrome, also revealed that Android tablets now command 62 per cent of the market.
Judging by the announcements at Google I/O, the company has big ambitions for Android, taking it to cars, wearables and the living room. It introduced a new and consistent design for the Android interface that spans all kinds of devices.
Here are the key takeaways:
Android in cars, watches and TVs
Google introduced its Android Wear software for wearable devices in March, then announced at Google I/O that two Android Wear devices - LG's G Watch and Samsung Gear Live, were available for pre-order in selected regions via the Google Play Store. A third device, from Motorola, is expected soon.
Google is trying, for a third time, to bring Android to TVs and set-top boxes, after earlier attempts failed to gain traction with consumers. It has revamped the interface and added search by voice command.
Android TV has a secret weapon: It lets you play Android games with a controller. Sony and Sharp are making TVs for this platform, and Asus and Razer are expected to launch Android TV set-top boxes later this year.
Lastly, Android Auto will power dashboards on cars from as many as 28 manufacturers. When linked to Android smartphones, Android Auto will make it possible for motorists to use apps such as Maps and Spotify while behind the wheel. Voice commands will enable this to be a hands-free experience.
What it means: History suggests that it will be a while before Android TV arrives in Singapore. The Google Play Store here does not even offer movies or TV shows, which would seem to be reasonable prerequisites before any Android TV device becomes available here.
Neither the LG nor Samsung Android smartwatches is available here via the Google Play Store, but individual manufacturers may choose to launch them here, as Asus has done with the Nexus 7.
It is still early days for Android Auto, although Google says it will be in cars later this year. Much will depend how quickly carmakers adopt the technology.
L: the next version of Android
Google showed off an early developer build of the next version of Android (simply known as "L" until its name is finalised), which is expected to be released in autumn.
It uses a new Material theme, part of a new design language that aims to make Android compatible for all devices. Google says the design "uses tactile surfaces, bold graphic design and fluid motion to create beautiful, intuitive experiences".
First impressions: It certainly looks colourful. The interface uses multiple layers to give the impression of depth. So, instead of hitting a button to access quick settings in the notifications shade, you swipe down to bring up icons that appear to be in a separate under layer.
The multitasking menu now adds browser tabs along with the usual plethora of running apps.
Android L is expected to feature improvements in battery life and performance. Like Apple, Google will build in a remote kill switch to let a user who loses an Android device to remotely wipe the data and making it unusable.
What it means: Nexus and Motorola phone users are likely to get Android L earlier than other Android brands. But manufacturers are speeding up roll-outs of new Android software updates.
HTC says that within 90 days of receiving the final Android L software from Google, it will provide updates for its latest smartphones, the HTC One (M8) and HTC One (M7). Expect other manufacturers to be similarly prompt with updates.
Bringing Android smartphones to low-cost markets with Android One
Google unveiled Android One to help manufacturers build low-cost smartphones for less-developed markets. The company is starting the programme in India.
To help manufacturers meet the price points (around US$100 or S$124) for these markets, Google engineers will produce reference hardware designs that manufacturers can adapt to design their own devices. An example that Google used was a 4.5-inch, dual-SIM phone from the Indian manufacturer Micromax.
Like Nexus devices, these phones will run on stock Android and receive the latest updates promptly from Google.
What it means: Android One lets Google set a hardware baseline, countering critics who deride existing cheap models that run outdated versions of Android. A larger Android phone market could also attract more developers, leading to more diverse apps on Google Play Store.
Chinese manufacturer Xiaomi's affordable smartphones consistently sell out here, albeit in limited quantities over the Internet. This shows that Singapore consumers want cheap phones, too. Android One could spur more manufacturers and even start-ups to offer inexpensive phones.
vinchang@sph.com.sg

This article was first published on July 02, 2014.
Get a copy of Digital Life, The Straits Times or go to straitstimes.com for more stories.