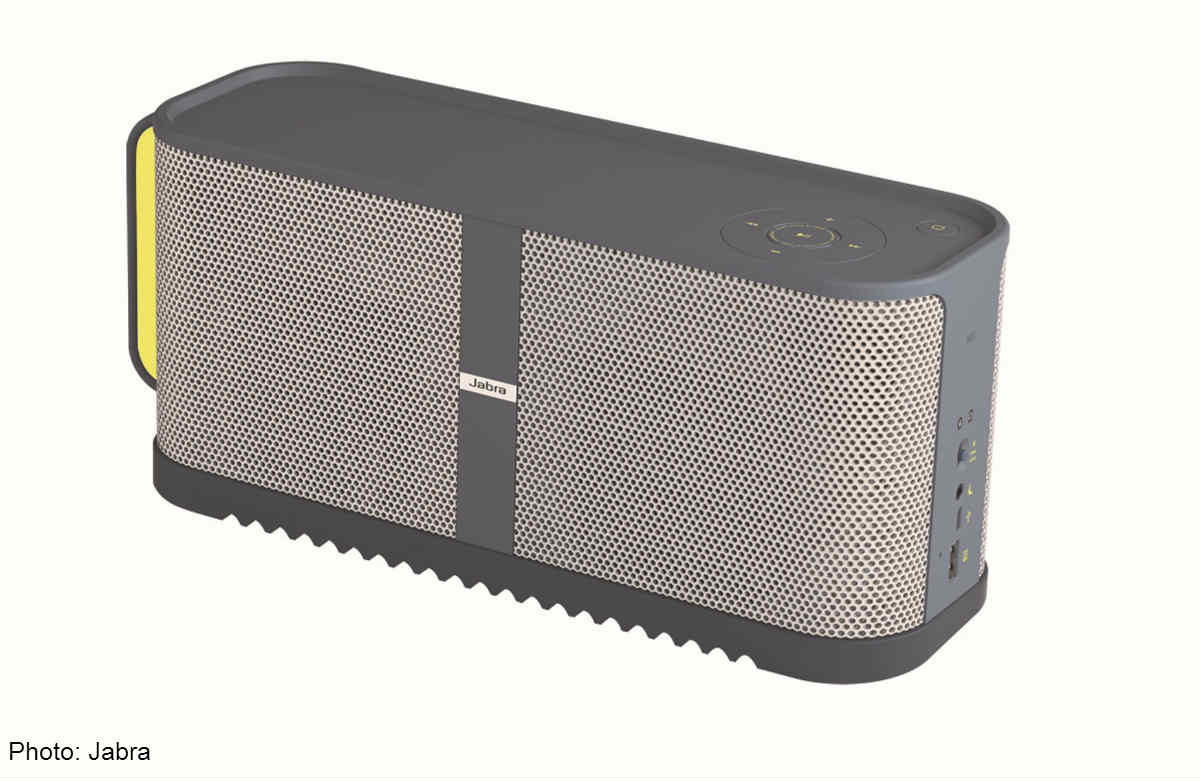 Easily the largest and heaviest in this ensemble, the Jabra Solemate Max is also big on sound and features.
Its massive size easily helped it to surpass the sound quality of the others here. The four speakers inside established a robust sound stage that tackled rock, pop, instrumental and vocal tracks with ease.
Voices have a sharp, crisp quality to them and the powerful output easily fills a room, whether the speaker is placed on a table or on the floor. The slightly angled placement means that the sound is always projected upwards and towards an audience.
This is the type of speaker you want for outdoor use because that is exactly what it is designed for. The rectangular box is splashproof and dustproof, which means it can survive a day at the beach. 
At the base of the speaker is a grooved rubber grip, which looks like the sole of your sneakers. So it is unlikely to tip over on its own, or even slide across a wet floor.
A rubber handle on the left side provides an easy way to move it around.
The Solemate's controls are at the top of the speaker, with volume and playback controls.
A battery charge indicator button verbally tells you when it is time to recharge the built-in battery, which is supposed to be able to power the speaker for 14 hours at a stretch. A USB port on the speaker lets you charge a smartphone.
For those who prefer to have a wired connection to deliver music from device to speaker, the rubber base has a dedicated groove that also houses a removable 3.5mm cable for such a need.
Outdoors, the Solemate Max's handle, hidden cable and rubberised sole make it your best sound mate in most outdoor situations.
However, its 3kg bulk and price tag may put off some music lovers.
TECH SPECS
Price: $498
Additional features: NFC, hands-free calling, water- and dust-resistant
RATING
Features: 4/5
Performance: 4/5
Value: 3/5
Overall: 4/5
This article was first published on July 16, 2014. Get a copy of Digital Life, The Straits Times or go to straitstimes.com for more stories.
MORE SPEAKER REVIEWS