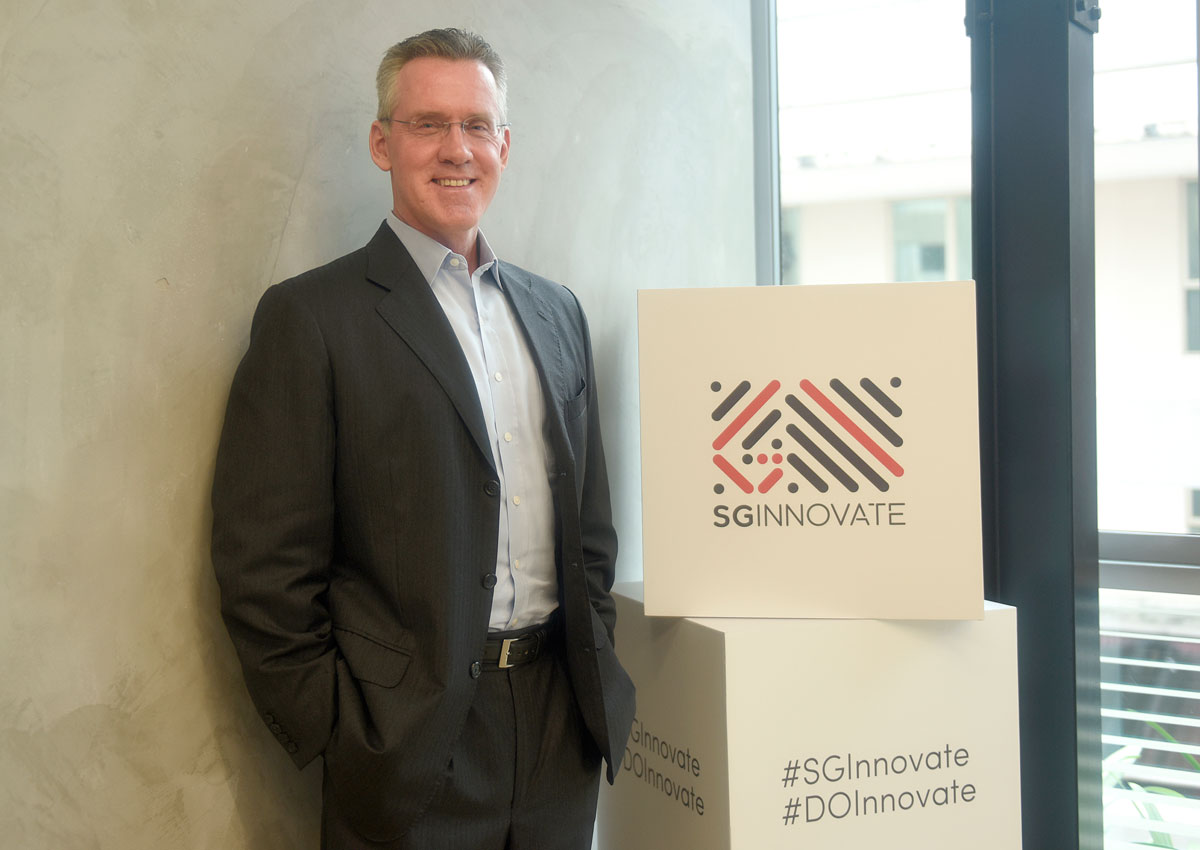 Singapore already has everything it needs to build world-changing companies. That is the view of Mr Steve Leonard, who has made it his mission to do just that.
Mr Leonard - a well-known face in the local tech start-up scene - has been appointed chief executive of the newly-launched SGInnovate, an organisation which brings together entrepreneurs, investors, researchers, academics and companies to develop technology-based products.
Or, as Mr Leonard describes it, "working with people here to see if we can build some cool things from Singapore for the world".
"This is a little contrarian and not everyone agrees, but my view is that Singapore doesn't lack anything to build globally relevant products and companies," says the affable 54-year-old, who has lived and worked here for almost 16 years and is originally from Texas in the United States.
"People say we don't have enough engineers or don't have enough investment. It would be great to get more, but those are not obstacles.
"If you speak to the Israelis, for instance, they'll say they wish they had more engineers, even though they seem like they have it all figured out. Sometimes we use these as excuses. We just need to have the mindset, determination and commitment to go do it."
Mr Leonard is a veteran of the tech industry and has held various private sector roles, including Singapore-based senior executive positions at IT services firm EMC and software company Symantec.
His first full-time government role followed a stint serving on the board of the former Infocomm Development Authority (IDA) as a private sector representative.
"The chairman of the board... asked if I ever thought about joining full time. I'd be working in a government environment, which would be new to me, and working with an entirely Singaporean team as one of the only foreigners.
"I thought - sounds like a good challenge, let's give it my best shot," says Mr Leonard, who became IDA's executive deputy chairman in 2013.
At IDA, Mr Leonard made community engagement a priority, setting up the Lab On Wheels programme to bring tech on buses to schools and also pushing for more involvement in the start-up scene.
He also travelled extensively - "five days a week" - to build networks abroad on behalf of the Singapore tech ecosystem.
"What I tried to bring to IDA was some sense that we need to engage with the market - we have to go out instead of asking people to come see us," says Mr Leonard.
In addition, he tried to encourage a culture "of being okay to experiment". "It doesn't mean being careless, it means "try first" - that was our approach at IDA.
"Many people were uncomfortable with that. They asked: 'If it doesn't work out, will I be scolded?' The answer is, if you're doing it with the right intent, and you learn from it, that's how it goes."
Mr Leonard is bringing that same can-do spirit to SGInnovate, though he emphasises that its goal is not to launch programmes or give out grants to encourage more start-ups to sprout.
"We are laser-focused on the journey of the entrepreneur.
"It's not our goal to try and help the entire start-up ecosystem. It's not our goal to try and launch a long list of programmes, or offer a rich set of grants. There are already lots of other things in the ecosystem to address these needs."
Instead, SGInnovate aims to help a small, niche group of start-up founders with deep technical expertise increase their chances of success. These include scientists, researchers and engineers.
"Our goal isn't necessarily to start companies. Once something is started, its chance of success is relatively small. What we're trying to do is increase those odds," Mr Leonard says. "We want to work with the 2 to 3 per cent of the community who want to build things that are globally relevant."
Referring to SGInnovate as "the tiniest point of light that burns brightly", he adds: "We're trying to be very specific and focus on things with a high barrier to entry, not things that are easily copied by others... That is where the intellectual property value for Singapore comes from."
Singapore already has a strong foundation of world-class research and talent, Mr Leonard notes, which means it already has all the ingredients for world-changing technologies to develop here and grow into successful businesses. The next step would be to bring the right people and resources together.
Mr Leonard says SGInnovate will focus on sectors which play to Singapore's unique, untapped strengths - as a start, key areas include artificial intelligence, robotics and virtual reality.
"We shouldn't look at (ecosystems like) San Francisco and say, they do those things so let's also do that. There's no other Silicon Valley. London is doing cool things (in artificial intelligence) but they're not Silicon Valley.
"Everyone has their own thing. We want to work on those things that we would consider, over time, to be our specialities."
Other sectors of interest include healthcare, security and food and water resources.
"These things matter not just to Singapore but (also) to every country in the world," adds Mr Leonard.
Though he does not expect to travel as much as he did before in this new role, Mr Leonard says SGInnovate will continue building extensive links with ecosystems elsewhere in the world, to serve entrepreneurs here.
"I've tried to put myself in positions where I can travel and learn, which is part of why I've stayed in Singapore for such a long time," says the father who has "three kids on three continents".
His two older children live abroad in the US and Britain, while his youngest daughter - who was born here - remains in Singapore and has been taking Mandarin lessons since the age of four.
The family considers Singapore home, says Mr Leonard, whose wife is British.
"(The kids) went through their formative years here, mixed with kids from different cultures, went on trips to Nepal and Bhutan and all over the place.
"Now that (the older ones) are making their own way in the world, their level of confidence and capability is higher because of their chance to grow up in a place like Singapore."
Throughout the interview he continuously reiterates his belief that the country "has everything that it needs".
"Singapore doesn't lack anything, it just needs to believe that it can build globally relevant products and companies. The number of people I speak with who say, let's just focus on being successful in Malaysia and expand over time... Why is that our aspiration?
"Why did Spotify come out of Sweden? Why did Skype come out of Estonia? We should be able to do that too."
chiaym@sph.com.sg

This article was first published on Dec 19, 2016.
Get a copy of The Straits Times or go to straitstimes.com for more stories.