Lazada Group chief executive Pierre Poignant said the company operates the top e-commerce platform in Southeast Asia with over 50 million active buyers annually, contrary to prior reports that painted the site as a laggard.
"We are growing at triple digits for the past three quarters, which has really sort of defined our position as number one," Poignant said in an interview. "We're very happy about the progress of where we are."
His comments came as recent reports pegged rival platform Shopee, operated by internet company Sea, as the most popular e-commerce platform in the region.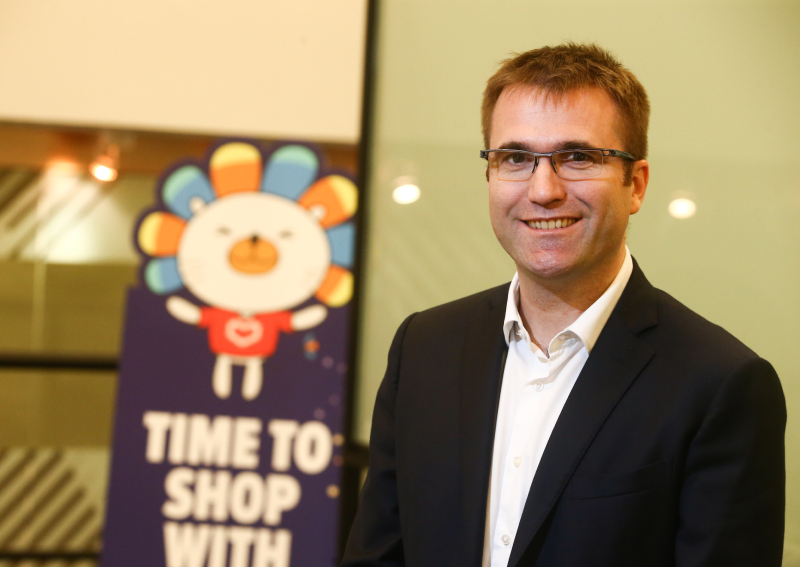 Pierre Poignant, co-founder and chief executive of Lazada Group, says the e-commerce company has been growing at triple digits for the past three quarters. PHOTO: Chinese Media Group
Online shopping aggregator iPrice, for example, recently placed Shopee as having the highest number of monthly active users, downloads and site visits in the region as of the second quarter this year.
Lazada, however, led in terms of monthly active users in four of the six major e-commerce markets in the region - Malaysia, Singapore, Thailand and the Philippines.
Tokopedia took the lead in Indonesia, while Shopee was No 1 in Vietnam.
Southeast Asia is a hotly contested region for e-commerce companies because its population of more than 600 million people are relatively new to online shopping. Lazada competes with Shopee, as well as firms such as Tokopedia and Bukalapak in Indonesia.
Alibaba Group Holding, the parent company of Lazada as well as the South China Morning Post, initially acquired a controlling stake in the firm in 2016 with a US$1 billion (S$1.4 billion) investment.
The following year, Alibaba put in another US$1 billion in the firm to raise its stake to 83 per cent. Last year, Alibaba doubled down on Lazada with a US$2 billion investment aimed at accelerating its expansion.
The New York-listed e-commerce giant replaced then-Lazada chief executive Max Bittner with Lucy Peng Lei, an Alibaba co-founder who previously served as executive chairman at Ant Financial Services.
Peng held both the executive chairman and chief executive roles at Lazada. But in December last year, Lazada appointed executive president Poignant to take over the chief executive role as part of "succession planning".
Alibaba also made changes to Lazada's business model, launching LazMall that offered branded products and "premium services".
Lazada's technology platform was revamped, and in September last year, Alibaba said that it had brought in 200,000 "high-quality merchants" from China onto the Lazada platform and increased product offerings by millions.
The platform has become more "asset-light" like Alibaba's e-commerce platforms Taobao Marketplace and Tmall, serving primarily as a transaction platform for third-party sellers and buyers. Hangzhou-based Alibaba has been vocal about Lazada as a key strategic business for its growth, together with its on-demand local services platform Ele.me, its New Retail initiatives like Freshippo supermarkets as well as logistics arm Cainiao Network.
A recent Wall Street Journal report, however, said Chinese executives were parachuted into different local markets to help run Singapore-based Lazada after Alibaba's acquisition, which resulted in dissatisfaction among some employees.
"The article was shakily sourced. It took a micro view and used out-of-context anecdotes to make some pretty sweeping conclusions about Lazada's and Alibaba's globalisation efforts," said Poignant, in response to that report.
He said Lazada has been benefiting from Alibaba's know-how in e-commerce, with some 1,200 employees going through training at the parent company.
This article was first published in South China Morning Post.