A commissioned effort by the Singapore government to lighten the mood during our bleak climate incited a lot more anger than laughs yesterday (April 20). 
Following a whole lot of flak from the internet, the band of fictional coronavirus-themed cartoon Singaporean superheroes called Virus Vanguard has been taken down from both the Gov.sg website and the Facebook page. 
In its place right now is a post that apologised for any offence caused and a message that called for ideas or suggestions on Virus Vanguard while it's being reviewed. 
Though the original post promoting the characters on Sunday (April 19) did not mention Virus Vanguard's original creators, the subsequent Gov.sg post clarified that the denounced project had been a collaborative effort with local artist collective Band of Doodlers (BOD).
What were people mad about? 
The widespread wrath stemmed from some of the origin stories of the superhero squad, which comprised Dr Disinfector, Fake News Buster, Must Always Walk Alone (MAWA) Man, Circuit Breaker, and Care-leh Dee.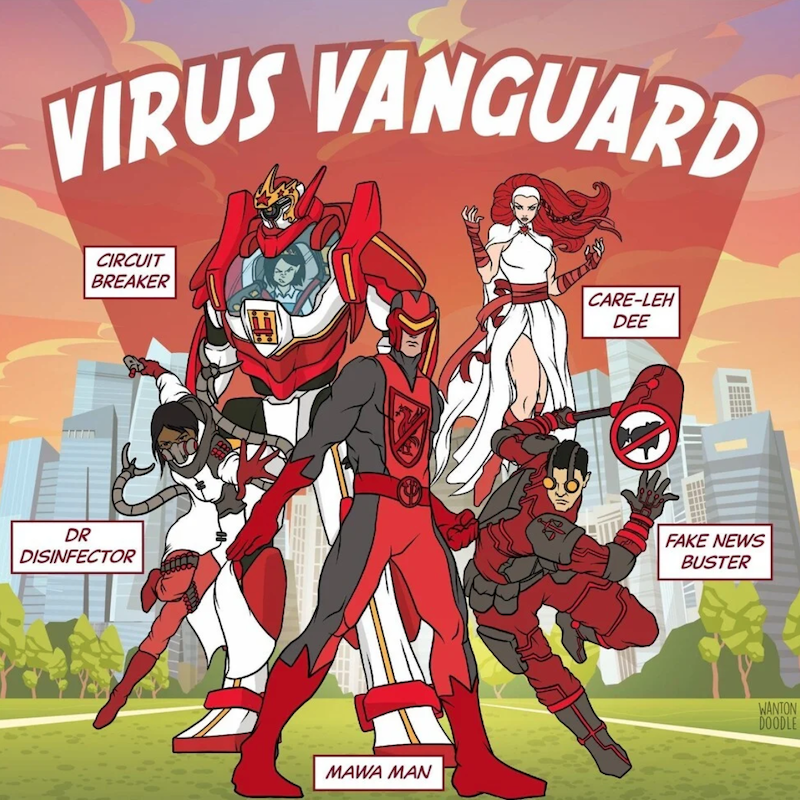 According to the original description, they occupy a parallel world where they are the "advance guard in our Covid-19 battle". The characters are meant to represent the different aspects of fighting the pandemic, like Care-leh Dee, whose abilities involve dispelling negative thoughts and making others more empathetic. 
But much of the vitriol was targeted at two of the heroes: Dr Disinfector and MAWA Man. 
Dr Disinfector's backstory said she was a genius microbiologist named Sonya who inadvertently shrank herself and got washed down a kitchen sink. In the original description, however, she was named Darshita and was actually flushed down the toilet. With her being of Indian ethnicity, the connotations sparked quite a bit of displeasure, and it was quickly amended. 
As for MAWA Man, his power is in safe distancing — as in he can telekinetically repel people and objects. His backstory is a swipe at Liverpool Football Club and its fans, whose motto is "You'll never walk alone".
MAWA man is supposedly a fan of rival team Manchester United and thus has taken on a costume and mantle that is anti-Liverpool: Man Always Walks Alone (MAWA). The crest on his costume even crosses out the Liverbird. 
This greatly upset Liverpool fans in Singapore enough for them to actually launch a petition against it. "This is distasteful and extremely disrespectful," the petition description read. 
Since it was revealed that BOD was involved in the project, netizens have pummelled the review section of the collective's Facebook page with negative comments. 
An apologetic artist
BOD founder and the artist behind Virus Vanguard identified himself earlier this afternoon (April 21) to clarify his actions.
Mas Shafreen, who's also known by his moniker Wanton Doodle, apologised for his characters that came across as insensitive. 
"It started because a group of us in BOD, including myself, created superhero characters to show appreciation for our frontliners, including healthcare workers, and how we can battle this together. It is also a way for us artists to collaborate together while practising social distancing," he explained. 
It's important to note that Virus Vanguard isn't the first coronavirus-themed superheroes that BOD tackled. On April 7, the artists released Covid Warriors, a comic that paid tribute to the frontliners and "true heroes" of the fight against Covid-19. 
It was due to this that Mas was approached by Gov.sg to develop a new comic series to "help raise awareness on circuit breaker measures," he wrote. 
As for the creation of MAWA Man, Mas admitted that he is indeed a Manchester United fan but regretted bringing in team rivalries into his work. 
"I am sorry for the trouble caused and I hope local artists can still be supported with creative projects."
The backlash against the backlash
As BOD suffered a hit to their reputation, a wave of support for the collective rose in response to the backlash. In the review section of their Facebook page, people balanced out the critical posts with messages of affirmation. 
Mas himself was also given well wishes for his work.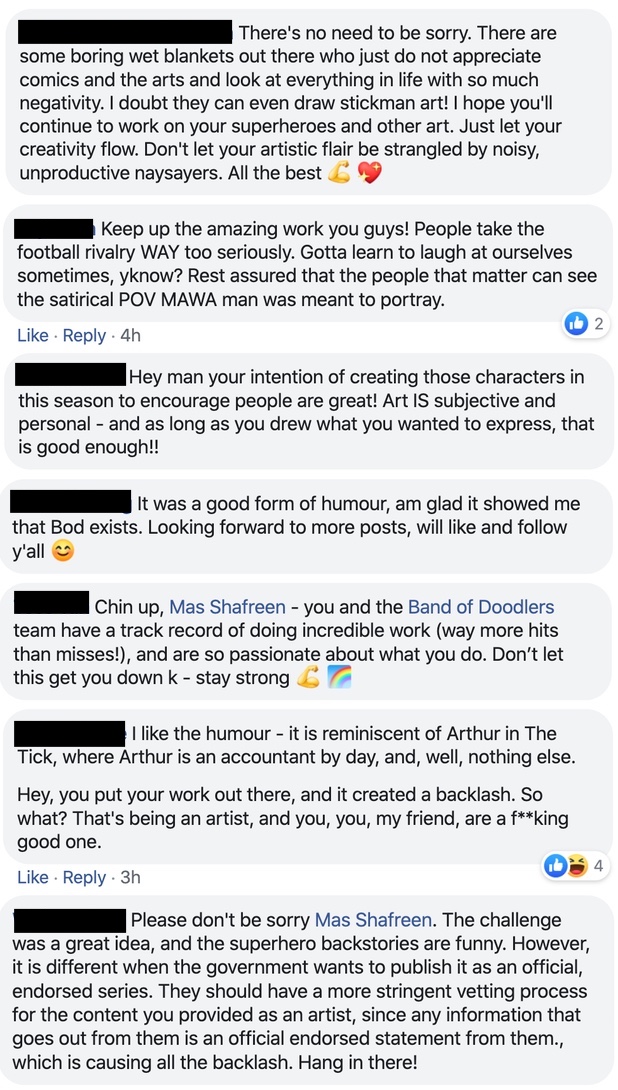 ilyas@asiaone.com