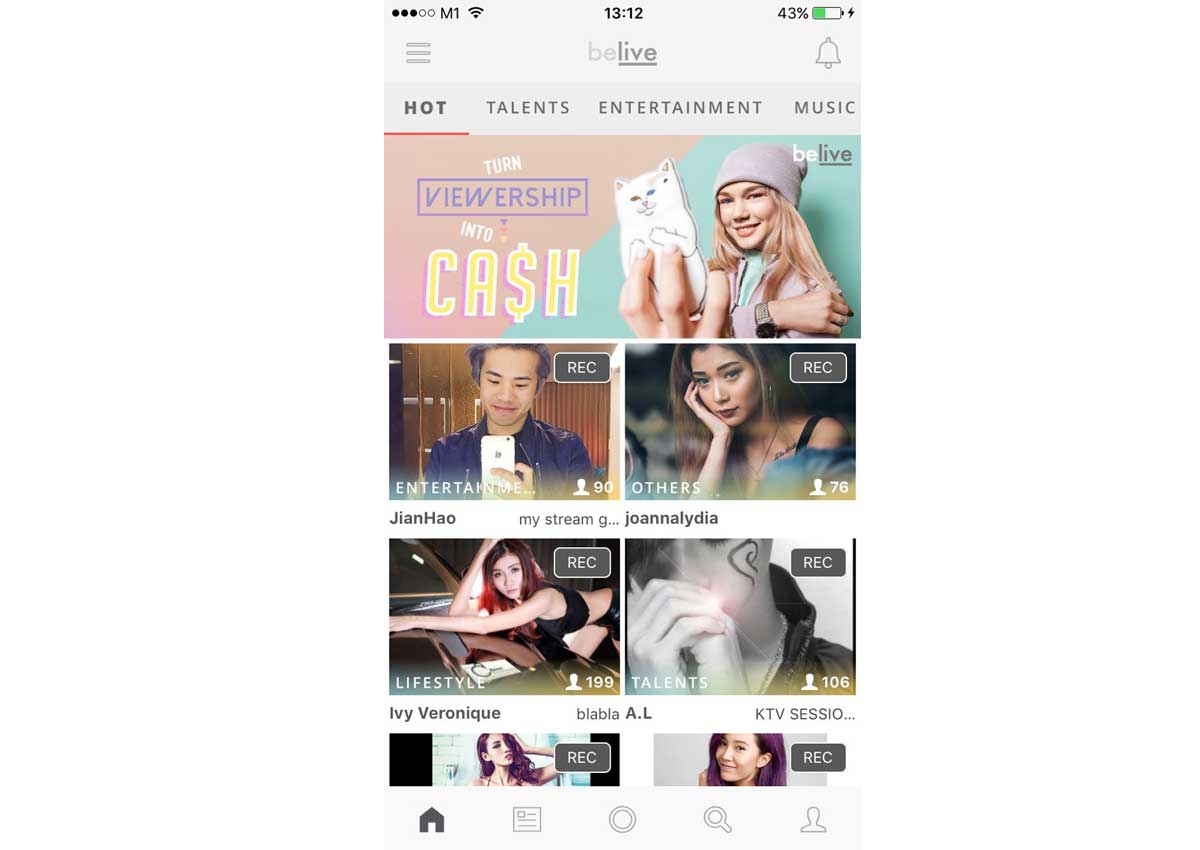 The world of live-streaming is becoming increasingly competitive as more social media platforms have introduced the format.
Among tech giants like Facebook, Instagram and Twitter's Periscope, are players such as Bigo - which pay real money to users who live-stream off their app - and TwitCasting - a Japanese live streaming app for Twitter from Japanese company Moi Corporations.
Now, a new player is in town to up the game. BeLive, which is the brainchild of Singaporean Kenneth Tan, is another app that is paying out money to its users.
Unlike Bigo, which pays streamers by the amount of gifts they receive during streaming, BeLive pays users each time they stream. Popular "streamers" that get about 150 to 200 views are paid around $300 to $400 per stream. Some popular streamers can earn $800 in two days.
On top of that, BeLive rewards their streamers with cash incentives where they earn extras (on top of their usual pay for the session) for the number of views they have for their videos. They earn an extra $20 for 80 viewers, $35 for 120 viewers, and $50 for 150 viewers.
Now that's a lot of money each day.
Sounds like a good platform to live-stream and earn money at the same time? Here are some things you might want to know about BeLive first before you become a streamer:
1. BeLive works on desktop too, but not fully
This application is currently only available on the Apple AppStore and Android's PlayStore.
Tan said that as they are still relatively new to the industry, there will be chances of the company expanding to having the desktop versions of the app. At the moment, the app works fine on both mobile and desktop, and you are able to open up any links sent to you on desktop.
2. It offers content too
BeLive is different from other apps in the market as it offers curated content so you can browse the various channels by the content the streamer creates. The various topics available are dancing, singing, comedic acts, make-up and even magic.
3. Save videos
How many times have you hoped to revisit the snaps you sent to your friends on Snapchat or to relive the moment of your Instagram Stories?
On BeLive, you can do exactly that. The app allows you to save videos in their archive for an indefinite amount of time. Tan had mentioned that archives will still be available for 30 days.
4. Content is moderated and screened
BeLive has close to 1,000 users since they launched in Feb. With so many users on board, how does the app ensure that the content is "clean" and not laden with explicit material?
According to Mr Tan, they have moderators that are around 24/7 to keep streams free from sexual intents or harassment. The moderators also screen and check all comments to ensure that no one is up to harass anyone on the app.
On top of that, BeLive also said it does not promote contests like giving away a short getaway for the most number of views and gifts for a streamer on their site. This is to prevent any obscene content and to keep it friendly to people of all ages.
wxlee@sph.com.sg