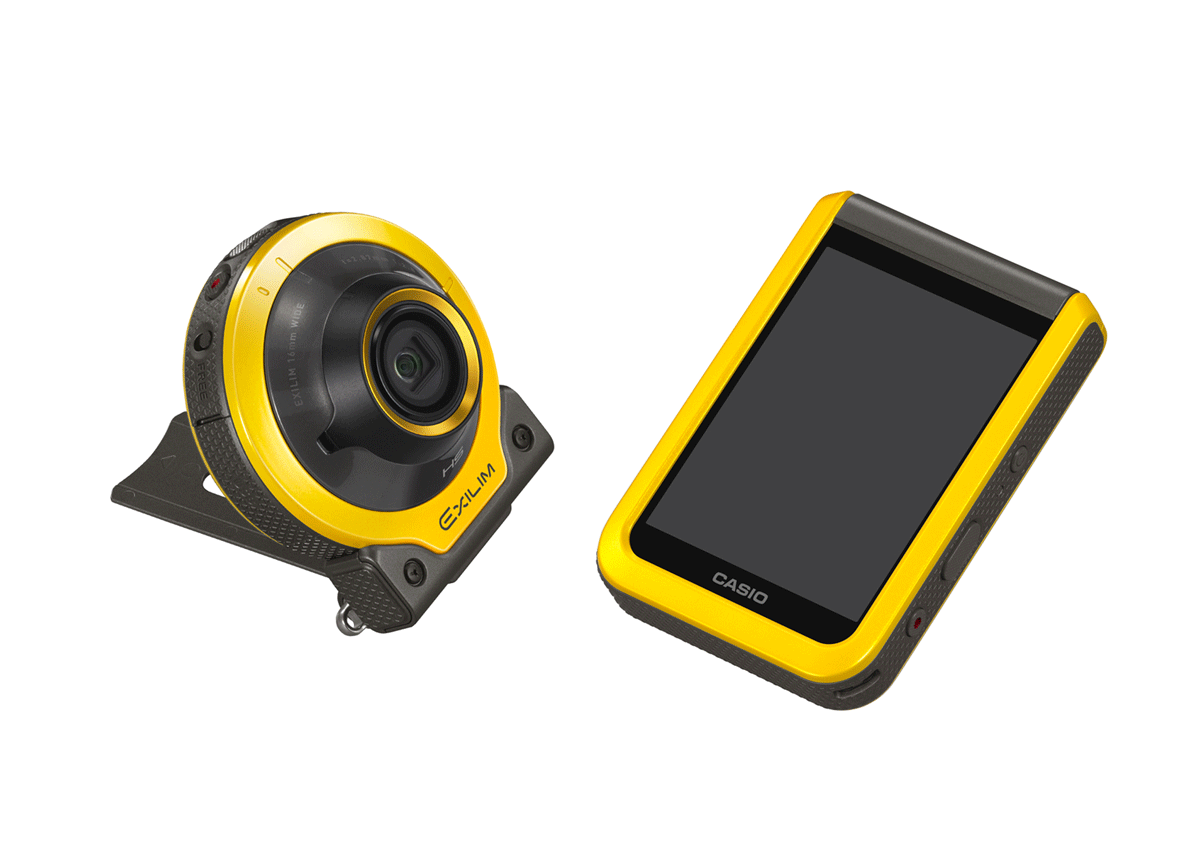 I first tried out the Exilim EX-FR100 last December at a Casio media event in Japan, where I took a pre-production model on a rugged test ride that included activities like paragliding and canoeing.
Like its predecessor, the FR10, the FR100 features a two-part modular design. The camera module can be detached from the wireless controller module. Both modules are dust-proof, can withstand being dropped from a height of 1.7m and can be submerged to depths of 1.5m for up to an hour.
The FR100's camera module has a wider 16mm f/2.8 lens, compared with the FR10's 21mm lens. But it has a lower megapixel count of 12, compared with the FR10's 14-megapixel image sensor.
The wireless controller has a 3-inch 921,600-dot touchscreen display with 16.7 million colours (the FR10 has a 2-inch 230,000-dot display with 0.2 million colours).
The FR100's two modules are linked wirelessly via Bluetooth and can work up to 10m apart. This is known as the "freestyle" mode, which allows you to detach the camera module, place it anywhere within range and shoot remotely using the controller's LCD or shutter release button.
I have tried moving the controller 20m away from the camera module and it still works, but with a lag of around 2sec. If both modules are close by, it takes around 0.5sec for a photograph to be captured after you press the shutter release button.
If you put the camera module into the water, you will lose the Bluetooth connection. But you can still take photos using the camera module's shutter release button .
To take selfies, simply flip the camera module upright and turn the display to face you.
The FR100 operates quite fast. Once you turn on both modules, which takes around 2sec, they are paired immediately. Shutdown takes around the same time.
When they are in sleep mode, a quick press of the controller's power button will wake both modules up within 1sec.
There are several camera modes, including auto, programme-auto, high-speed and an art mode for effects, like sepia and monochrome.
You can use the make-up function for smoother skin in selfies for all modes except the art mode. This is great if you still want to look good during outdoor activities.
Images and full high-definition videos shot with the FR100 are sharp and full of details. Still images exhibit minimal distortions at the sides despite its wide coverage. There are also fewer noise artefacts in the images compared with the FR10, but I recommend keeping the ISO setting at 400 or lower. Anything above that produces too much chromatic noise.
Videos shot by the FR100 do not exhibit much shakiness when I put the Move Anti-Shake feature to Strong, which I highly recommend. But it cannot shoot 4K (3,840 x 2,160 pixels) videos.
Battery life is average for a compact camera - around 235 still images on a full charge. Also, you will need to charge the camera module and wireless controller separately.
The FR100 only comes with a tripod nut and a carabiner strap in its package. You have to fork out extra moolah for optional accessories such as the multi-angle belt set or underwater case, which are priced from $32 to $159.
And the EAM-4 multi-angle selfie stick ($149), which I found the most useful during the Japan trip, is not even available here until April.
•Verdict: The Casio Exilim EX-FR100 is great for capturing the great outdoors, as long as you are not deep-diving and are willing to pay extra for accessories.
trevtan@sph.com.sg

This article was first published on February 17, 2016.
Get a copy of The Straits Times or go to straitstimes.com for more stories.