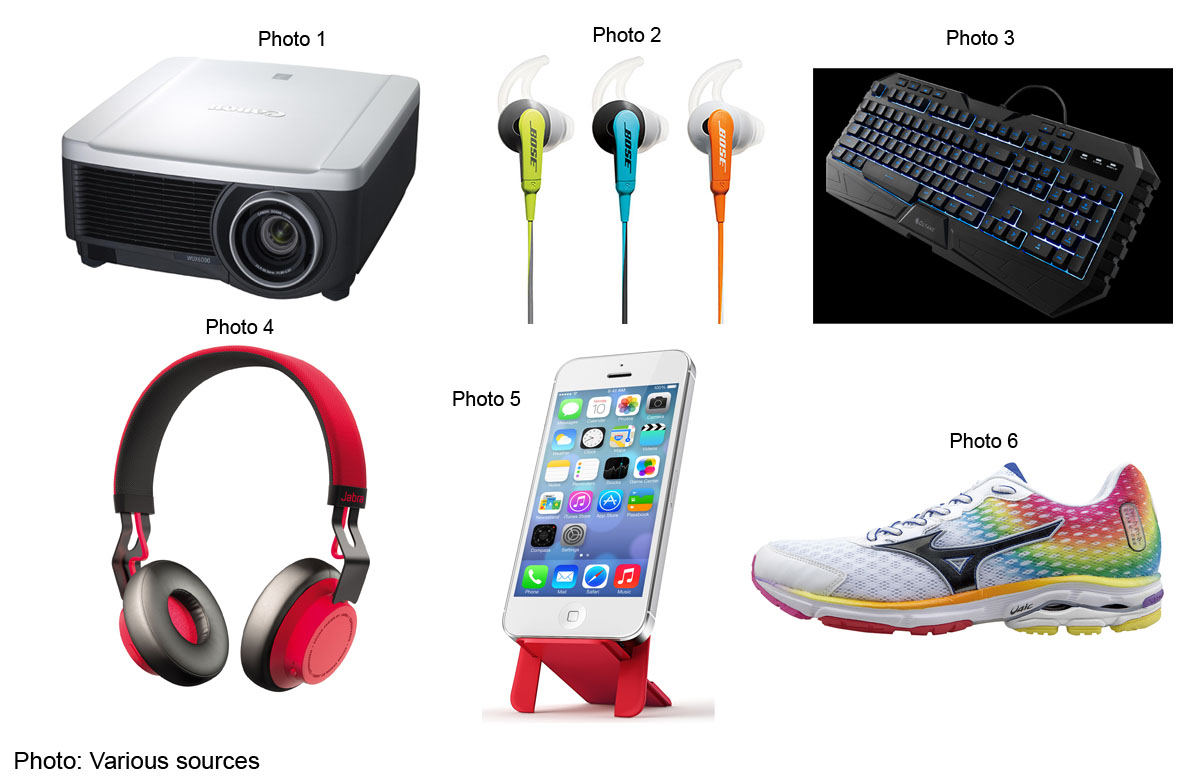 PROJECTOR
Canon XEED WUX6000
$9,500
Canon's latest flagship projector boasts a mind-boggling spec sheet.
Despite its impressive 6,000 lumen brightness rating, it consumes only about half as much power as its rivals.
The projector's panel is resistant to burn-in, a phenomenon that results in a bright image being "ghosted in" over dark patterns.
The WUX6000 also features four-point keystone correction, which compensates for image skewing and distortion.
The projector possesses superb versatility - you can choose from five different lenses to mount; this will allow you to cover all venues, from small conference rooms to large spaces such as auditoriums.
HEADPHONES
Bose SoundSport in-ear headphones
$219
If you love listening to music while you exercise, the Bose SoundSport in-ear headphones may be the ones for you.
Its microphone and remote resist sweat and splashes. Its acoustic ports are covered with a hydrophobic cloth that keeps moisture out while letting sound pass through.
KEYBOARD AND MOUSE
CM Storm Octane
$88
Good things come in pairs. The CM Storm Octane is a reasonably priced keyboard and mouse combo.
The package may be light on the wallet, but it certainly is not light on specs and features.
The mouse features a 3,500 dpi optical sensor and can withstand 10 million clicks.
The anti-ghosting technology of the keyboard allows up to 19 keys to be pressed simultaneously. Turbo mode allows users to rapidly repeat a keystroke by simply holding down a key.
Both mouse and keyboard have fully customisable backlighting in seven funky LED colours, with pulsating glow modes.
HEADPHONES
Jabra Move Wireless
$148
These headphones offer a combination of great sound, sleek design and wireless convenience at a decent price, making it perfect for urbanites on the move.
Jabra's signature Digital Signal Processing technology delivers crisp and clear mids and highs. The Move Wireless can pair automatically with your devices via Bluetooth. Still, a detachable 3.5mm cable is included.
Its stylish, lightweight body weighs just 150g, but do not let the lightness fool you. The Move Wireless is well constructed, with a comfortable, high-quality stainless steel headband, which is covered in dirt-resistant fabric. The battery lasts eight hours on a single charge.
MOBILE PHONE HOLDER
ION
$7.90
This is no ordinary phone stand. Portable, foldable and ultra thin, it will hold just about any mobile phone on earth.
It is designed to be folded and stowed so that you can take it anywhere. Designed by a Singapore firm, HIP Product Factory, it folds down to the size of a credit card.
RUNNING SHOES
Mizuno Wave Rider 18 Osaka Edition
$199
Released to celebrate the Osaka Marathon, this limited-edition shoe has an upper that is built for an improved fit. Its Pebax Wave Plate and resilient forefoot sole design with improved rubber distribution makes it light yet high in tensile strength.
It will be available next month in three colours: Rainbow for the unisex model, Fiji Pink for women, and Fiji Blue for men.

This article was first published on Oct 29, 2014.
Get a copy of Digital Life, The Straits Times or go to straitstimes.com for more stories.