The vaping industry has suffered a series of setbacks around the world following a spate of deaths in the United States.
A number of governments are now considering or implementing bans even if Donald Trump has wavered over whether to introduce similar measures in the United States.
Now China, where a lack of regulation and the ease of buying online have helped create millions of e-cigarette users, has dealt what may the heaviest blow yet to the global industry by banning all sales of e-cigarettes online as of November 1.
Tobacco has long been identified as a major public health challenge in China: the country is the world's largest tobacco producer and has more than 300 million smokers, according to the World Health Organisation.
While vaping is far less widespread than tobacco use, it generally appeals to younger people - attracted as much by the chance to experiment with different flavours as they are by the allure of sampling nicotine without some of the risks associated with tobacco.
It is perhaps little surprise, then, that vape stores, some decked out like tattoo parlours, have become a common sight in the heart of China's busiest cities, with gangs of youths hanging around outside puffing out clouds of scented white smoke.
In fashionable districts such as Shanghai's Xintiandi, hawkers push carts of sleekly packaged vapes as young salesmen with white tees and hipster quiffs puff away on their products.
On Gulou East Street in Beijing, an avenue known for its vintage clothes, antiques and musical instruments, a vape store sits amid them, with rows of devices and juices on display.
Even outside the country's economic heartlands, many convenience stores, karaoke bars and other outlets across the country feature piles of e-cigarettes with bright, trendy packaging and multiple different flavours.
One such user is Saw Zhao, now 25, who walked into a vaping shop on a popular Beijing street two years to find out what it was all about.
Since then Zhao has continued to hang out there, playing video games or blowing smoke rings, and has become friends with the owner and many of the customers.
The non-smoker sticks to nicotine-free products and says he enjoys trying different flavours - such as mint, apple or grape - as well as the physical sensation of puffing on the device.
"I don't think it will affect my health. I might be addicted to the flavours, but not to nicotine. I'm fine," said Zhao.
But the Chinese authorities - along with tobacco control activists and health workers - disagree. They think that all vaping devices and e-cigarettes pose a health risk and must be regulated, especially for young people.
China's national health commission estimated that there are now 10 million e-cigarette users over the age of 15.
Before the online sales ban, vaping had been largely unregulated and even now loopholes remain in the regulations. For instance, online advertising was also banned but vendors are trying to find ways round this, and videos of user testimonials - often comparing the merits of different brands and flavours - remain commonplace on the internet.
In any case, online sales only accounted for around 45 per cent of sales, according to the health commission, and over-the-counter retailers remain unaffected.
Over-the-counter sales, which account for around 55 per cent of the total, are not affected by the ban. PHOTO: Weibo/败尽天下卿
Questions also remain over whether China's new rulings will prove effective and, with at least 47 deaths and 2,290 lung illnesses recorded so far by the US Centres for Disease Control and Prevention, regulators may be spurred to crack down further.
The US cases have largely been linked to marijuana vapes, but American health officials say they cannot entirely rule out a link to nicotine ones - fuelling concern in countries such as China where marijuana use remains banned.
Chinese activists and health workers agree on the need for new regulations and say more needs to be done to protect minors in particular.
Two of its closest neighbours provide radically different models for the future of regulating the e-market for e-cigarettes, which are currently treated as ordinary consumer products.
South Korea has put strict limits on nicotine levels in e-cigarette products but continues to allow their sale, much like the US.
But Japan has classified nicotine vaping liquids as medicinal products - effectively making e-cigarette purchases illegal unless they come from certified pharmacists.
China is not likely to implement a full ban but the regulations are expected to tighten further. PHOTO: South China Morning Post
"The issue with e-cigarettes is not whether they have less nicotine or no tar, but that they make young people accept nicotine," said Zhi Xiuyi, deputy director of the non-governmental Chinese Association on Tobacco Control and chairman of the China Lung Cancer Centre.
Yu Xiuyan, Beijing representative of Campaign for Tobacco-Free Kids, pointed out that besides nicotine, vapes include a variety of other toxic substances that may be harmful and said the products "should be treated and regulated like cigarettes".
Both agreed that using vapes should not be permitted in places where smoking is banned, but questions remain how effective this approach would be.
At present there is no national legislation on the use of tobacco in public places and only 20 or so of the country's 672 municipalities have imposed restrictions on smoking, most of which exclude e-cigarettes.
Zhi also said there should be tighter rules to ensure that the products on sale meet minimum safety standards.
"There is no regulation currently, no standard on the production quality or supervision of sales," said Zhi.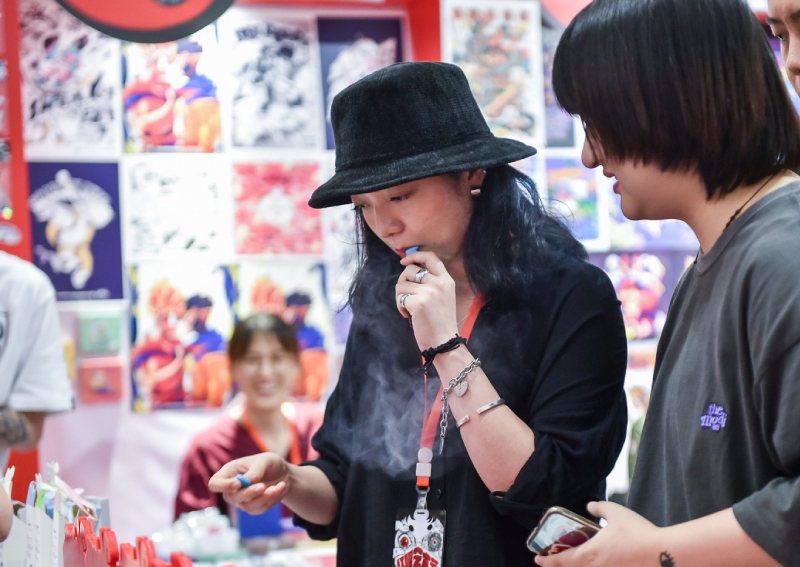 Visitors try e-cigarettes during a vaping expo held in Chongqing in 2015. PHOTO: Weibo/ASVAPE 
Currently e-cigarettes are regarded as a "supplement to traditional cigarettes", but Zhi argued that if vapes continue to be treated as a regular consumer product then their sale to minors should be banned - as is the case with tobacco products.
But if they were treated as a medical product to help stop people smoking, in line with the Japanese model, they should be properly regulated - for example with clearly marked ingredients and nicotine levels - so doctors could prescribe them.
It appears unlikely that China will ban e-cigarettes altogether.
A report by Citic Securities published a week after the online sales ban said the new regulations were stricter than expected, but argued that regulators wanted to ensure that the industry developed in a way that benefited public health rather than imposing a blanket ban.
The government has also been working on national standards for the past two years.
Its proposals, which are currently under review, would impose a number of technical standards for e-cigarettes and cartridges and will require packaging to carry warnings against their use by minors.
But Citic's report said the pending investigations into the lung disease cases in the US and a premarket tobacco product application review by the FDA mean there is likely to be a long wait before any new proposals are unveiled.
Vape store owners in Beijing and Shanghai said they hoped any future regulations would not be too strict.
"I have smoked for 17 years since I was 14. E-cigarettes greatly reduced my use of cigarettes and I almost quit smoking. I don't think e-cigarette regulation should go beyond taxation," said one Shanghai store owner who has been selling US-imported vaping devices for five years.
A Beijing store owner said he would not let anyone in school uniform in his store and would check the age if the buyer looked suspiciously young, but saw no other point in controlling e-cigarettes.
Citic noted that the new rules had come into force ahead of Singles' Day - a November 11 online sales bonanza similar to Black Friday in the US - which might have an impact on industry growth and company profits.
Five days after the directive was issued, major online retailers such as JD.com and Taobao - owned by Alibaba, the South China Morning Post's parent company - had removed e-cigarettes from sale.
RELX, China's largest e-cigarettes brand with 60 per cent of the market share, which has also stopped selling vaping products online, said: "Online channels account for only about 15 per cent of the overall sales scale, and the remaining 85 per cent are overseas and offline, so the overall impact on us is small."
The regulations may also serve to deter some major international players from entering the market.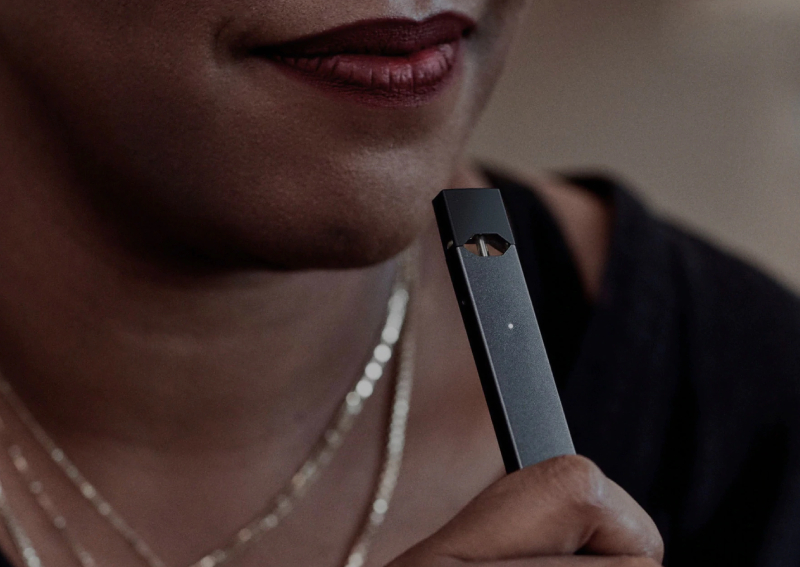 Major international brands such as Juul have been unable to break into the Chinese market. PHOTO: Juul
America's most popular e-cigarette company, Juul, tried earlier this year but its online stores on Chinese e-commerce platforms Tmall and JD.com were removed within the space of a week.
Fontem Ventures, the company that makes blu e-cigarettes and is owned by British tobacco giant Imperial Brands, has not even tried to launch in China yet an neither company has plans to return to China in the near future.
"We'd love to make blu available to adult smokers in China, but we want to do it the right way. Vaping raises complex public policy questions that cannot be rushed, and we are glad that the Chinese authorities are approaching regulation with consideration," said Fontem Ventures CEO Richard Hill.
RELX chief executive Wang Ying said she did not want to worry about whether offline sales of e-cigarettes would be banned.
Referring to an ancient Chinese legend of the great floods, she said: "We believe the regulators have the wisdom of 'better to divert than block' and will make decisions that will both benefit the healthy and orderly development of the industry and meet consumers' demand."
This article was first published in South China Morning Post.